Remittance soars for 7th month straight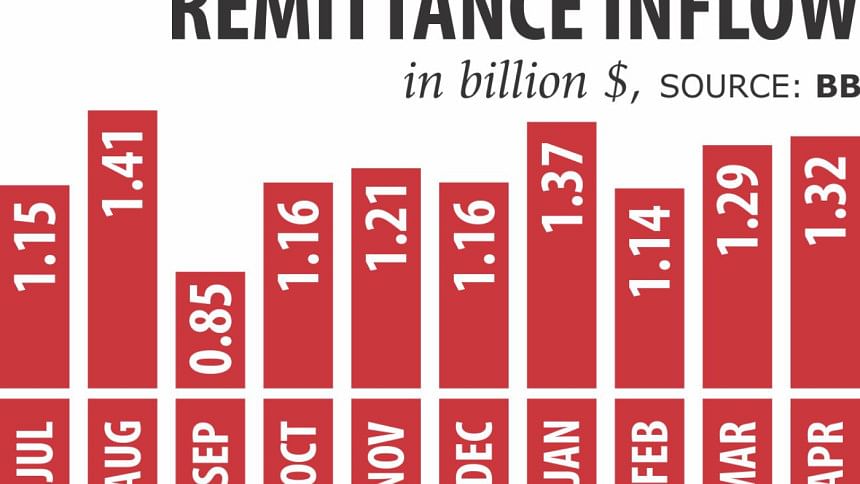 Remittance maintained its upward trend for the seventh month after inflows in April soared 21.10 percent to $1.32 billion, propelled by the depreciation of the taka against the US dollar.
On April 30, the interbank exchange rate was Tk 82.99, which was Tk 80.23 a year earlier.
Remittance is a major source of foreign currency for Bangladesh and its descent since fiscal 2015-16 became a matter of concern for the government. Last fiscal year, the receipts were the lowest in six years.
April's inflows, which are higher than the previous month's by 2 percent, take the current fiscal year's receipts so far to $13.27 billion, up 17.15 percent year-on-year.
"Bangladeshis living abroad are remitting more money through the formal channel," said Syed Mahbubur Rahman, managing director of Dhaka Bank.
The majority of the banks are facing a shortage of greenback for the last few months due to spiralling import payments against lower export earnings.
So, the banks are putting in their best efforts to bump up remittance inflows through their respective channels, said Rahman, also the chairman of Association of Bankers, Bangladesh, a forum of banks' chief executives.
"Many banks are now offering higher rates against the remitted greenbacks to encourage the non-resident Bangladeshis to send their money through them."
At the same time, the central bank has strengthened its surveillance on hundi, the illegal outlet that many turn to for moving funds cross-border.
"This has also given a boost to the remittance inflows," he said.
A strong pick-up in global economic activities, especially in the Middle Eastern nations, also helped the country maintain the upward trend, said a Bangladesh Bank official.