Pay more for Bangladeshi garments
New German envoy urges his compatriots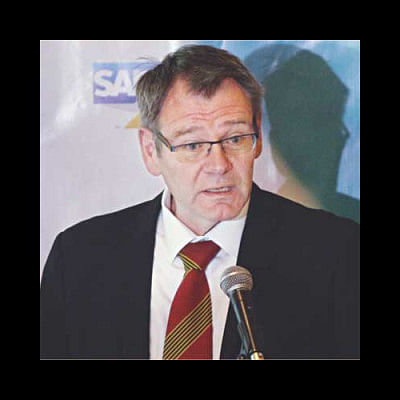 The German consumers should change their attitude of paying low prices for garment items from Bangladesh, said Thomas Prinz, the newly appointed German ambassador to the country.
"It is also necessary to influence discussions at home in Germany," he said at a reception hosted by the Bangladesh German Chamber of Commerce and Industry (BGCCI) yesterday to welcome him. 
"We are asking Bangladeshi companies to invest in safety and security standards, in fire doors and sprinklers. We are pressing the government to increase minimum wages and to allow trade unions. But what have our consumers and purchasers done?"
He said the prices for garment products in Europe are decreasing. "Why can we still buy a T-shirt for 3 euros in Berlin or a pair of trousers for 9 euros?
The retailers have founded "powerful" organisations like Accord and Alliance to dictate the standards in global garment trade. "Where are the Accords and Alliances to stop that?" 
Prinz, who arrived two months ago, said he will focus on economic possibilities and development cooperation between the two countries during his time in Bangladesh. 
Trade between the two countries has developed exceedingly well in recent years, and now stands at 4.5 billion euros, according to the diplomat.
While the bilateral trade volume increased by more than 12 percent last year, it is not balanced at present, he said.
Last year, Bangladesh exported goods worth 3.8 billion euros to Germany and imported goods worth 0.6 billion.
Garment products accounted for 92 percent of the exports to Germany, followed by seafood at 2.5 percent and leather and leather goods at 2 percent.
"I see huge potential for further development. Not only by scaling up but also by diversification," he said, while highlighting the potential of the country's shipbuilding and IT sectors.
German exports to Bangladesh mainly consist of machinery (46 percent), electro-technical items (16 percent) and chemicals and related products (15 percent), according to Prinz. 
"Here as well there is potential for development," he said, while calling for reduction of tariff and non-tariff barriers.
"New services and new German products can increase Bangladesh's productivity. For modernisation of Bangladesh's economy new instruments are needed."
On investment, Prinz said German investment in Bangladesh has for years remained at a modest level, owing to problems such as bureaucracy, corruption, energy shortage, land scarcity, political turmoil, among others.
The ambassador hopes that BGCCI will soon be a part of the main German Chamber of Network, as the trade body has already clocked up over 650 members.
BGCCI President Sakhawat Abu Khair and Executive Director Daniel Seidl also spoke.
In another programme, Sarazeen Bratzler, managing director of SS Solutions and gold partner of SAP, a business management software, said they will set up a training academy in the country soon to train the youth on information technology.
Commerce Minister Tofail Ahmed and Prinz were also present at the SAP programme at the same hotel.