DBL Pharma celebrates World Heart Day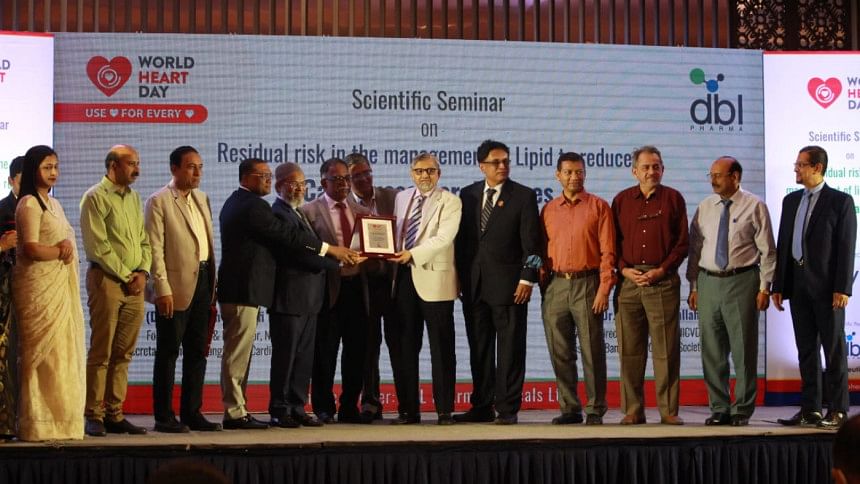 Cardiovascular disease is a growing burden and one of the leading causes of death in Bangladesh. In most cases, the exact cause of CVD is not known, but a combination of factors can increase the risk of getting heart disease.
Considering the risk factors associated with heart disease, DBL Pharma has celebrated "World Heart Day 2022" by arranging a scientific seminar on "Residual Risk in management of lipid to reduce cardiovascular diseases" at Hotel Radisson Blu on 23 September 2022.
The seminar is chaired by eminent Professor Dr AKM Mohibullah (President, Bangladesh Cardiac Society) and the key topic was presented by renowned Cardiologist Prof. Dr Abdullah Al Shafi Majumder (Secretary General, Bangladesh Cardiac Society) in presence of distinguished physicians from different dimensions of Cardiology, Medicine, Diabetology, Endocrinology, Nephrology etc.
Prof. Dr Shamim Ahmed, Prof. Dr Syed Ali Ahsan, Prof. Dr Khaled Mohsin, Prof. Dr Mir Jamal Uddin, Prof. Dr Abdul Wadud Chowdhury, Prof. Dr Md. Khalequzzaman, Prof. Dr A K M Manzurul Alam, and Prof. Dr Indrajit Prasad were present as expert panellist.
Prof. (Dr.) A A Shafi Majumder explained all the less addressed residual risk factors for cardiovascular diseases & their management and the expert panellists discussed it, which will definitely play an important role in reducing the burden of cardiovascular diseases in Bangladesh.