Re/DRESS launches recycled textile products in Dhaka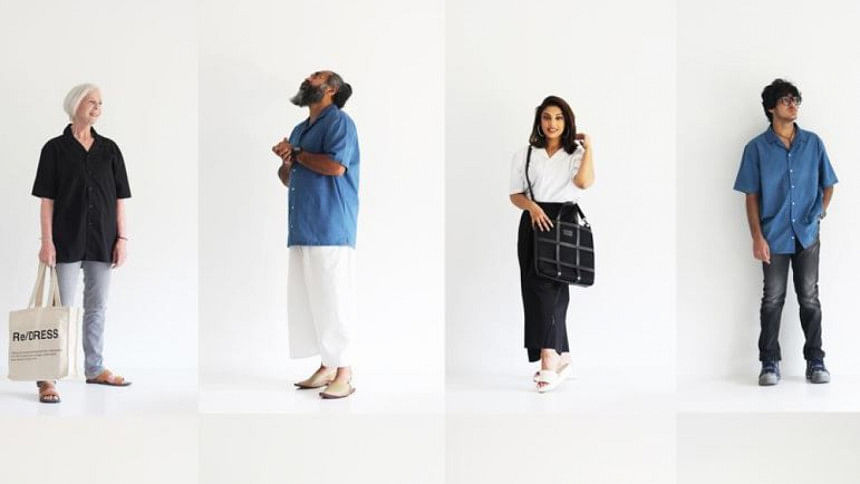 Re/DRESS, a fashion brand using nearly 100 per cent recycled cotton or polyester textiles in Bangladesh, has launched its products in Dhaka.
Its products are available at Friendship Colours of the Chars and Yellow since March 15, according to a press release.
The products will also be available soon at the Taaga shop inside Aarong's multi-brand outlet in Tejgaon.
Re/DRESS is a unisex collection made from soft, breathable woven and knit textiles produced in Bangladesh from plastic bottles and cotton waste. The brand has been designed to promote Bangladesh as one of the largest cotton recycling hubs in the world, the press release said.
It works with local recycling and garment factories willing to push the limits of cotton recycling to produce proof-of-concept textiles.
Re/DRESS said textiles must be made from as close to 100 per cent recycled fibre as possible. Some textiles may have 5 per cent or less non-recycled fibre and at least 40 per cent recycled cotton.
"This is blended with recycled polyester, some of which comes from recycled PET bottles."
Simple lines, neutral colours and a comfortable fit ensure these clothes will not go out of style, can be dressed up or worn casually, and are perfect for a Dhaka summer, it added.
"Catastrophic climate change means we must support recycling. I also like Re/DRESS because it's for all ages and genders," said Ridy Sheikh, an artist, choreographer, content creator and supporter of Re/DRESS, in the press release.
"I am concerned about where my clothes come from and want to make responsible choices," said Jahidul Islam, a textile technology student and leader of the Re/DRESS's volunteer team.
The collection has been available in London since 2022.