Pran Dairy, Arla Foods join hands to boost milk production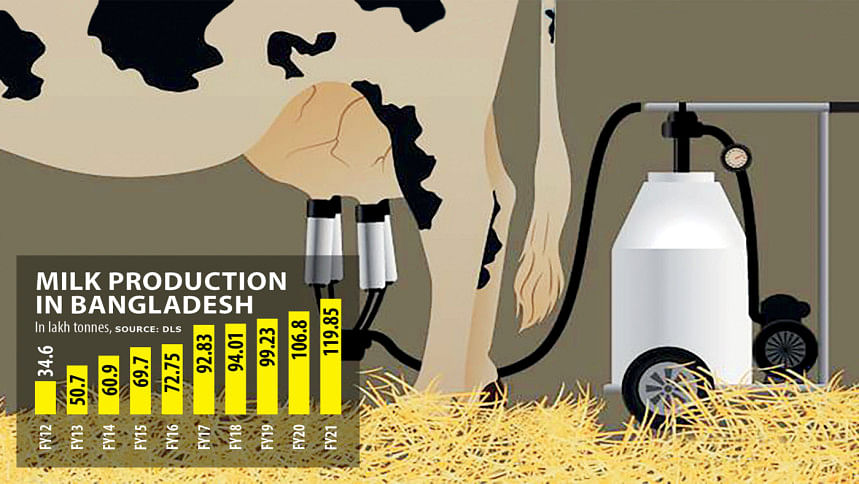 Pran Dairy, one of the country's leading dairy companies, and Arla Foods, a European dairy cooperative, have joined hands to work among farmers to improve milk yield and quality along with developing the dairy value chain in Bangladesh.
Under the initiative, Arla Food and Pran Dairy will initially conduct a study on dairy farming, milk production and collection process in Rangpur, the northwest division.
Based on the study, it will train farmers and milk collectors on improving milk yield, farm management practises and fodder with the objective to collect milk locally in the future, the companies said in a statement yesterday.
Arla conducted a similar project in Nigeria in collaboration with non-government organisation, Care Denmark, the Danish Agricultural and Food Council, Seges and the Nigerian pastoralist organisation Coret, and supported by the Ministry of Foreign Affairs of Denmark, said Arla.
The collaboration comes at a time when demand for milk and dairy products is growing along with dairy farming in the country.
Milk production, which was only 34.6 lakh tonnes in the 2011-12 fiscal year, stood at 119 lakh tonnes in the 2020-21 fiscal year, according to the Department of Livestock Services (DLS).
The bulk of the milk produced goes to the unorganised sector, especially to sweet makers, while organised milk processors such as state-run cooperative Milk Vita and Pran collect nearly 10 lakh litres of milk daily, industry insiders said.
Apart from the locally produced milk, Bangladesh imports a good amount of powdered milk and milk products.
"We have a huge opportunity to do well in the dairy sector of Bangladesh," said Ahsan Khan Chowdhury, chairman and chief executive of Pran-RFL group, after signing the Letter of Intent in this regard on behalf of Pran.
Peter Hallberg, managing director of Arla Foods Bangladesh, signed on behalf of Arla at the company's headquarters in Dhaka.
Chowdhury said Pran is working with contractual dairy farmers in remote areas and giving various support and training for their skill development.
"But we need to give more emphasis on sustainable dairy production to increase milk productivity and quality, alongside economic output of the local dairy value chain in Bangladesh," he said in the statement.
"I hope the initiative will bring good contribution to our dairy sector," Chowdhury added.
Pran started milk collection in 2001 to meet the growing demand for milk and developed the dairy hub to collect milk from farmers directly to ensure fair prices for them and encourage dairy farming.
The country's biggest agro-processor has more than 100 milk collection and chilling centres and works with 12,000 contract farmers. It collects more than two lakh litres of milk on a daily average directly from farmers.
"We feel that we can contribute significantly to the overall development of the dairy sector, supporting the goals of the country," said Hallberg.
The international dairy company is owned by 9,400 farmers from Denmark, Sweden, the UK, Germany, Belgium and two other European countries.
"As the fourth largest dairy cooperative in the world, with over 100 years of dairy experience, we are in a unique position to deliver commercial success to the dairy farmers in Bangladesh in developing the sector and to do so sustainability," he said.
Arla Foods Bangladesh Ltd has been operating in the country since 2014 along with its packaging facility located in Konabari, Gazipur. It mainly markets powdered milk under the brand name Dano.