Local firms bag four APICTA awards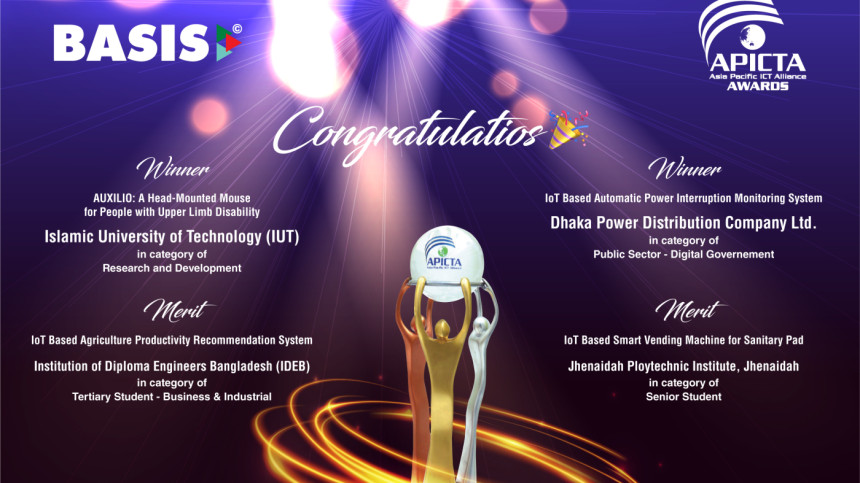 Four local companies bagged awards in as many categories at the Asia Pacific ICT Alliance (APICTA) Awards 2020-21, Bangladesh Association of Software and Information Services (BASIS) said yesterday.
The Dhaka Power Distribution Company won in the "Public Sector and Digital Government" category for its IoT based automatic power interruption monitoring system while the Islamic University of Technology grabbed a prize in the "Research and Development" category for developing a head-mounted mouse for people with upper limb disability.
The Institution of Diploma Engineers received a merit award in the "Tertiary Student" category with its project on an IoT-based agriculture productivity recommendation system.
Similarly, the Jhenaidah Polytechnic Institute received a merit award in the "Senior Student" category with its IoT-based smart vending machine for sanitary pads.
IoT, or the Internet of things, describes physical objects that are equipped to connect and exchange data with other devices and systems over the Internet or other communication networks.
The APICTA Awards, which aims to increase ICT awareness in the community and assist in bridging the digital divide, was held virtually this year due to the Covid-19 pandemic.
Led by BASIS, 40 projects from Bangladesh were entered in different categories to compete for the international award for the first time.
After successfully traversing two phases of the judging system, the four local contestants bagged their prizes in the final round.
The entire judging process was completed from September 1 to December 11 this year. Finally, the winners were announced at a ceremony on December 15, according to a press release from BASIS.
This year, APICTA received more than 300 nominations from 260 teams representing Australia, Bangladesh, Brunei Darussalam, China, Chinese Taipei, Hong Kong, Indonesia, Japan, Macao, Malaysia, Myanmar, Nepal, Pakistan, Singapore, Sri Lanka, Thailand and Vietnam, it said.
An APICTA member hosts the award ceremony each year with the honour going to Malaysia this time around. BASIS hosted the ceremony back in 2017.