HSBC helping firms to transition to sustainable future
Kevin Green, country head of wholesale banking of HSBC Bangladesh, speaks about the international lender's activities and plans about sustainability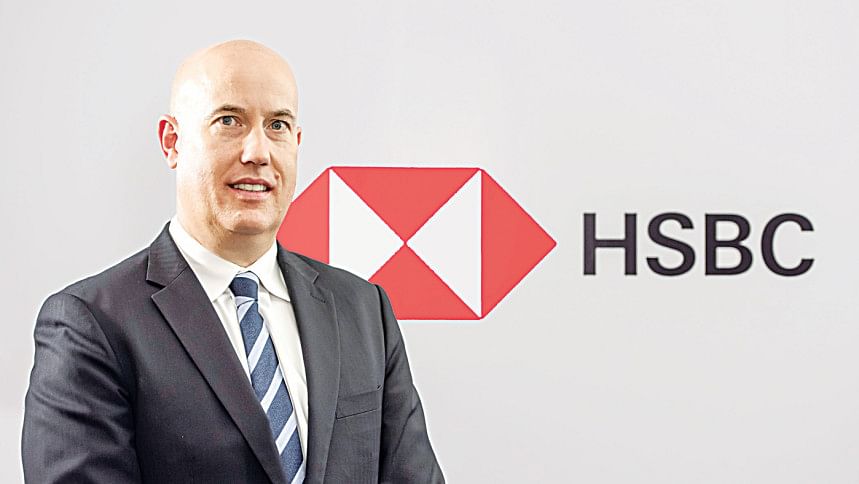 HSBC is a global leader in sustainability space. The bank is also actively working in Bangladesh to support its customers to transition and help achieve their sustainability goals. It has arranged the country's first sustainability linked loan and is working to raise awareness about sustainability financing. Kevin Green shares more in an email interview with The Daily Star.
DS: How is the acceleration towards sustainability affecting our businesses in Bangladesh?
Kevin Green: Sustainability is integral to the future of Bangladesh's economy for two reasons. First, Bangladesh is highly vulnerable to the impacts of climate change and second, foreign investment increasingly tied to ESG practices is critical to supporting future economic growth. The good news is that regulators, businesses and other supply chain partners are already taking steps towards building a resilient future for the country.
The government is committed to achieving the Sustainable Development Goals. The recently-published Climate Prosperity Plan announced at the COP26 by our prime minister leads to opportunities to explore growth verticals while building a better future.
Industry regulators are also keen on promoting the sustainability agenda. A great example of which is Bangladesh Bank's Sustainable Finance Policy requiring financial institutions to focus on long-term Environmental, Social and Governance (ESG), make key contribution to achieve the SDGs, adopt green banking, and prioritise financing sustainably in Bangladesh.
Even our customers' customers are very aware about climate change. The textile and garment industry, for example, has reached a point where transitioning to net zero being sustainable is not a nice to have but a necessity and often a key differentiator. Traceability and circular fashion are the new race tracks for competition.
Supply chain partners are a new front in the battle to combat climate change and more support is needed given the interdependency of firms and the need for a holistic economy-wide transition, from incentives to work collaboratively to changes to product/business models and organisational culture. This is an opportunity for the SMEs in Bangladesh to get more support from the industry bodies to the transition towards the 'Net Zero Supply Chains'.
Bangladesh is a frontier market that is starting to get to grips with governance and social factors. Many investors will be surprised to know Bangladesh already has detailed corporate governance codes and is heading in the right direction in terms of meeting many of the UN's 17 SDGs.
In summary, the focus and investment Bangladesh businesses are directing to sustainability will provide a long-term competitive advantage in the global markets whilst helping to preserve the environment for generations of Bangladeshis to come.
DS: How is HSBC unlocking the next-generation solutions to help businesses and the community achieve sustainability? 
Kevin Green: HSBC takes a holistic view of sustainability in Bangladesh, from supporting our customers to transition to a low carbon future to supporting the country's wider environmental, social and governance-related sustainable goals. 
As Bangladesh's leading international bank, we are well-positioned to support our customers as well as wider industry and government stakeholders to understand and embed global best practice in this space.
In 2020, HSBC arranged Bangladesh's first sustainability linked loan with Square Group, encouraging rooftop solar investments. The total facility of $118 million worth of sustainable finance has been structured to align Square Group to achieve more efficient long-term renewable energy usage.  
Sustainability linked loans aim to improve the borrower's sustainability profile by aligning loan terms to the borrower's performance against pre-determined sustainability performance target (SPT) benchmarks. For example, the interest rate under the relevant loan agreement may be reduced where the borrower satisfies a pre-determined SPT threshold or vice versa. By linking the loan terms to the borrower's sustainability performance, borrowers are economically incentivised to make improvements to their sustainability profile over the term of the loan.
This year we structured a working capital facility to another sustainability linked loan for apparel sector player DBL Group, where the organisation will receive interest rate reductions as they increase the proportion of female supervisors. The solution also supports the SDG 5, which is related to gender equality.
DS: What are the key initiatives by HSBC Bangladesh towards this transition?
Kevin Green: To encourage dialogue to support the apparel sector's sustainable transition, HSBC Bangladesh kicked off its ESG webinar series in October this year with an event on "Circular Fashion". This is a fast-growing movement to reuse and recycle all materials, eliminating waste and pollution and regenerating the environment in a "circular model".
This rethink of the fundamentals of how the industry operates is gaining traction among sustainable fashion brands. These trends are signaling a transformation of the retail landscape and major shifts in the demographics of consumption. Today, the goal is to make fashion traceable, transparent and more sustainable for businesses, consumers and the planet.
Whilst supporting our clients with Sustainable finance solutions, we will also focus on building awareness on key issues and helping build the knowledge capital in other sectors as well through the ESG Webinar Series.
And we moved on in working with key institutions in making a greener environment for trade. We have recently partnered with the Bangladesh Economic Zones Authority and Brac to grow mangrove plantations. The collaboration will see over 40,000 mangrove plantations across 10 acres of coastal land in the Bangabandhu Sheikh Mujib Shilpa Nagar.
Mangroves are capable of taking up carbon dioxide from the atmosphere several times more quickly than forests on dry land. This plantation is estimated to capture 492 tonnes of carbon each year. This is the very first mangrove initiative by the private sector in the economic zones in Bangladesh and it will play an important part in ecological development of the area.
Internally, we aim to achieve net zero in our own operations and supply chain by 2030 or sooner. Our offices and branches are energy-efficient with the usage of LED lights, sensors and Energy Star office equipment. We have installed smart energy metres and part of our operations do operate with solar power.
DS: What can we expect from HSBC Bangladesh in coming days?
Kevin Green: We will intensify support for our customers to switch to more sustainable ways of doing business. We plan to bring in innovative new solutions and introduce leading global solutions like green, social and sustainability linked bonds and green deposits. 
We will continue to play a thought leadership role in sharing best practices and developing the ecosystem through our ESG series. We are engaging with the government of Bangladesh and state-owned entities to support sustainable projects. And finally, we aim to further reduce our carbon footprint.
DS: Tell us about the sustainable strategy of the bank.
Kevin Green: We want to do more than simply play our part in the transition to a more sustainable world. This pillar of our strategy outlines how we will help to lead it. We have committed to: becoming a net-zero bank; supporting our customers to transition to a low carbon future, especially in carbon challenged industries; accelerating new climate solutions; and inspiring our customers to invest to support positive change.
DS: What can we do to further galvanise the sustainable finance sector of Bangladesh?
Kevin Green: The government has already set out the Mujib Prosperity Plan 2030, the Delta Plan 2100, and the Bangladesh Bank Sustainable Finance policy in this regard. However, we need to create clear structure around how mobilisation of funds will take place to enable these plans, how global investors can participate etc.
Financial institutions need to bring innovative solutions to support the transition of businesses to low carbon economies. For example, our recent sustainability linked Loans have enabled the RMG sector to mobilise the funds in an innovative way to achieve the SDGs.
A major proportion of global sustainable finance funding is done through bonds, therefore supporting a strong, tradeable bond market with the help of the Bangladesh Securities and Exchange Commission would make a difference.
And that takes me to the final point, which is the need for a coordinated effort between the public and private sector. We must ensure that our efforts are effective and well-coordinated. So, financial institutions and businesses should form a committee to mobilise sustainable finance and support Bangladesh's ambitions to achieve net zero. The committee will work closely with government bodies to ensure the right policy changes and business practices to drive the agenda.