Novo Nordisk helps Bangladesh step up fight against diabetes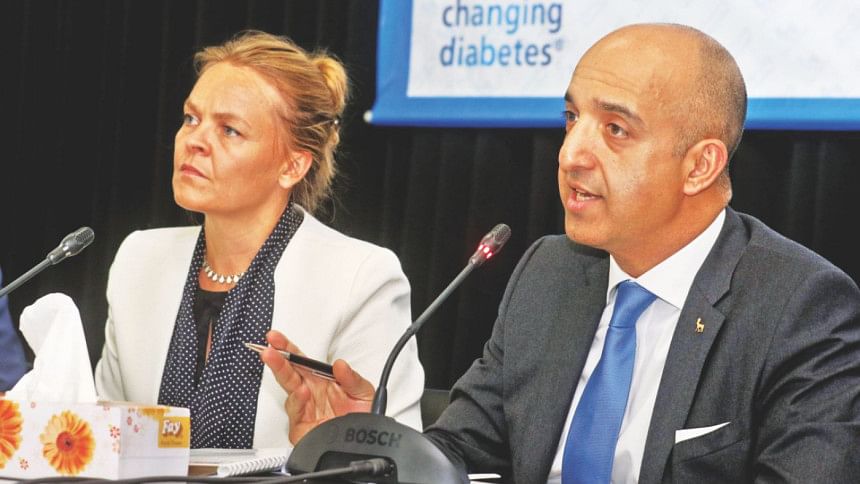 Novo Nordisk, the world's largest insulin manufacturer, will continue to support the Diabetic Association of Bangladesh (DAB) in improving diabetes care in the country, a senior official of the company said.
DAB is the major diabetes care provider in the country, but in spite of having a good network, it can provide care to only 25 percent of the population living with diabetes; their ambition is to reach 50 percent by 2020.
"We are committed and will continue to support all the major initiatives of DAB to reach this ambition," said Maziar Mike Doustdar, senior vice president of Novo Nordisk's international operations.
A lack of awareness is the biggest problem in preventing diabetes in Bangladesh, he told The Daily Star in an interview in Dhaka recently. "The number one tool to fight diabetes is better understanding."
In 2014, there were 5.9 million cases of diabetes in Bangladesh, and the number is expected to double by 2030, according to International Diabetes Federation. The federation's data revealed that there were 111,371 deaths related to diabetes last year.
Of the total diabetic patients in Bangladesh, around 90-95 percent are type 2 diabetic, which occurs mainly due to poor lifestyle choices and food intake, said Doustdar, who came to Dhaka to launch Ryzodeg -- a new generation insulin for type 2 diabetic patients.
"Bangladesh is a key strategic market and we are working here with a long-term vision," he said.
The Danish pharmaceutical giant has been running a number of initiatives such as a distance learning programme and accredited physicians scheme in association with DAB to improve diabetes care in Bangladesh.
The distance learning programme is a six-month course for physicians. It has already produced more than 6,000 doctors as diabetologists since February 2004.
Novo Nordisk supports the Accredited Physician Scheme Programme of DAB by providing diabetes clinic essentials like glucometers and insulin storage and educational materials.
"We aim to reach out to 500 clinics through the extension of diabetes care programmes with DAB," said Doustdar, who joined Novo Nordisk in August 2013. 
Doustdar is heading a region with responsibility for 153 countries, close to 5,000 employees and more than $2 billion in sales. Novo Nordisk is also focusing on creating mass awareness on diabetes in Bangladesh, said
Camilla Sylvest, the company's corporate vice president for Oceania and Southeast Asia. For several years now, Novo Nordisk has been supporting DAB in all their awareness building activities, which include children art competitions, radio programmes, rallies, and mass screening, she added.
Diabetes is one of the biggest healthcare challenges in Bangladesh, like in many other countries. "So it is critical that product innovations are aimed at assisting physicians to provide better and effective treatment options," said A Rajan Kumar, managing director of Novo Nordisk Pharma in Bangladesh.
Novo Nordisk has a partnership with Transcom Distribution Company since 2006. Transcom Distribution is the importer and distributor of Novo Nordisk insulin in Bangladesh.
Eskayef, owned by Transcom Group, has been producing insulin for Novo Nordisk in Bangladesh since 2012.
"We are very satisfied with the quality of insulin produced by Eskayef; the same quality of insulin is being produced here like that of the USA and Australia," said Doustdar.
Pharmaceuticals are the number two import item for Bangladesh from Denmark, said Hanne Fugl Eskjær, Danish ambassador to Bangladesh. 
Novo Nordisk employs about 40,700 people in 75 countries, and markets its products in more than 180 countries.
Last year, it earned 88 billion Danish krone or $12.77 billion, up from 83 billion Danish krone a year ago. Novo Nordisk is the biggest exporter of Denmark, accounting for around 4 percent of the country's overall exports.