Nordic firms betting big on Bangladesh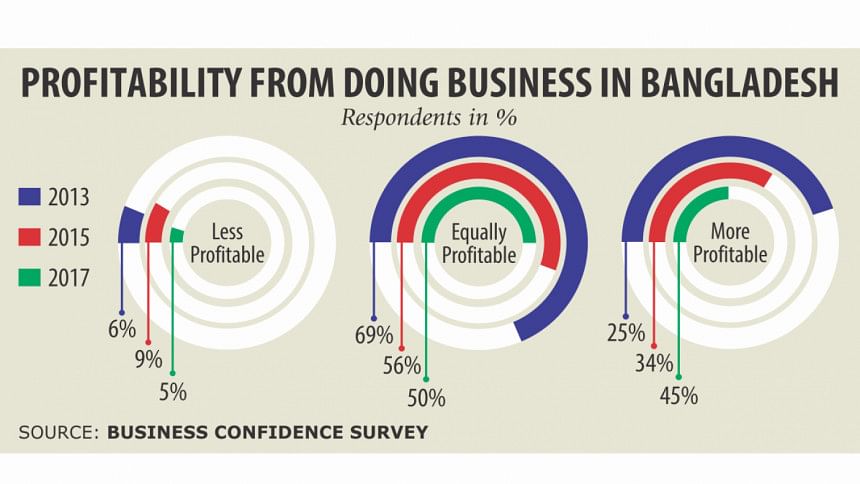 Nordic companies are faring well and are optimistic about their future in the country, found a survey by the Nordic Chamber of Commerce and Industry in Bangladesh and the Sweden Bangladesh Business Council.
As many as 94 percent of the survey respondents said they would be expanding their operations with an expected investment of 213 million euros (about Tk 2,000 crore) over the next three years.
The disclosure in the Business Confidence Survey 2017, which was supported by the embassies of Sweden, Norway and Denmark, can be viewed as an endorsement of the country's business climate and investment outlook.
The survey was conducted from December 3 last year to February 15 this year and was sent out to 52 companies that are all members of NCCI. Of them 22 completed the survey.
Between 2014 and 2017, the Nordic companies have invested 167 million euros (about Tk 1,400 crore) in Bangladesh, according to the survey, which was unveiled on Monday at a programme in Dhaka. Commerce Minister Tofail Ahmed attended the event as chief guest.
As many as 82 percent of the respondents are looking to expand their operations in Bangladesh over the next three years, which is a slightly lower number compared with those in 2015 and 2013.
Still a strong majority of the companies plan to increase their activities owing to the respondents experiencing higher profits in comparison to other markets.
Some 45 percent of the respondents experienced higher profits in 2017, a rise from 34 percent in 2015. Only 5 percent of the respondents feel it is less profitable to undertake their business in Bangladesh. No respondent in the survey found doing business in Bangladesh unfavourable in 2017, unlike in 2015.
In fact, there has been an increase in business outlook, with 59 percent of the Nordic companies saying they held a favourable viewpoint on profitability.
The most common reason for entering Bangladesh is market demand, as indicated by 45.5 percent of the respondents in 2017 compared to 30 percent in 2015.
Some 18 percent of the respondents entered Bangladesh for cost-efficient production and 23 percent of the respondents for efficient sourcing.
The most popular sector in Bangladesh among Nordic companies is garment and textile (27 percent), followed by shipping and logistics and IT and IT-enabled services (both 14 percent), and engineering and telecom (both 9 percent).
Although Nordic companies are quite positive about doing business in Bangladesh, there remain challenges that pose significant risks for existing companies as well as future investors, the survey report said.
The biggest problems identified in the survey were corruption and transport infrastructure, followed by bureaucracy and administrative hurdles.
Reported problems include difficulties in getting work permits, obtaining and updating licence in a compliant manner, obstructive official routines or procedures that result in unnecessary delays and a general lack of transparency in bureaucracy.
The improvement of one-stop service of the country's investment agency can help attract more foreign investment, the survey report said.
The other problems were political instability, tax administration and tax rates.  However, majority of the respondents do not consider access to finance, access to land, natural gas supply, labour regulations and increasing labour costs as business challenges.
The climate for starting a business in Bangladesh has been rated just above 5 (5.6) in a scale of 10 by the respondents, which is worse than in 2015 (6.3).
Similarly, almost half of the respondents (45 percent) reported facing undue bottlenecks during establishing their business in Bangladesh.
In terms of business condition in Bangladesh the survey found that factors apart from air quality, water and waste management seem to have improved.
At the event, the commerce minister assured the Nordic investors that the government will continue its support to attract foreign investment.