Women's unpaid work equivalent to 40pc of GDP: Sanem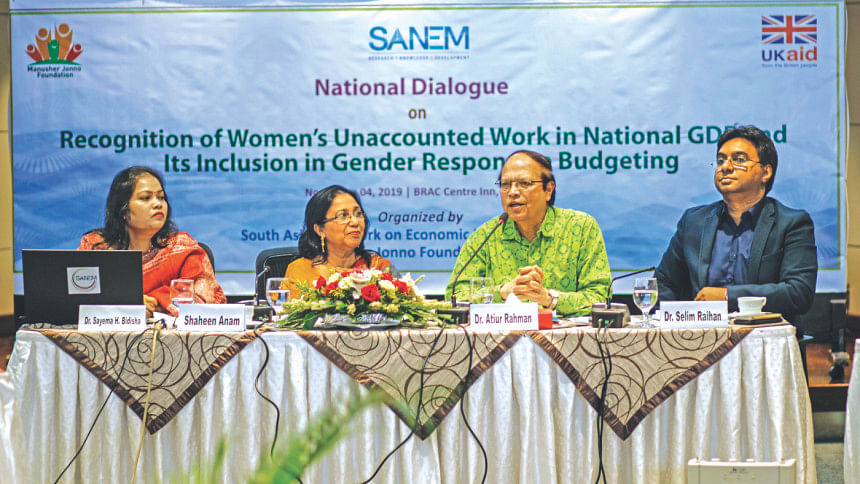 Women need recognition for their unpaid work because its monetary value was almost 40 percent of Bangladesh's GDP in fiscal 2016-17, said the South Asian Network on Economic Modelling (Sanem).
Sanem says the monetary value of unpaid domestic work is equivalent to 48.54 percent of fiscal 2016-17's GDP and women account for 81.4 percent of the amount.
Women looking for jobs have to do unpaid domestic work for 5.97 hours per day while women who never sought to join the labour force for 6.38 hours. Even employed women work for 3.08 hours that are unaccounted for.
In contrast, men who are seeking jobs work 1.59 hours per day that go unaccounted for, men who never sought to join the labour force 1.68 hours and those employed 1.28 hours.
The analysis, which Sanem carried out in association with Manusher Jonno Foundation and UK Aid Direct, was unveiled at Brac Centre Inn in Dhaka yesterday.
Women need to be relieved from family work and providing care for children to enable them to enter the formal sector, added the organisation.
Women played an important role in the development of the economy, especially through the garment sector, and their contribution will be crucial in the coming years, said Atiur Rahman, former governor of Bangladesh Bank.
However, their participation is mostly limited to work of low pay. They should be promoted to that of mid-level pay, he said.  To enhance women's participation in the labour force, Rahman, who is also the chairperson of Unnayan Shamannay, recommends setting up day care centres at every workplace and in urban areas.
"Women should have the facility to work digitally sitting from their home," he added.
Female labour force participation rate is 36 percent in the government's labour force survey and it has been stagnant since 2010, said Selim Raihan, executive director of Sanem.
Awareness is necessary to acknowledge women's unpaid work and to create a mindset in the society that encourages men to share household chores.
"Otherwise, women would not reach expected levels of the labour market."
To boost their participation, effective gender budgeting is required, he added.
Shaheen Anam, executive director of Manusher Jonno Foundation, said the reason why they came up with the idea was to uphold women's dignity in the family and in the society in order to eradicate discrimination and violence against women.
"Women's works are mostly reproductive and productive. We hardly recognise their productive works," she said, adding that these works should be formally recognised through calculating its monetary value and comparison with the GDP.
She said they analysed six ministries' gender responsive budget and found a huge lack of monitoring on how the allocation was being spent. Women's participation in the labour force remains low for the responsibility of caring for children and family imposed upon them, said Sayema Haque Bidisha, research director of Sanem.
So the government needs to establish daycare centres of high quality, she said, adding that the private sector also should establish such facilities for their employees.
"Gender budget should not be only a budget of number and words -- it should be for truly creating opportunities for women," she added.
The gender budget should pave the way for women to enter the labour force, said Nazneen Ahmed, senior research fellow of the Bangladesh Institute of Development Studies. Md Iqbal Hussain, joint secretary to women and children affairs ministry, said the government has established 121 daycare centres.
However, the private sector should also come forward, he said, adding that many garment factories have established such centres giving in to pressure from buyers.