WiMax on brink of extinction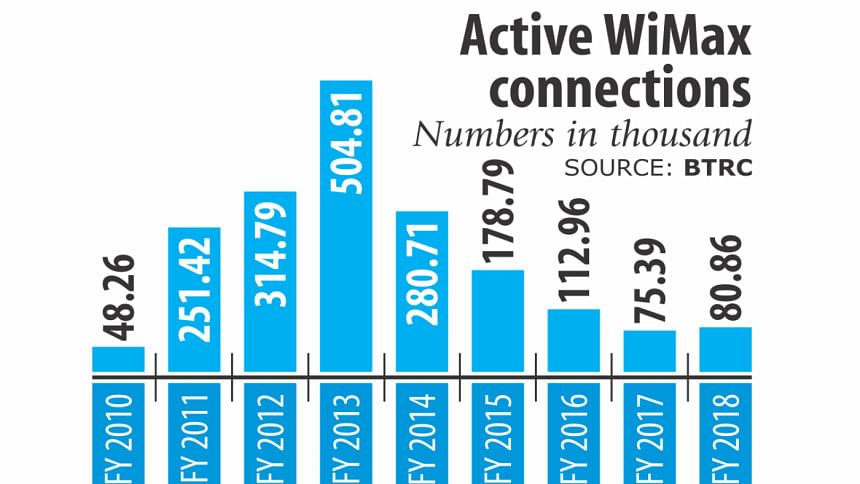 Once a popular wireless broadband service, WiMax is on the brink of extinction in Bangladesh as operators lost 84 percent of their customers in the last five years and failed to make profits amid the onslaught of high-speed mobile internet. 
A decade ago two operators -- Banglalion and Qubee -- were awarded WiMax (worldwide interoperability for microwave access) licences at a fee of Tk 215 crore each. Since then, both spent more than Tk 2,000 crore in total on network and customer acquisition.
The number of users reached a peak of 5.05 lakh in June 2013, just before mobile phone operators rolled out 3G service.
The number plummeted to 80,860 at the end of June this year and fell by another 10,000 on August 30 when Qubee announced parting with individual subscribers to focus on enterprise business. Proteek Kundu, chief commercial officer of Augere Wireless Broadband Bangladesh Ltd, the owning company of Qubee, said, "Evolving 3G and 4G mobile internet has pushed us behind."
"Globally WiMax technology is becoming obsolete. We are not getting any equipment in the market as vendors have also shifted focus of their business."
The market has lost more than Tk 2,000 crore and needs more investment to survive, said Kundu.
Qubee, once the second-largest operator, had only 16,211 active subscribers in June, down from 1.25 lakh during its heyday in 2013. Having handed over its individual customers to market leader Banglalion, it now has only a few thousand corporate customers.
The limited coverage of WiMax is the major reason for the operators losing customers. The service is mostly available in city areas, whereas 3G connectivity can be found in nearly all parts of Bangladesh.
GM Faruq Khan, head of marketing and communication at Banglalion, said, "We had started our service to do something great in the internet business. But we received poor support from the government."
"After the 3G rollout, most of the young users have switched to it," he said, adding that all major vendors in the world have stopped producing WiMax network equipment, dongles or other devices.
Had the operators got a favourable environment, the combined subscriber base would have reached 10 lakh by now, said Khan.
Banglalion boasted about 4 lakh subscribers at its peak in June 2013, but it fell to 28,619 in June this year, according to figures from Bangladesh Telecommunication Regulatory Commission.
The number of customers totalled 75,391 in June last year after Ollo, which got licence in 2013 and started business through long-term evolution (LTE) technology in 2015, pulled some new customers. As of June, the number of customers of the third operator has reached 36,041.
The WiMax operators are now switching to the LTE, which is now the standard for high-speed wireless communication for mobile phones and data terminals, to retain existing customers and draw new ones.
Both 4G and LTE are the fastest mode of wireless connectivity.
Top mobile phone operator Grameenphone had introduced fixed WiMax service in collaboration with two local internet service providers. But the effort stumbled when the telecom regulator halted the business and fined the three for not taking prior approval.