Wheat imports rise 116pc in six years
Driven by changing food habits, bakery exports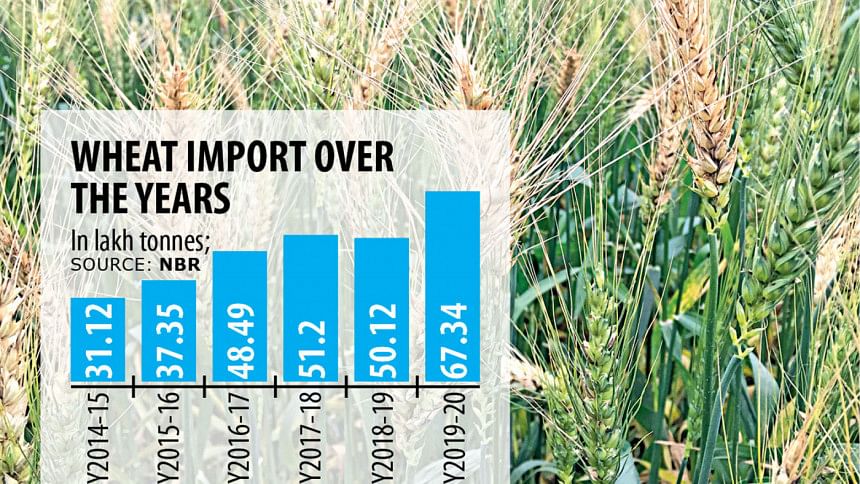 Wheat consumption in Bangladesh has more than doubled in the past six years for changing food habits, increasing demand and exports of bakery products.
The grain's imports have seen a 116 per cent rise as its local cultivation failed to meet the demand, businesses and nutritionists said.
Moreover, whole grains are gaining popularity for growing health awareness and rising rates of diabetes and obesity.
Among the grains, wheat tops rice with its higher protein and lower water content, said nutritionists.
Flour being cheaper than rice has also led to a trend over the past decade of bread being consumed in at least one of the day's meals.
 "The number of diabetic patients in the country is increasing due to reduced physical activity," Prof Khaleda Islam of the Institute of Nutrition and Food Science of the University of Dhaka told The Daily Star.
"Moreover, both rich and poor people are suffering from obesity due to the absence of proper diets. For those reasons, the demand for flour and flour-based food is increasing as an alternative to rice."
Statistically, daily consumption of the cereal has gone up from 72 grammes in fiscal 2014-15 to 125 grammes at present, according to the Directorate General of Food alongside traders.
The country's annual demand stands at around 77 lakh tonnes, 85 per cent of which is met through imports, as per the National Board of Revenue (NBR) and Department of Agricultural Extension (DAE).
Being an essential commodity, wheat bears no import tariff. Some 67.34 lakh tonnes of it worth Tk 14,114 crore were brought over in the recently concluded fiscal 2019-20. It was just 31 lakh tonnes in fiscal 2014-15, shows the NBR data.
Wheat comes to Bangladesh from 16 countries, including Russia, Canada, Ukraine, India, the US, Cyprus, Italy, Australia, Argentina, Estonia and Belgium.
When it comes to its own production, Bangladesh averaged in the range of 10 to 12 lakh tonnes in the past six years.
About 12 lakh tonnes were harvested from some 3.5 lakh hectares of land last fiscal year whereas 11.49 lakh tonnes from 3.29 lakh hectares of land in 2018-19, states the DAE.
"Several initiatives have been taken to increase wheat production and cultivation of high yield varieties such BARI Gom-25 and BARI Gom-26," said Arif Mohammad Muzakker, additional deputy director of the DAE.
"There is also a project underway to develop salt tolerant wheat," he said.
The growing appetite is increasing competition among importers according to the NBR, with many new trading companies and factories recently moving in for a slice of the pie.
Leading importers for long include Shampa Flour Mills (City Group), Sonargaon Flour & Daal Mills (Meghna Group of Industries), Bashundhara Food and Beverage Industries, Ruby Food Products (BSM Group), Akij Flour Mills, Smile Food Product and Nabil Auto Flour Mills.
"The demand of wheat has doubled in the last few years but our production has not increased at that rate. As a result, we have to rely on imported wheat," said Abul Bashar Chowdhury, chairman of BSM Group.
"The demand of wheat has increased as the price of flour is lower than rice. There is always a difference ‍of Tk 10-12 between the prices of good quality flour and medium quality of rice," he said.
"Beside our food habits have changed due to increasing health awareness among the people. Moreover, the demand for bakery and fast food has increased which has had an impact on wheat."
Demand for bakery products has increased several times in the past one decade, according to several of the sector's investors.
A decade ago the number of large entrepreneurs in the sector was negligible but now more than two dozen have emerged. A number of them are exporting various items, including biscuits and cakes.
Some $4.33 lakh worth bakery products were exported in 2015-16 but it has gone on to reach $21 crore last fiscal year, according to the Export Promotion Bureau.
"The bakery sector has changed dramatically over the past decade," said Syed Nurul Islam, chairman of Well Group, one of the country's leading producer of bakery products.
"Apart from the demand of the country, bakery products are also being exported to several countries. The demand of the country is increasing at a rate of about 10-15 per cent every year. Positive progress is also being made in exports."
Facts and statistics data portal IndexMundi ranks Bangladesh seventh among wheat importers. Egypt topped the list with 1.30 crore tonnes last fiscal year followed by Indonesia with an annual 1 crore tonnes.
In consumption, Bangladesh comes 20th. China takes the crown with an annual 1.3 crore tonnes.
In production, Bangladesh placed 31st last financial year. Again China heads the leader board with 1.37 crore tonnes.