Weavers miss out on duty-free import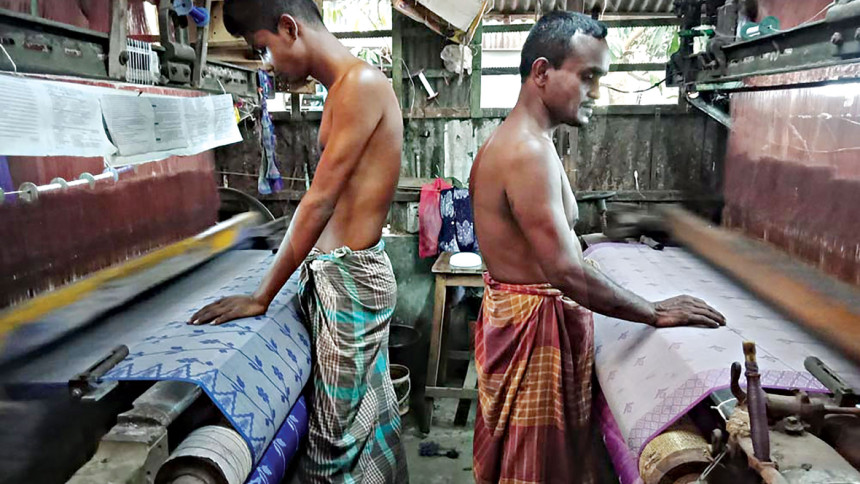 A duty-free facility meant for weavers has allegedly been misused to import about Tk 400 crore worth of raw materials.
A total of 51 primary weavers' associations availed the facility between 2018 and 2019, seeking to bring in yarn, colours and other chemicals, said Kamonashish Das, general manager of the Bangladesh Handloom Board.
Only a 5 per cent tax needs to be paid on the imports, while duty ranging from 30 per cent to 32 per cent is waived, said Jakir Hossain, a liaison officer of the board's Dogasi office in Pabna.
Imports under the facility can be used only by the respective weavers' establishments and cannot be handed over or sold to anyone else, according to the Office of the Chief Controller of Imports and Exports.
But an investigation by The Daily Star found at least three of the platforms in Pabna to have illegally allowed to use their names and documents to a non-beneficiary to avail the facility in exchange for paltry sums of money.
According to Bangladesh Handloom Board, five weavers' associations of the district were allowed to avail the facility to make imports amounting to Tk 45 crore.
The remaining 48 resorted to the same malpractice, according to a leader of a national weavers' association.
The three associations are under ward 2 and 3 in Goyeshpur union and ward 6 in Ataikula union.
The duty benefit was allowed for importing raw materials worth Tk 9.67 crore, Tk 12.48 crore and Tk 8.38 crore under the names and documents of the three associations, respectively.
But the materials were actually availed by one Nayan Hossain, a leader of weavers in Santhia upazila. He did not respond to calls and SMS sent to his mobile phone.
Except for the leaders, most weavers under the three associations said to have only recently found out about the matter.
They pointed out that most of them were illiterate, had no idea about the import process, and most importantly, did not have the money required.
The soaring price of raw materials ate away profits. The facility could have easily allowed running extra six months amidst the pandemic, said a Goyeshpur weaver, Md Azizul Haque.
Md Aiyub Hossain, president of the Goyeshpur ward 3 association, admitted that Nayan, in exchange, paid them Tk 6 lakh.
He claimed to have provided the association's 558 members Tk 1,000 each and kept the rest with the platform's funds.
Similarly, Akash Hossain, secretary of the Ataikula ward 6 association, said they received Tk 2 lakh in return, and from it, 172 weavers were each provided Tk 700.
Md Abdul Hakim, secretary of the Goyeshpur ward 2 association, declined to talk over the matter.
"The weavers do not understand anything. They have many loans under the name of the organisation. We have done the same like others," he said.
Weavers are mostly unaware of the facility, and unscrupulous traders take advantage of it, said Md Hyder Ali, president of the Sirajganj District Weavers Association.
"It was a huge opportunity for marginal weavers to get imported raw materials directly to their factories duty-free," he said.
He demanded more convenient ways to support weavers.
On receiving the allegations, officials of the Handloom Board visited Pabna to conduct investigations and found it to be accurate, said Kamonashish Das.
The facility was stopped from around 2019, he said.
"We are now looking for different ways to deliver government support to weavers directly so that they are not deprived. The ministry is working on it," he added.