Unilever to buy 82pc of GSK Bangladesh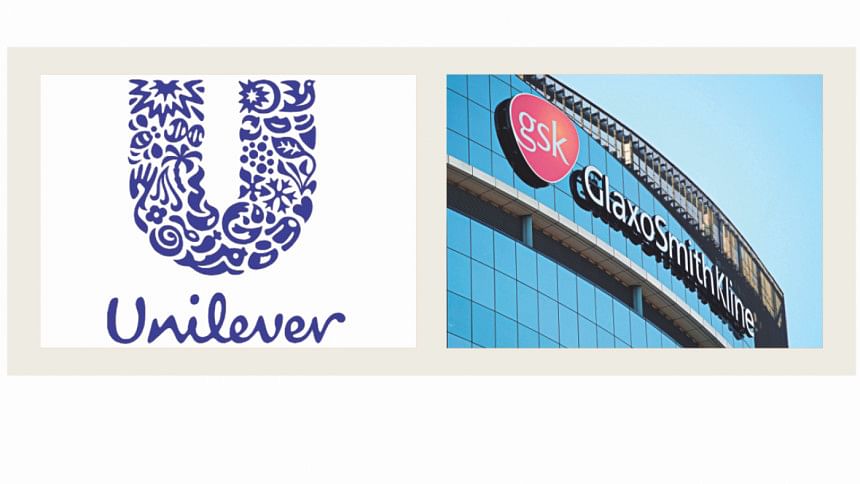 Unilever is set to buy 82 percent stakes in GlaxoSmithKline's health food and drinks business in Bangladesh for Tk 1,640 crore, as part of the Anglo-Dutch company's push to cash in on Asia's fast-growing economies.
It is also purchasing GSK's entire health food and drinks portfolio in India as well as in 20 other Asian countries for 3.3 billion euros (about $3.74 billion), after it fought off competition from rivals Nestle and Coca-Cola.
The remaining stakes of GSK Bangladesh, which is listed on Dhaka Stock Exchange, are held by institutes, foreigners and local individuals.
GSK's shares yesterday jumped about 4 percent to Tk 1,378, up from Tk 1,084 a share a week earlier. As per yesterday's price, the company's market value stood at Tk 1,594.50 crore, which is Tk 45.50 crore less than the price offered by Unilever.
India is the most important market for GSK, accounting for more than 90 percent of its sales.
The merger values GSK India at Rs 31,700 crore in total, or Rs 7,540 per share, a 15.4 percent premium to the undisturbed share price of Rs 6,531 as at the close of business on March 26.
Unilever would be getting its hands on popular malted drinks Boost and Horlicks, which had 45 percent of India's health drink market in 2017.
"Horlicks has made a significant contribution to GSK and to the health of consumers across India for many decades and we believe Unilever is well placed to maximise its future potential," said Emma Walmsley, chief executive officer of GSK.
The proceeds from the transaction will be used to shore up its other healthcare products.
Marketed in Asia as a nutritious boost to children's diets, the Horlicks product line fit the bill for global consumer goods companies hunting for assets to satisfy demand for healthy and convenient foods.
The deal, which is expected to be complete by the end of 2019, also marks a rare chance to acquire a fast-growing product in an emerging market where consumers' diets are changing as income per head grows.
GSK said its net proceeds from the deal, after tax and hedging costs, were expected to be around 2.4 billion pounds ($3.1 billion).
The decision to sell the business comes to support GSK's $13 billion buyout of Novartis' stake in their consumer healthcare joint venture earlier this year. The buyout gave GSK full control of products, including Sensodyne toothpaste, Panadol headache tablets, muscle gel Voltaren and Nicotinell patches.