Two containers with same number arrive at Ctg port
Port users surprised; CPA kept them in custody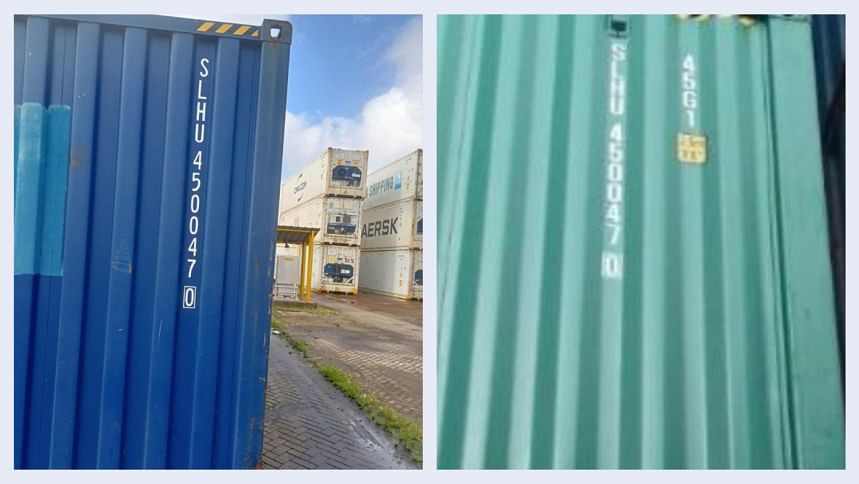 In a rare event, two containers separately arrived at the Chattogram port with a similar unique number, an unusual incident in the international shipping business.
The port's computerised Container Terminal Management System (CTMS) spotted the incidence on Wednesday.
This left port officials and users astonished since usually one unique number is assigned to a container to identify, track and know its whereabouts among around 16.4 million TEUs (twenty-foot equivalent units) of containers currently in use around the globe.
A container number is a unique alpha-numeric sequence of four letters and seven numbers and is assigned by the classification agency ISO (International Standards Organisation) through the BIC (Bureau International des Containers), shipping officials say.
According to the Chittagong Port Authority (CPA), both containers have a similar number of SLHU4500470. However, their seal numbers are different.
Both of them are 40 feet in length.
One of the two containers carrying photovoltaic pumping systems imported by Bangladesh Rural Electrification Board was discharged at the port jetty from a vessel named Oil Haq on July 4.
The other container carrying computer accessories such as printers, scanners, mouses and keyboards imported by a private firm, Smart Technologies, was unloaded from vessel Cape Syros on Wednesday.
The CTMS detected it after the arrival of the second container.
"Such an incident has happened for the first time," said CPA Secretary Md Omar Faruk.
Both containers are now under the custody of the CPA and have been kept at separate port yards, he said, adding that it had informed the local agent and the owning main line operator of the containers about the issue.
Both containers are owned by Sea Lloyd Shipping Lines Private Ltd of India. Alvi Line (BD) Ltd is its local agent in Bangladesh.
Contacted, Alvi Line Manager (operations) Borhan Uddin said it was too surprised by the incident and notified Sea Lloyd Shipping Lines accordingly.
Sea Lloyd had informed the local agent that the mistake was done by the manufacturer of one of the containers, he said.
He said Sea Lloyd, as part of its efforts to expand its business, moved to purchase its own containers and bought 50 boxes from Chinese firm Shanghai Baoshan Pacific Container Co. Ltd in January 2020.
The firm last year ordered another Chinese firm, SMC Group HK Ltd, for 50 more containers and got the delivery in November 2021. Many of them have been added to the supply chain recently.
Five containers of the second batch have numbers akin to another five belonging to the previous batch, according to Borhan.