Transforming ride-sharing into sustainable business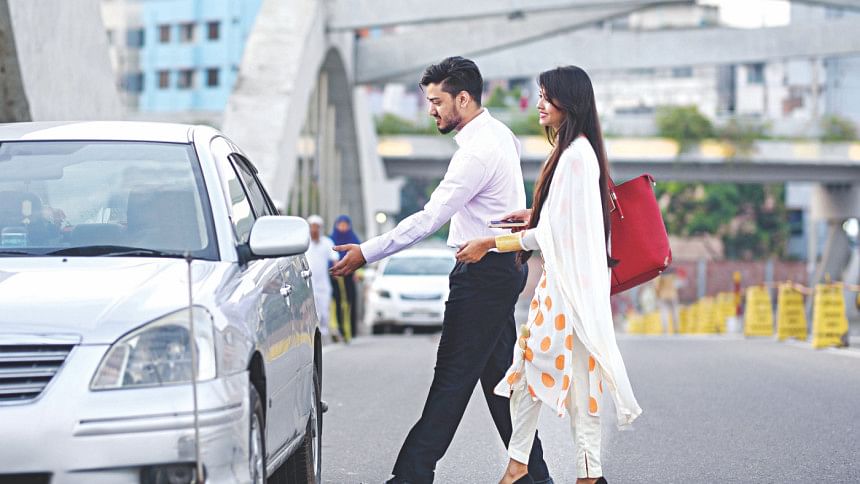 The concept of demand responsive transportation (DRT) services, commonly known as ride-sharing services, is comparatively new in Bangladesh. Although traditional forms of on-demand transportation system were always available in several forms like car or truck rental, Bangladesh didn't see ride-sharing services driven entirely by technology till 2016. By now, a few local and foreign ride-hailing services providers, namely Uber, Pathao, Shohoz Rides, Obhai, and PickMe are operating in Dhaka and Chittagong city.
The ride-sharing industry is worth about Tk 2,200 crore, which is 23 percent of the transportation sector of the country, according to media reports. The current market size and its potential for further growth attracted many foreign investors to the DRT services industry. For example, Jakarta-based ride-sharing firm Gojek invested $2 million in Pathao.
The general people of Bangladesh gladly welcomed this new transportation model because of their utter frustration and inconvenience with the existing transportation models of the cities. This consequently resulted in an influx of app-based transportation services providers for food delivery, parcel delivery, motorbike, car, truck, and CNG hailing services.
The DRT services, no doubt, are offering tremendous economic benefits to both customers and providers. However, they may add additional economic, social and environmental challenges for Bangladesh.
According to IDLC Business Review (2018), a minimum of 500,000 people have registration with one of the DRT services, including car, bike, or CNG hailing services, whereas the number was only 10,000 in November 2016. Technological advancement consisting of both hard and soft advancement acted as the main catalyst.
Modern DRT systems run only through global positioning system (GPS)-enabled smartphones with high speed internet. About 90.05 million people are using internet that made Bangladesh to be among the top five countries in Asia in terms of the number of internet users. According to Facebook user statistics, as of January 2019, 19.9 percent of the country's entire population use Facebook and half of these users are within the age of 18 – 24 years. The increased use of social media, especially by the young people gradually reduces the level of distrust towards strangers. This consequently also complemented the heightened use of ride-sharing services. The use of digital payments, including digital payment gateways (e.g. debit/credit card) and mobile financial services (e.g. bKash, Rocket, Nagad) for ride-sharing services can further boost its uses.
The recent Pathao-bKash agreement to pay the drivers through bKash, however, doesn't seem to speak in favour of this. Commuters were enthusiastic but the drivers didn't quite accept it happily and several unwanted incidents between drivers and commuters emerged in the the social media.
Despite the barriers, people have accepted DRT services models very well but the safety and security issue remains a concern like before. Every day, lots of complains about the rude or fraudulent behaviours of the drivers are raised. Several sexual harassment and rape attempts by riders and drivers towards women commuters are also reported to both the services providers and the law enforcement agencies.
Actions taken against the drivers by the services providers are hardly visible in both offline and online medium. Moreover, the drivers are often accused of offering commuters the service on contractual basis and these are primarily done without the consent of the commuters. Such malpractices create security concerns for both parties. The recent Pathao incident where a driver killed the rider is a dire consequence of these existing malpractices.
Local companies are suffering from inadequate expertise, experience, investment, management, and policy support to ensure quality service. It seems that the sole focus of the providers is on increasing the number of riders and commuters even by pursuing non-sustainable discount-based competition. The fundamentals of the ride-sharing business have been built on the notion of transparency and accountability. However, such issues are hardly reiterated and addressed by both the facilitators and regulators. A lack of exemplary disciplinary actions, drivers' and customers' safety education, and limited technological guard against misconducts are a few of the many obstacles standing in the way of ensuring reliable DRT services.
Another challenge for the DRT services providers is to get them under a legal framework. Sixteen companies have already applied to the Bangladesh Road Transport Authority (BRTA) for enlistment. Surprisingly, all of them have failed to meet the existing guidelines, according to reports. The government published the Ridesharing Service Policy, 2017, effective from March 2018, but the companies are accused of finding loopholes in the policy and breaching the rules.
Although the policy clearly states that a vehicle must have one-year old registration to provide ride-sharing service, a one-day old registered vehicle is on the street providing the service. Over-speeding, breaking signals, not wearing helmet while providing service, and accidents are some highly echoed complaints against DRT services providers.
The government has intervened in the helmet issue by directing filling stations not to sell fuel to bikers without helmets. Bike-sharing companies addressed the problem by providing free helmet to riders and commuters with their logo on it. This is a good step both from legal and promotional perspective although the quality and durability of the helmet is questionable.
There is no denying of the fact that DRTs offered increased personal mobility not available from existing public transportation. Against this fact, the government needs to think about the long-term communal interest, especially whether the DRTs are solving the mobility problem or adding to the existing ones.
The road network of Dhaka has been suffering from a lack of continuous functional and accessible roads, high quantity of narrow roads, and deficiency in road alignment based on both geometric and regulatory measures, according to a research. It has only 2,200 kilometres of street, or only 6 percent of the city area, whereas the demand is 6,000 kms. To make things worse, almost 1,500 new motor vehicles are registered in the Dhaka city every month.
The huge gap between demand and supply of road network forces us to think about the capacity of Dhaka to meet the increased flow of vehicles on the back of the escalation of DRT services providers.
The sales of motorbikes rose 44 percent and on an average, 40 new cars hit the street of Dhaka city every day, which together testify the continuous rise of DRT services providers. During a discussion to celebrate the "World Car Free Day, 2019, it is reported that 7 lakh motorbikes and 2.87 lakh personal cars are commuting in Dhaka city.
Currently, the city is undergoing a huge infrastructural change due to the addition of metro rail and elevated expressway. This is expected to make the existing road even narrower which consequently will deepen congestion, decrease mobility and accessibility, and increase social problems as by-product. The Ridesharing Service Policy, 2017 does not seem to worry about these problems as there is no mention of the ceiling of the highest number of vehicle that a company can have to serve. Non-inclusion of background check of drivers as a requirement in the policy is also signaling towards non-prudential thought process of related stakeholders.
There is a strong need to have contextual ridesharing policies that accommodate not only the road infrastructure but also the possible social and economic impact.
Unless a good understanding of DRT schemes, legal framework, social trends, and infrastructure-related sustenance factors is achieved, it is almost impossible for the service providers to design a service that is competitive, sustainable, efficient, and suitable for Bangladesh.
A public private partnership in policy decision and awareness both from companies and customers end is a must to transform DRT services into a healthy and sustainable business in Bangladesh.
Akter and Hossain are professors at the marketing department at the University of Dhaka. Rahman is an MPhil student.