Tk 58 minimum retail price of per kg rice at Karwan Bazar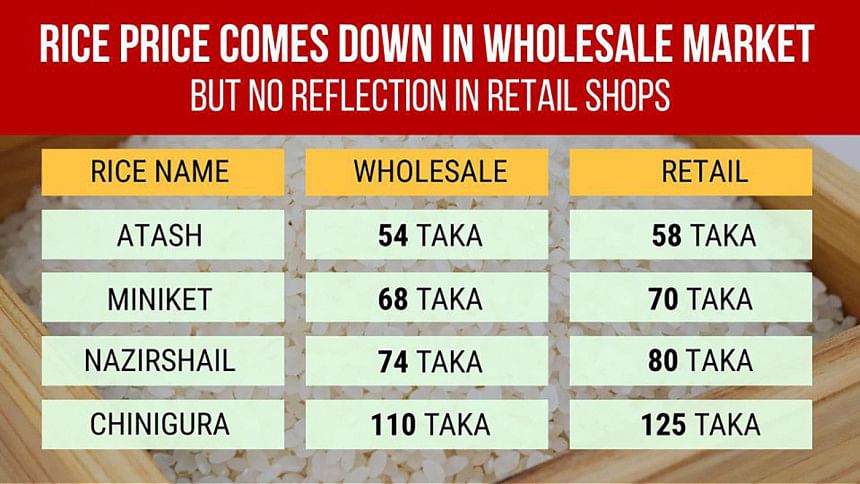 In the wholesale market, the price of rice has come down by Tk 1 to Tk 2 per kg, but remained unchanged in the retail market.
It was found while visiting Karwan Bazar and surrounding areas on Saturday (September 3, 2022).
At Karwan Bazar, Atash rice is being sold at Tk 54 per kg, Miniket at Tk 68, Nazirshail at Tk 74 and Chinigura at Tk 110 per kg.
On the other hand, Atash rice is being sold at Tk 58, Miniket at Tk 70, Nazirshail at Tk 80 and Chinigura rice at Tk 125 to Tk 130 in the retail shop in front of the wholesale shop.
The difference between wholesale and retail rice shops is that a buyer will have to buy at least one sack of rice from the wholesale market, but from retail shop one can purchase one kilogramme.
Wholesale rice sellerLokman Hossain, owner of the Popular Rice Agency and Karwan Bazar Kitchen Market Traders Association's general secretary, told The Daily Star, "We have only been able to buy Atash rice at a new rate so it is being sold at Tk 54. We are yet to buy other rice at new prices. So, it's being sold at the previous rate. However, after buying rice at a new price, there is no option to sell it at the previous price."
Amir Hossain, another wholesale rice seller, said, "The price of rice has come down by Tk 50 per sack. As a result, it has decreased by Tk 1-2 per kg. However, the rice has not come to the Karwan market yet. That's why the shopkeepers are selling at the previous price."
He thinks that the government's pressure on mill owners and VAT reduction as the reasons for lowering the price of rice.
Anis Khan, a retailer who owns MR Traders, said, "Only the price of rice in Naogaon has come down. Prices in Kushtia and other districts remain unchanged. The rice we have here was bought 2-3 days ago. If we buy rice at a lower price, we will also sell it at a lower price."
Today, Atash rice is being sold at Tk 60, Miniket at Tk 70 and Nazirshail at Tk 86 in Tejturi Bazar area.