Tissue paper market doubles in a decade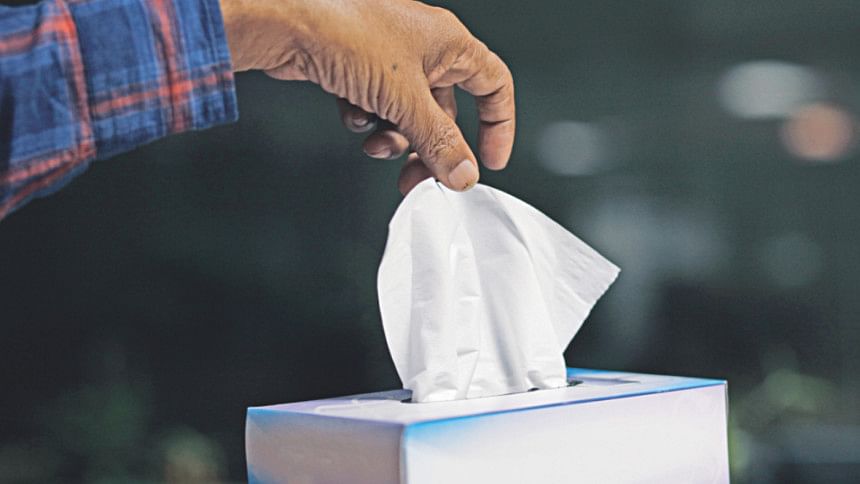 The market size of tissue paper has more than doubled within a decade in Bangladesh courtesy of urbanisation, growing per capita income and increasing health consciousness among people.
Last year the market size of the item stood at around Tk 480 crore from nearly Tk 230 crore in 2008, according to data from Bashundhara Paper Mills, the market leader in the segment as well as one of the exporters of the product.
Facial tissue, toilet tissue, paper napkin and pocket tissue are increasingly becoming popular in Bangladesh.
Use of tissue is spiralling in Bangladesh thanks to the increasing health consciousness among the people, said Md Mustafizur Rahman, deputy managing director of Bashundhara Group.
"As the income level of our people is rising, the market is growing."
In 1986, Kallol Group started importing tissue paper from Fay International based in the UK and introduced it in the Bangladesh market.
In 1997, Bashundhara Paper Mills became the first company in Bangladesh to start commercial tissue production. Meghna Pulp & Paper Mills Ltd, East Asia Group and some others later followed suit.
The country's yearly tissue production capacity was 84,000 tonnes in 2018-19, up from 30,000 tonnes in 2016-17.
"We have huge potential in the tissue market. Its demand in the overseas markets is also rising. So, all local tissue producers are expanding production capacity," said a top official of Meghna Pulp & Paper Mills Ltd.
In the local tissue market, Bashundhara's market share is nearly 75 percent and some 5 percent tissue is imported. The rest demand is met by Meghna Pulp & Paper Mills, East-Asia Group and some other producers.
Meghna Pulp's market share rose in the last six months, the official added.
Bangladesh has not only become almost self-reliant in the segment but is also exporting the product to more than 30 countries, including the UK, Australia, Bahrain, the UAE, China, India and Bhutan.
Local producers have been exporting tissue products since 2004.
In the first eight months of 2018-19, around 1,238 tonnes of tissue products were exported, fetching Tk 10.22 crore.
The export earnings were Tk 12.20 crore, Tk 10 crore, Tk 13.19 crore, and Tk 12.47 crore in the previous years respectively.
Despite the growth in production and export, Bangladesh's per capita tissue consumption is still very low compared to its peer countries, Rahman added.
Per capita tissue paper consumption was 4.1kg in Bangladesh in 2018, compared to 13kg in India, 19kg in Sri Lanka, 7kg in Pakistan, 33kg in Vietnam and 9kg in Cambodia, according to data from Bashundhara Paper.
Less than 10 percent people use tissue in Bangladesh, Rahman said.
"Our income level has risen, but there is huge disparity between various groups. As a result, tissue use is still lower compared to its potential."