Taming coronavirus rampage
Supermarkets turn knights in shining armour
At a time when cleanliness and social distance have become a must, the seldom-used supermarkets are coming in handy in acquiring essentials and cleaning items. And next to healthcare providers, no workforce has proved more essential than their 12,000-odd employees.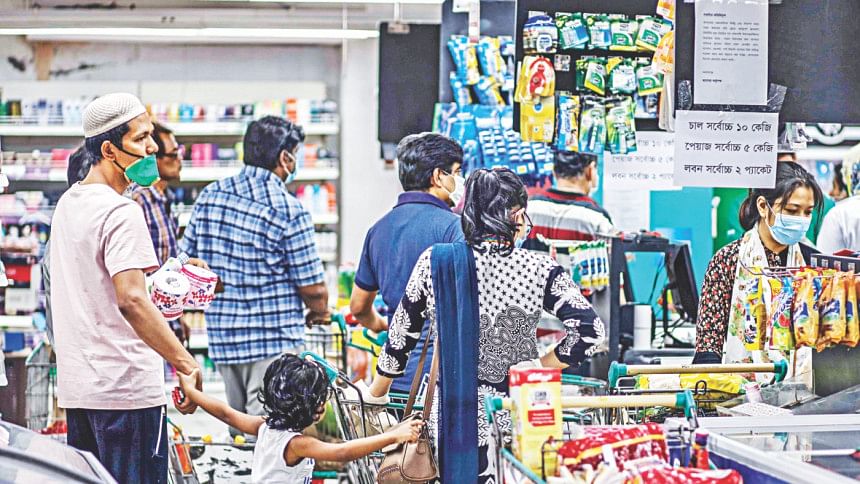 Supermarkets are registering surging sales amid people's quest to find a more sanitised place than kitchen markets to buy foodstuffs and household products in these times of coronavirus.
With more than 250 outlets scattered across Dhaka, Chattogram and other big cities, supermarkets have posted 50 per cent spike in sales since Bangladesh reported the first confirmed cases of coronavirus on March 8, according to operators.
"Customers are feeling more comfortable coming to supermarkets," said Kazi Inam Ahmed, president of the Bangladesh Supermarket Owners' Association (BSOA), adding that there has been an upsurge in orders via phone and internet too.
The sector's sales figure, representing about 40 brands including Shwapno, Meena Bazar and Agora, is not available as the association does not maintain any such data, said Ahmed, a director of Gemcon Group, the parent company of Meena Bazar.
This was an extraordinary month for the country's supermarkets as many of them have been struggling for years to remain afloat in the high volume but low margin business by competing with tens of thousands of small retails that have less operational expenses than superstores and usually do not have to collect 5 percent value-added tax (VAT) from customers' shopping bills.
The soaring sales come as supermarkets owners decided to keep their stores open to serve people after the government declared a general holiday and started enforcing a stay-at-home order all across the country to slow the spread of the deadly disease and shop owners in malls and markets decided to shutter.
"As a service industry, we decided to remain open to stand beside the people so that they can get essentials without the hassle of going to the kitchen market," said BSOA General Secretary Md Zakir Hossain.
By keeping stores open with safety measures such as the scope of sanitising hands at the entry, ensuring safety gears for salespersons on the shop floor and demarcating areas to ensure social distancing among customer, supermarkets could win the confidence of customers beyond their regular ones.
"Sales increase was our main goal when we decided to stay open. But it is good to see that the customers' presence has increased. It appears that the whole industry is turning towards the direction of profitability," Hossain added.
Sabbir Hasan Nasir, executive director of ACI Logistics, the parent company of Shwapno, the country's biggest supermarket chain, echoed the same as others.
Citing preliminary sales data, he said Shwapno's gross sales stood at Tk 131 crore in March, which is 50 per cent more than normal.
Consumers mainly bought basic necessary items, hand sanitisers, soaps, detergents, cleaning items and frozen food products since the outbreak of the lethal pathogen in Bangladesh, said operators.
"We see new customers coming to us because of health concerns. It shows that overall confidence on supermarkets has increased," said Murtoza Zaman, chief executive of Unimart, which posted 40 per cent month-on-month higher sales in March.
And the average customer purchase has also increased significantly during this period on uncertainty, the anticipation of an extension of shutdown and fear of unavailability of the required products.
Previously, the average customer purchase was nearly Tk 2,500.
"It has become almost double that now," Zaman said, adding that they are now seeing a supply crunch of baby food and cleaning items.
And in the face of soaring demand and a section of customers' effort to stockpile groceries, Unimart started rationing items such as masks, hand sanitisers early on, so that it could provide the items to all customers.
With four outlets in Dhaka, Unimart is relatively a newer entrant in Bangladesh's organised grocery sector that started budding from 2001 thanks to Rahimafrooz, which provided an hygienic alternative to the hullabaloo and grime of the traditional kitchen markets.
Since then, customers' turnout increased gradually alongside the number of stores.
In 2019, the annual turnover in the organised grocery retail sector rose 19 per cent year-on-year to Tk 2,300 crore, said operators, adding that the compound annual growth has been 24 per cent over the years.
Yet, the organised grocery sector accounts for 2 per cent of wholesale and retail trade as 5 per cent VAT on sales keeps many customers away from superstores and is holding back the sector from expanding at a brisk pace, they said.
The coronavirus crisis has diverted a good number of shoppers to supermarkets from wet markets, which can pose health risks.
At this point when the economy is plummeting and the income of many people is drying up, the exemption of VAT will reduce the pressure on the wallets of customers, especially the budget buyers.
"In this critical time, the government should exempt VAT. It will be very much helpful for customers," Nasir said.
There is a perception among a section of revenue officials that only the well-off come to the supermarkets, Zaman said.
"Not all customers who shop at supermarkets are affluent. And this section of buyers is under more financial strain as almost all economic activities are on pause," he said.
The government gets maximum Tk 60 crore as VAT from supermarkets, according to BSOA President Ahmed. "For us, it is very unfair as small retails do not have to pay the VAT."
Ahmed also urged the government to exempt VAT on their commercial space rent. Both the moves would increase the supermarkets' foot traffic and help the nation to flatten the curve on coronavirus.
"Supermarkets could have expanded a lot over the years and served more people in these days of crisis, had the government waived the VAT on supermarkets."