Sunflower farming brings hope to Sylhet's haors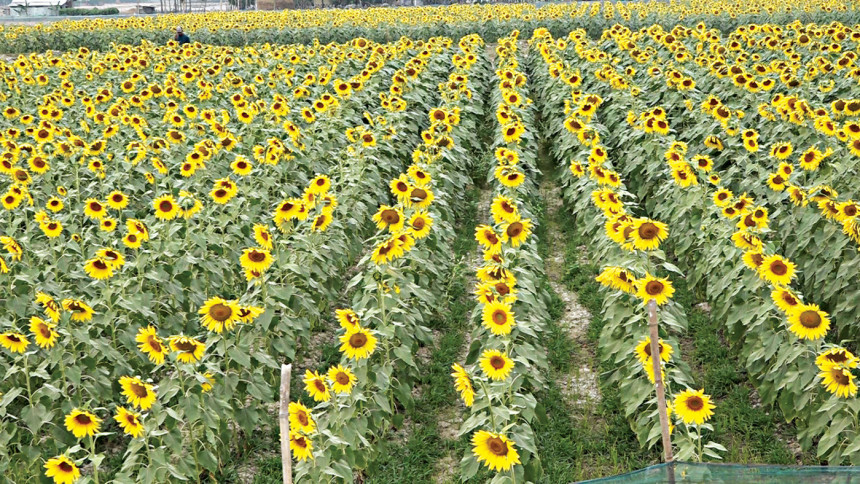 Sunflower cultivation in Sylhet's haor areas has helped thousands of farmers secure financial solvency as they successfully made good use of the abandoned lands.
Besides, about 90 per cent of Bangladesh's demand for edible oil is met through imports as locally produced varieties are not up to the mark, according to various sunflower farmers.
"As sunflower oil has health benefits, we can sell the extra seeds for processing after keeping what we need," said Syed Humaid Ali Shahin, a sunflower farmer based in Moulvibazar Sadar upazila.
Haor lands in the region remain mostly unused after the aman paddy harvesting season between November and December.
"So I began cultivating sunflower on six bighas of land last year on the advice of the local agricultural officer," Shahin said.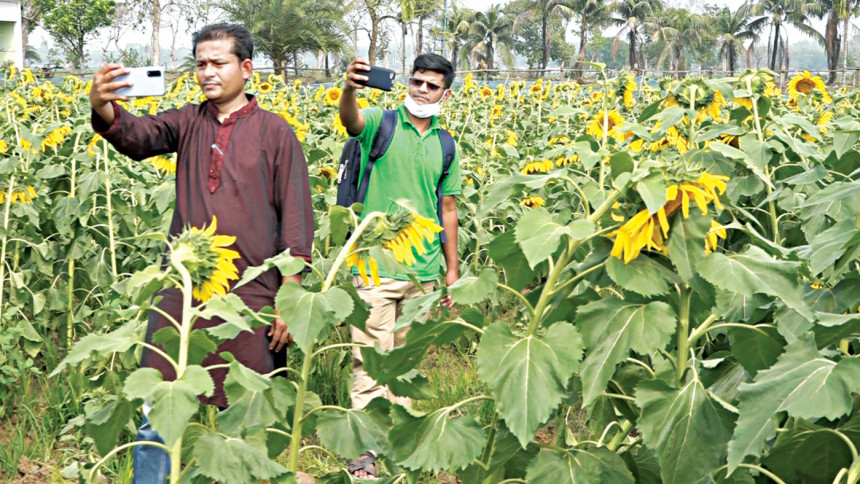 "Since then, many people have come to see the plantation and went home saying that they'd start cultivating sunflowers as well," he added.
Last year sunflower seeds were sold at Tk 50 per kg and mustard seeds Tk 55 per kg, but there was a huge gap in the prices of the refined oils made from the two kinds of seeds, said Shahin's younger brother and fellow sunflower farmer, SM Umed Ali.
"Refined mustard oil was sold at Tk 150 per litre and sunflower oil Tk 250. This happened because of a syndicate."
This year though, sunflower seeds are selling for about Tk 100 per kg, encouraging people from all over to start their own plantations.
"They come to take our advice as well as from the Department of Agricultural Extension (DAE)," he added.
Sunflowers were cultivated on just 56 hectares of land last year, which increased to 565 hectares this year, said Kazi Lutful Bari, deputy director of the DAE office in Moulvibazar.
Sunflower acreage was 1,800 hectares in Sylhet last year, which hit 2,350 hectares this year, said Dilip Kumar Adhikary, additional director of the DAE office in Sylhet.
Bangladesh annually imports Tk 6,600 crore worth of edible oil with a projected growth rate of 3.95 per cent while the average per capita consumption stands at 1.3 kg.
Around 40 per cent of the locally produced edible oil comes from sunflower seeds.
"Last year, we sold sunflower seeds at Tk 60 kg but this year, it is as high as Tk 80 a kg," Adhikary said.
Each 10 kg bag of sunflower seeds produces about four litres of oil.
If the processing fee is included, the price per litre of local sunflower oil comes to around Tk 150.
"But if you buy sunflower oil imported from the US, you have to pay around Tk 200 per litre," Adhikary said.
With help from the DAE, the Haisan-33 and RDS-265 varieties of sunflower have been cultivated on 87 hectares of land in different unions of Kulaura upazila this year, according to Abdul Momin, local agriculture officer.
Besides, sunflower oil does not contain any of the harmful cholesterol found in common soybean oil brands.
So to encourage sunflower cultivation and make farmers more self-reliant, an exhibition has been organized with about 110 farmers in the upazila, Momin said.
The way people continue to consume soybean oil is very harmful to health, said Professor Jasim Uddin Ahmed, chairman of the department of agricultural economics and policy at Sylhet Agricultural University.
On the other hand, sunflower oil is highly nutritious, has low cholesterol levels and contains anti-cancer elements.
"Many people are now buying this oil to stay healthy," he added.
Ahmed went on to say that sunflowers could be cultivated on a much larger scale in order to reduce the country's import dependence for edible oil while also safeguarding public health.
Nurul Haque, Kulaura upazila's health and family planning officer, said uncontrolled and adulterated diets is a big issue now in the region.
Due to a poor diet, many people now suffer from various heart diseases, which could be avoided by using healthier cooking materials such as sunflower oil.
Saiful Islam, deputy assistant agriculture officer of Srimangal Sadar union, said he facilitated sunflower cultivation in the reigon.
During a visit to a five-bigha sunflower garden adjacent to Hail Haor in Sadar union of Sreemangal upazila, about 4,000 sunflowers were seen gently swaying in the wind.
"This plantation is our demonstration farm," said Juber Mia, an attendant of the plantation.
"We have five farmers that cultivate sunflowers at the end of the paddy harvesting season and Saiful Sir (Islam) gave five kgs of seed to each farmers," Mia added.
Kanti Malakar has cultivated sunflowers for the first time on 2 bighas of land in Radhanagar area of ​​Bhatera union in Kulaura of Moulvibazar district and Md Belal Mia from South Chowk area in Bhukshimoil Union cultivated 2 bighas of land.
Similarly, farmer Kanti Malakar said that he could not plant boro paddy on his two bighas of land after the harvesting season due to a water logging issue.
"But in the same place, I was able to plant sunflowers without any trouble," he said.
Belal Mia also cultivated sunflowers on two bighas of fallow land in collaboration with the DAE.
"I spend just Tk 2,000 on cultivation and hope to harvest in 15 to 20 days," he said, adding that he aims to sell his seeds for a total of about Tk 25,000 to Tk 30,000.