Stocks on upward curve after five-day fall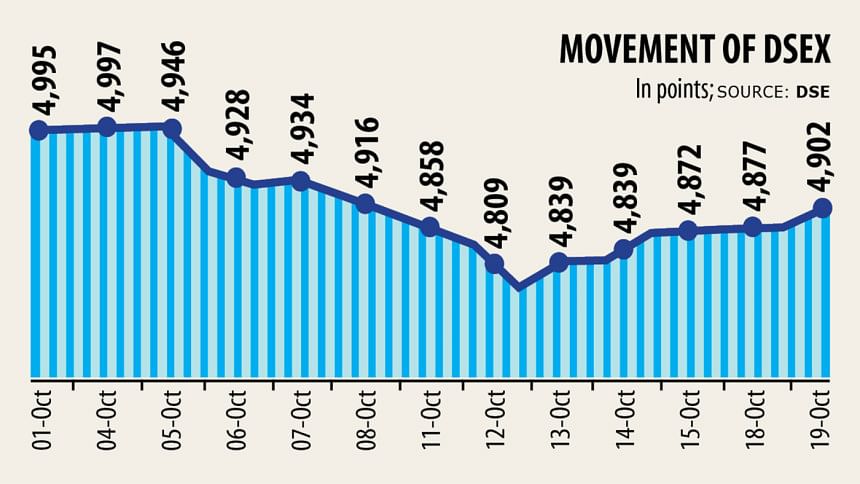 The benchmark index of the Dhaka Stock Exchange (DSE) has bounced back from a decline spanning five consecutive days.
The DSEX rose 24.50 points, or 0.50 per cent, to 4,902.15 yesterday.
Many investors are buying their stocks of preference at lucrative prices due to the market slump, according to a stock broker.
The index rose 1.28 per cent over the past three days following a 1.92 per cent decline over the previous five, DSE data shows.
The insurance sector also had a positive impact on the index, said the broker.
Despite continuous warnings from the insurers that they have no undisclosed price sensitive information that could manipulate their stock prices, the shares of insurance companies are rising, he added.
Asia Insurance topped the gainers list yesterday with a 10 per cent increase followed by Republic Insurance, Dhaka Insurance, Provati Insurance and Sonar Bangla Insurance.
Investors have gone wild for insurance stocks and so, these have risen continuously for the last few months, said a merchant banker.
This kind of impulsive buying might be dangerous for the investors, who should always remain cautions.
Besides, the market regulator should investigate who were behind the sudden rise of insurance companies, he added.
Turnover, an important indicator of the market, rose 19.33 per cent to Tk 784 crore compared to that of the previous trading day.
Beximco Pharmaceuticals was traded the most amounting to Tk 34 crore followed by Beximco Limited, Provati Insurance, Continental Insurance and Bangladesh Submarine Cables.
Savar Refractories shed the most, dropping 8.74 per cent followed by Zahintex Industries, Keya Cosmetics, Sunlife Insurance and Progressive Life Insurance.
Of the total 356 companies to have witnessed trade, 164 advanced, 128 declined and 64 remained unchanged.
The port city bourse also rose yesterday, by 62.73 points or 0.74 per cent, to 8,435.38.
Of the 253 companies listed with Chattogram Stock Exchange, 111 rose, 96 dropped and 46 remained unchanged.