Stocks fall, Beximco companies end rally amid profit taking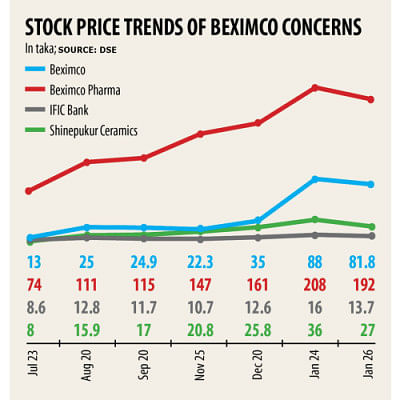 Concerns of Beximco Group witnessed corrections yesterday after leading from the front to raise the benchmark index of the Dhaka Stock Exchange (DSE) to a three year high just a week ago.
DSEX, the benchmark index of the DSE, dropped 94.55 points, or 1.63 per cent, to 5,695 yesterday.
This year, the stock market rose thanks to the run-up of insurance companies along with Beximco Group's concerns, which are all now facing a profit booking tendency, said a stock broker preferring anonymity.
Stock prices of Beximco Limited, whose paid-up capital is Tk 876 crore, fell 8.1 per cent while Beximco Pharmaceuticals with a paid-up capital of Tk 446 crore dropped 4 per cent.
IFIC Bank, which has a paid-up capital of Tk 1,619 crore, fell 2.84 per cent and Shinepukur Ceramics, another listed concern of Beximco Group, declined 8.39 per cent. It has a paid-up capital of Tk 146 crore.
Among the 49 listed insurance companies, only 8 rose while 37 dropped.
"As Beximco's concerns are big, their impact on the index is also large," the stock broker said.
Just because of the drop of Beximco and Beximco Pharmaceuticals, the DSEX lost around 14 points, according to amarstock.com, a stock market analysis-based website.
This is a normal trend of the stock market because no share can rise without witnessing some corrections, he added.
The stock market has continued to fall for the last three consecutive trading days, which is still considered as profit booking by market analysts.
Trigger sales from some merchant banks is one of the reasons behind the market fall, said a top official of a merchant bank preferring anonymity.
The regulator fixed the interest rate on margin loans at no higher than 12 per cent, and the trigger sales came as a result, he said.
Many merchant banks have no scope of lending at this rate as their cost to maintain the fund is higher, he added.
Thanks to the recent high jump of the index, many scripts have increased by more than 50 per cent.
"So, investors are taking profits and this is a good sign," another merchant banker said.
When investors take profits, the market gets its depth for further rise.
"If investors remain cautious about their investment decisions, then they will profit or otherwise incur loss," the merchant banker said.
Turnover, one of the important indicators of the market, fell 29 per cent to Tk 1,125 crore.
Beximco topped the turnover list, trading shares worth Tk 142 crore followed by Energypac Power Generation, Robi Axiata, LankaBangla Finance, and Beximco Pharmaceuticals.
Jute Spinners topped the gainers' list, rising 7.53 per cent followed by Agrani Insurance, BATBC, Daffodil Computers, and Green Delta Mutual Fund.
Energypac Power Generation shed the most, falling 9.93 per cent followed by Shinepukur Ceramics, Beximco, Robi Axiata and Midas Financing.
The port city bourse also dropped. The general index of the Chittagong Stock Exchange (CSE), CASPI, fell 299 points, or 1.77 per cent to 16,578 yesterday.
Among the 251 stocks that were traded at the CSE, 22 advanced, 179 fell and 50 remained unchanged.