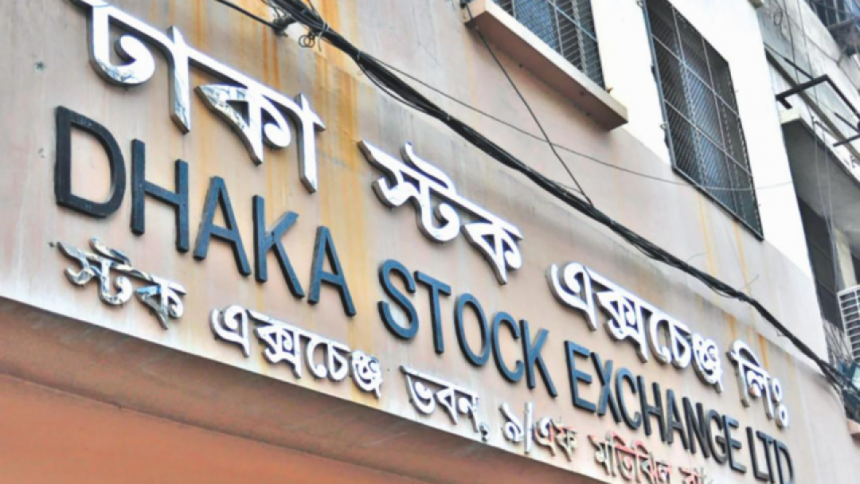 The stock market in Bangladesh fell again today just after experiencing a gain a day ago followed by a steep decline in the previous eight consecutive days.
The DSEX, the benchmark index of the Dhaka Stock Exchange (DSE), plunged 50 points, or 0.79 per cent, to 6,211 at the end of the day.
Yesterday, the index rose 118 points after eight days' straight fall.
At the DSE, 55 stocks advanced, 278 declined and 43 remained unchanged.
Silco Pharmaceuticals topped the gainers' list which rose 6.8 per cent. Silva Pharmaceuticals, Delta Life Insurance, Central Pharmaceuticals and Golden Harvest Agro Industries were on the list.
Sonali Paper and Board Mills shed mostly that dropped 27 per cent. Paper Processing and Packaging, Sonargaon Textiles, Wata Chemicals, and Prime Insurance are among the other companies in the loser tally.
Beximco Ltd became the most traded stock with shares worth Tk 38 crore changing hands followed by JMI Hospital Requisite Manufacturing, GSP Finance, Silva Pharmaceuticals and Delta Life Insurance.
The Chittagong Stock Exchange (CSE) also followed the DSE's trend. The CASPI, the all share price index of the port city bourse, plummeted 117 points, or 0.63 per cent, to 18,282.
Among the 281 stocks traded, 74 advanced, 196 fell and 38 remained the same.