State banks asked to disburse SME stimulus funds quickly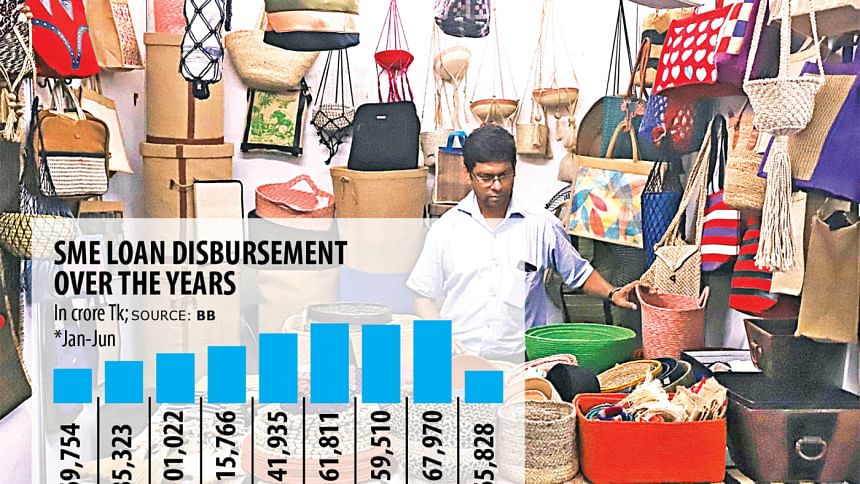 The finance ministry yesterday asked state-run banks to speed up their SME loan disbursement under the central bank's stimulus package in a bid to recover the economy at a faster pace.
Six state lenders -- Sonali, Janata, Agrani, Rupali, BASIC and Bangladesh Development Bank -- have been asked to detect their hurdles for disbursement of cottage, micro, small and medium enterprises (CMSME) loans.
As of September 30, banks gave out Tk 5,883 crore, or 29.41 of per cent of the total stimulus fund to the tune of Tk 20,000 crore, according to data from the Bangladesh Bank.
But the disbursement ratio of the state banks is very low compared to the performance achieved by the overall banking sector.
The six banks disbursed only 12 per cent of their disbursement target of Tk 2,974 crore as of September.
The banking regulator introduced the stimulus package for the CMSME sector on April 13 so that the small borrowers can tackle the economic fallout.
Banks will have to complete disbursing the stimulus fund within this month as per the central bank's instruction.
The dismal performance of the lenders has forced the finance ministry to convene a meeting.
Md Ashadul Islam, senior secretary of the financial institutions division, chaired the virtual meeting attended by the managing directors of state banks and senior officers of the central bank.
Quoting Islam, a senior official of the banking watchdog told The Daily Star that the ministry has asked the state banks to inform the central bank about their problems in the disbursement of the SME stimulus funds.
If required, the policy of the stimulus package will be reviewed to give a boost to the ongoing economic recovery process.
The state lenders, however, said clients were reluctant to take fund from the stimulus package due to the ongoing slowdown brought on by the coronavirus pandemic.
But the ministry threw a counter logic to their excuse saying Bangladesh Krishi Bank and Rajshahi Krishi Unnayan Bank have so far disbursed half of their target.
The six banks were asked to follow the strategies of the two specialised banks in order to get good results in SME loan disbursement.
The package has to be implemented by banks and they will get 50 per cent of the fund from BB.
As per the guidelines of the stimulus package, CMSMEs can take working capital at 9 per cent interest. Of the interest, 4 per cent will be borne by the borrowers and 5 per cent by the government.