Shrimp exporters to enjoy edge as vannamei farming gets nod
Trial run to begin soon; the exotic species has huge demand in global markets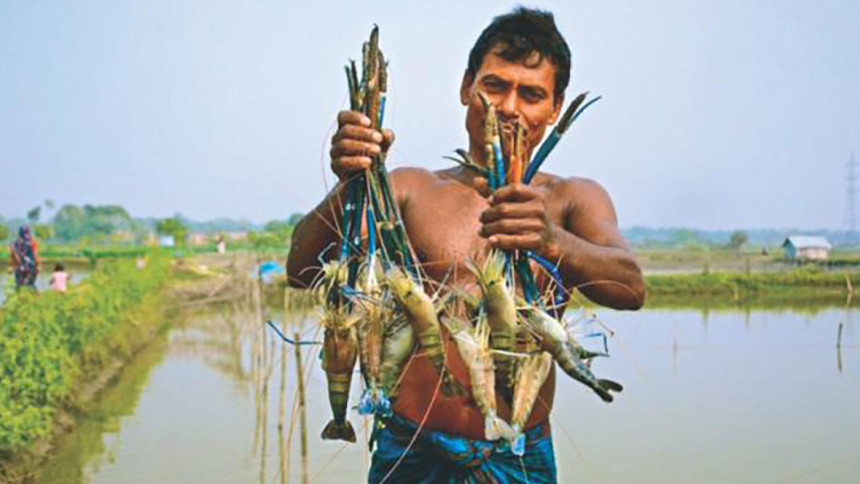 The government is finally easing its grip on the shrimp industry as local farmers can now cultivate vannamei shrimp within the country following years of dithering by the concerned authorities to grant permission.
Earlier this week, the Department of Fisheries (DoF) greenlit a second pilot project to farm the exotic species at the south-eastern coastal district of Cox's Bazar.
The Chattogram-based Agribusiness Enterprise Development and Services was awarded permission to cultivate the shrimp in an isolated location at Khuruskul of Cox's Bazar under the supervision of the DoF and Bangladesh Fisheries Research Institute (BFRI).
Last year, the fisheries office allowed Shushilan, a nongovernmental organisation, and MU Seafood to pilot the first culture of whiteleg shrimp in the southwestern division of Khulna, a major farming region for export-oriented shrimp.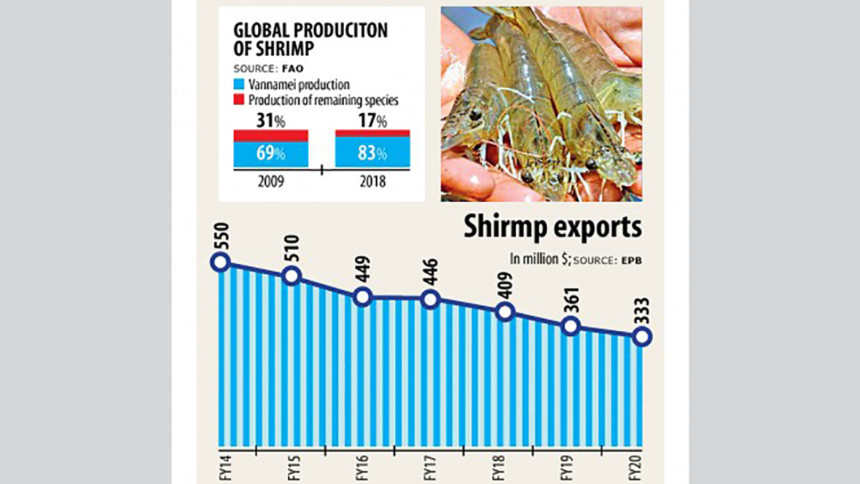 However, the two companies have yet to initiate their trial run of farming Vannamei shrimp, in Paikgachha of Khulna.
The move comes in the face of increased demand from shrimp processors and exporters, whose earnings from locally produced black tiger shrimp and freshwater prawn have fallen consistently since fiscal 2014-15 owing to competition from the cheaper vannamei shrimp farmed mainly in China, Southeast Asia, India and some Latin American regions.
Exporters fetched $333 million in the last fiscal from shrimp exports, down 40 per cent from $550 million in fiscal 2013-14, data from the Export Promotion Bureau showed.
The downturn in export earnings from shrimp— farmed on 2.72 lakh hectares by more than eight lakh farmers for the EU and US markets—continued this fiscal year too.
Shrimp exports declined 3 per cent year-on-year to nearly $97 million between July and September of the ongoing fiscal.
The fisheries office was unwilling to allow an exotic species to be farmed here as they feared the alien species may have a negative impact on native species such as black tiger shrimp, according to industry insiders.
Azizul Haque, deputy director of aquaculture at the DoF, said his organisation has allowed the farming of vannamei shrimp on a trial basis to see if there are significant results as this species is also farmed in India.
"The piloting has to be done by importing specific pathogen free post larvae (PL)," he added.
The DoF also attached the condition that the pilot should be initiated only after the PLs are quarantined and tested at labs under the DoF and BFRI.
Whiteleg shrimp is native to the Eastern Pacific coast ranging from Sonora, Mexico in the North, through to Central and South America, going as far as Tumbes in Peru.
Vannamei cultivation increased steadily from 8,000 tonnes in 1980 to nearly 50 lakh tonnes in 2018, according to data from the Food and Agriculture Organization (FAO).
The total haul in 2018 was nearly double of the 24 lakh tonnes of whiteleg shrimp produced in 2009, the FAO's 2018 yearbook of Fishery and Aquaculture Statistics showed.
Whiteleg shrimp accounted for more than 80 per cent of the total shrimp production for that year as well.
The DoF finally allowed the vannamei shrimp pilot based on recommendations from the national technical committee, Haque said.
The decision followed a directive from the fisheries and livestock ministry to allow vannamei shrimp farming in the Khulna and Cox's Bazar regions.
Earlier, the DoF sent an 11-point recommendation to the fisheries ministry based on a workshop in September 2018, regarding the exploration and feasibility of farming the exotic species.
The DoF decided to grant permission to Agribusiness Enterprise to farm whiteleg shrimp on a trial basis for one year at a meeting in mid-September this year.
However, this tenure may be extended based on results of the first year of cultivation, according to the meeting.
Contacted, Nizamuddin Mahmood Selim, managing partner of Agribusiness Development and Services, said he was yet to get the letter from the DoF regarding their permission to pilot vannamei farming.
"We will decide after going through the letter and terms and conditions related to trial farming the shrimp species," he added.
Mostafa Nuruzzaman, chief executive of Shushilan, said they could not start cultivation yet because of early rainfall.
Rivers and ponds became fresher than what they are required to be in order to grow vannamei shrimp, he said, adding that coronavirus outbreak caused further delays.
"We will start working from November to put fry in ponds next February, he said.
Kazi Belayet Hossain, president of the Bangladesh Frozen Foods Exporters Association, welcomed the DoF's decision.
He said vannamei shrimp account for 77 per cent of the global shrimp trade while black tiger shrimp accounts for 12 per cent. Meanwhile, Bangladesh's share in global black tiger shrimp market is around 2 per cent.
"We have been demanding the government for permission to sow vannamei since 1997. It is positive that they have allowed piloting though. If we are successful in the trail run, there will be no barrier to cultivation and production and exports will increase," he said.