Sanitary napkins still unaffordable for a majority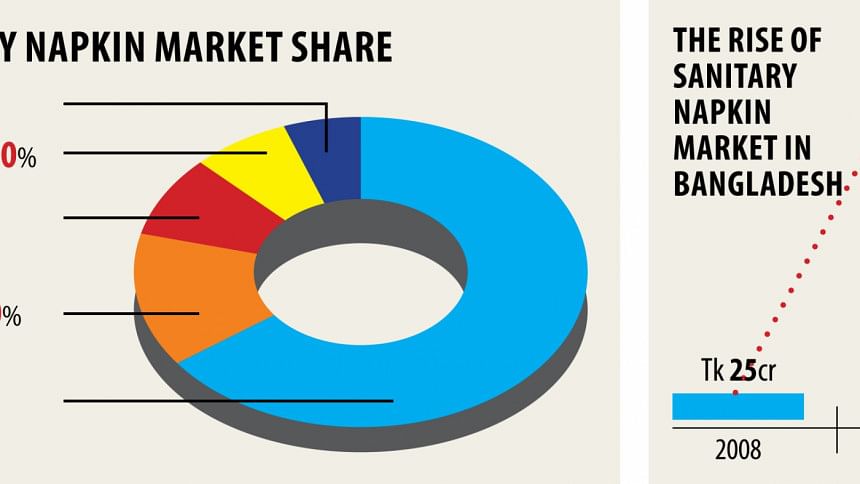 The high price and a lack of awareness are the main reasons why as many as 80 per cent of the menstruating females in Bangladesh do not use sanitary napkins, leaving them susceptible to a myriad of health problems.
In 2014, about 14 per cent women used napkins, including the irregular users. Now, the percentage is about 20 per cent, according to industry insiders.
In India, the average price of a high-quality sanitary napkin is Rs 7.62 (Tk 9.14), whereas in Bangladesh it is about Tk 12.
"Many people think it is an extra cost but they do not realise the health cost of traditional management of menstrual cycles," said Sharmind Neelormi, a professor at Jahangirnagar University.
Naima Sultana, a student of the University of Dhaka, also feels the price is a deciding factor.
"In my household there are three women, so our total monthly cost is not insignificant."
Besides, women still feel shy about buying pads from shops, which are almost always run by men, Sultana said, adding that awareness on the importance of sanitary napkins is seriously lacking.
"But people don't want to talk about the subject due to social taboo," said Mamunur Rahman, founder of Ella Pad, a low-cost sanitary napkin.
Still, people want a packet to carry sanitary napkin, so that no one can realise what he/she is carrying.
"Our first generation women are still advising their descendants to use cloth instead of sanitary napkins," Rahman said, while calling for large scale awareness programmes to get women to embrace sanitary napkins.
He also called for policy support from the government to promote low-cost pad production.
Ella Pad uses textile scraps to make cheap sanitary napkins, and procuring the scraps is quite the challenge, Rahman said.
If the government subsidises sanitary napkins, the penetration will be much higher, Neelormi said.
The government though is not sitting still: imported pads have been carrying a 45 per cent supplementary duty for several years as part of a push to encourage local production.
Now, local sanitary napkin makers hold about 90 per cent of the market, which was almost import-based previously.
The overall market size of sanitary napkin rose to Tk 350 crore in 2019 from Tk 25 crore in 2008, according to the industry insiders.
"Since the market is expanding, the price of sanitary napkins should get benefits of economies of scale by now," Neelormi said.
But that has not been the case.
"The price, in fact, is rising," she added.
Jesmin Zaman, head of marketing of Square Toiletries, begs to differ with Neelormi about price being the main deterrent for women using sanitary napkins.
"A woman needs only Tk 50 to manage a menstrual cycle. This is not too high as they spend more on cosmetics. Habit, awareness and price are the three reasons behind the low penetration."
With the view to expanding the use of sanitary napkins, Square Toiletries has rolled out a lower price pad named Femina from which it is not logging any profits, according to Zaman.
And to remove social taboo and create awareness, Square has trained and briefed at least 50 lakh school-going girls in the last ten years about the management of menstrual issues, she said, adding they also operate a toll-free teleservice where any female can get free advice from professionals.
Other big companies like ACI, Bashundhara, Social Marketing Company (SMC) are running awareness programmes, too.
Apart from the business perspective a number of non-governmental organisations are composing low-cost pads to sell to the marginal people.