Rubana Huq, new vice chancellor of Asian University of Women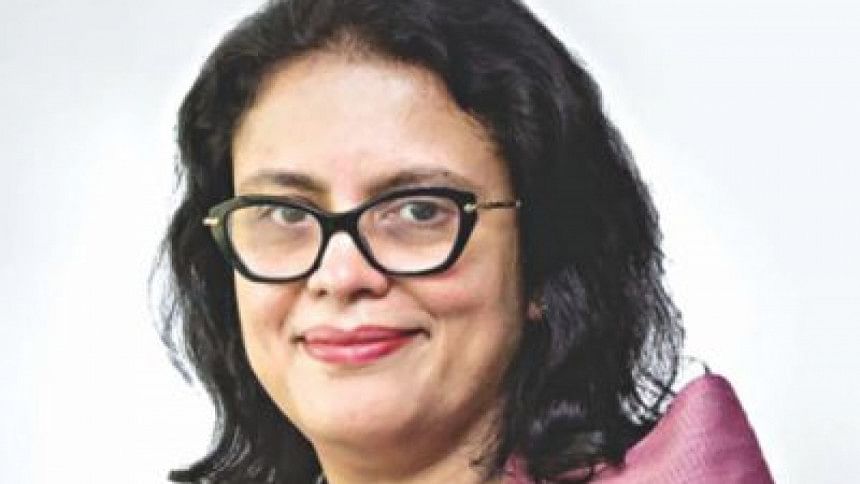 The Board of Trustees of the Asian University for Women (AUW) in Chattogram appointed Rubana Huq as the vice chancellor of the university with effect from today.
Huq who gained prominence as the first female president of the Bangladesh Garment Manufacturers' and Exporters' Association (BGMEA) is a published poet.
She earned her PhD in literature from India's Jadavpur University, according to a statement from the AUW.
Huq has been a trustee of AUW and has recently been elected as the vice chairman of the board of trustees.
She was instrumental in launching AUW's Pathways for Promise programme that enables exceptionally talented workers from Bangladesh's readymade garment (RMG) factories to enrol at AUW.
She was named as one of BBC's top 100 women in the world in 2013 and again in 2014.
Huq is currently also a Visiting Fellow at the Stern School of Business at New York University and the Asia Center at Harvard University.
In announcing Huq's appointment, Education Minister Dipu Moni, who is also the Chair of the AUW Board of Trustees, commented: "In Dr. Rubana Huq the trustees found an exemplary leader and administrator to lead AUW to its next stage of development."
She will bring the high intellectual qualities that will make AUW a special place.
She also has fine managerial and financial acumen that AUW needs in constructing its new campus in Chattogram and stabilising its finances to make the institution sustainable over the long run, the minister said.
While accepting the appointment, Huq said: "To me, AUW has always been a symbol of creativity and ingenuity. The institution's unassailable commitment to both scholarship and education, the calibre of the faculty, and the spirit of the students from all over Asia make AUW unique.
With the talent and the values we have, backed by the vision of the Founder Kamal Ahmad and the guidance of the Chair Dr. Dipu Moni and other trustees, I am convinced that we will emerge as a symbol of ultimate meritocracy with the aspiration to be better every day. "
Huq succeeds noted political scientist Professor Nirmala Rao who retired from AUW after serving as AUW's Vice Chancellor for five years.
In acknowledgment of Professor Rao's service to AUW, Dipu Moni said that "AUW was fortunate to have the benefit of Professor Rao's leadership in directing the University for five years.  Professor Rao brought to AUW her wide global experience in higher education to help shape AUW as a regional centre of excellence. We owe a huge debt to Professor Rao for her contributions to AUW."
Huq will be supported on the academic programmes by two deans:  Dr. Beena Khurana, a cognitive psychologist with a PhD from the University of California at Berkeley who had previously been on the faculty of Cornell and Sussex Universities as well as at California Polytechnic where she directed the MBA Program and Dr David Taylor, a historian of South Asia who served as Pro Director of the School of Oriental and African Studies (SOAS) as well as Vice Provost and Interim Provost of the Aga Khan University in Pakistan.
The Asian University for Women (AUW) was founded in 2008 and located in Chattogram.
AUW is the first of its kind, which is a regional institution dedicated to women's education and leadership development through liberal arts and sciences education.
Some 1,160 students from 17 countries currently attend AUW: Afghanistan, Bangladesh, Bhutan, Cambodia, China, India, Indonesia, Lao PDR, Myanmar, Nepal, Pakistan, Philippines, Sri Lanka, Syria, Timor Leste, Vietnam, and Yemen.
More than 85 per cent of AUW students are on full or near-full scholarships funded by supporters from around the world.
The University has graduated over a thousand students to date.
A majority of AUW graduates secure employment in the private and public sectors in their home countries while about 25 per cent go on to pursue graduate studies at other institutions, including Oxford, Cambridge, Johns Hopkins, Stanford, Columbia, Duke, Brandeis and Tufts.