Robi's IPO subscription begins today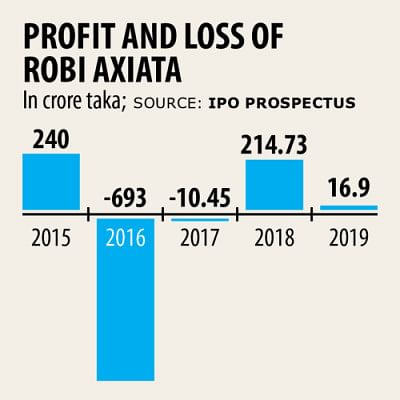 The biggest initial public offering in Bangladesh's history will make a major step forward today as investors would be able to bid for the shares of Robi-Axiata.
The offer closes on November 23. General and eligible investors and non-resident Bangladeshis can apply for the shares.
Robi, the second-largest mobile network operator, is going to raise Tk 523.79 crore from its IPO, overtaking market leader Grameenphone's floatation of Tk 486 crore in 2009.
Most investors and analysts have welcomed Robi's IPO since they expect it to boost investor confidence. But after a few years, there might be an impact in the secondary market as the company is making available a massive number of shares.
"We are excited by the IPO because of its growth potential," said Mohammed Rahmat Pasha, chief executive officer of UCB Capital Management, a brokerage house.
"It's a dream IPO," he added
Usually, brokers do not show much interest in companies bearing lower earnings per share (EPS). However, Robi is different since it will properly utilise the fund to increase profits.
"So, we hope the company's EPS will grow in the coming years along with its dividends," Pasha said.
Robi's EPS was Tk 0.04 in 2019.
At the end of October this year, the network provider reached the milestone of five crore subscribers in a testament to its growing influence in the local market. Grameenphone has more than 7.76 crore active subscribers.
Robi was the first operator to launch 3.5G services in Bangladesh. It rolled out 4.5G services across all 64 districts in 2018.
Since Robi is a multinational company that maintains good governance, it will attract foreign investors, said Khairul Bashar Abu Taher Mohammed, chief executive officer of MTB Capital, a merchant bank.
"The company's EPS is very small, so investors will not get quick returns, but we hope it will grow soon."
The market regulator should try to bring more multinational companies like Robi to the market to boost investor confidence, he added.
In a statement, Shahed Alam, chief corporate and regulatory officer of Robi Axiata, said: "If you look at the global best practices, digital companies are not valued against their EPS."
"EBITDA [Earnings before interest, taxes, depreciation and amortisation] multiplier is used as the yardstick. In this backdrop, it is inappropriate to speculate on Robi's prospect based on our EPS."
Robi will issue 52.3 crore shares, which account for 10 per cent of the company's total number of shares, at face value of Tk 10.
Initially, the operator will raise Tk 136 crore from the stock market by issuing 13.6 crore shares. The remaining Tk 387.74 crore would be raised by doling out a further 38.77 crore shares.
Of the 38.77 crore shares, around 19.39 crore will be issued to general investors and 15.44 crore to eligible investors. The rest will go to non-resident Bangladeshi investors.
The IPO proceeds will be used to expand the company's network in anticipation of revenue-generating opportunities in the areas such as Internet-of-Things. IDLC Investments Ltd is the issue manager of the IPO.
Robi is going to the public even though there is still no signs from the government that it would meet two conditions put forward by the operator.
The operator demanded that the turnover tax be reduced to 0.75 per cent from the existing 2 per cent and the corporate tax be slashed by 10 percentage points to 35 per cent for the next 10 years.
Alam said Robi is paying an effective tax rate of 95 per cent.
"The minimum turnover tax, high corporate tax rate and extremely high regulatory expenses make our financial status poorer than it actually is. We hope with the rationalisation tax structure, Robi will be able to register much better performance which it is capable of."
Despite the heavy tax burdens, Robi had been making profit consistently for many years, he said.
"The merger [with Airtel] had put us in the red for some time, but we have successfully consolidated our market position post-merger and are looking to deliver stellar performance in the coming days leveraging our increased economies of scale."
The company had tried to get listed in 2015, but it backtracked due to "unfavourable business circumstances."
Its paid-up capital was Tk 4,714 crore and turnover Tk 7,481 crore in 2019, according to the draft prospectus.
The company's per share net asset value was Tk 12.64 as of December 31, 2019.
The carrier started its journey in 1997 under the brand name of Aktel. It then changed its name to Axiata (Bangladesh) in 2009 and took the present name Robi Axiata in 2010.
Axiata holds a 68.69 per cent stake in the company and the Delhi-based Bharti Airtel owns the remaining 31.31 per cent.
In Bangladesh, Robi was the first operator to test 5G service on its network.
"The IPO is so huge that many investors have already sold their shares in the secondary market to apply for Robi's offering," said a merchant banker.
"As our market turnover is still very low, its trade may impact the secondary market," he added.