Rising buyer's credit puts pressure on reserves, exchange rate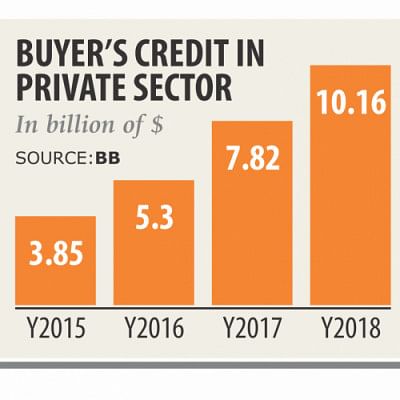 Importers' appetite for buyer's credit from overseas sources shot up last year, in an ominous development for the country's foreign currency reserves and the exchange rate.
Buyer's credit is a loan facility extended to an importer by a bank or financial institution to finance the purchase of capital goods or services and other big ticket items.
It is a very useful mode of financing in international trade since foreign buyers seldom pay cash for large purchases, while few exporters have the capacity to extend substantial amounts of long-term credit to their buyers.
The interest rate on buyer's credit from foreign sources, which the Bangladesh Bank allowed for importers in 2008, tends to be 6 percent in contrast to 9 to 10 percent from local banks and financial institutions.
At the end of 2018, total outstanding buyer's credit from foreign sources stood at $10.16 billion, up 29.92 percent year-on-year, according to data from the BB. The uptick in foreign currency buyer's credit gives a boost to the private sector and the reserves, but the euphoria is short-lived: the loans must be paid in a year's time.
"This has created a risky situation because of the static foreign reserves for the last few years," said Ahsan H Mansur, executive director of the Policy Research Institute.
Since 2016, Bangladesh's foreign exchange reserves have been hovering between $30 billion and $32 billion. At the end of 2018, it stood at $32.01 billion, meaning 31.74 percent of the amount is tied up to the buyer's credit.
"The country's foreign exchange reserve situation is rather wobbly given the upward trend in both imports and short-term foreign loans," he said, while urging the government to increase the volume of reserves at any cost.
Since the central bank uses the reserves to maintain the exchange rate, repaying the foreign currency loans will put pressure on them and eventually lead to depreciation of the taka against the greenback.  In the last one year, the local currency has already devalued more than 5 percent to about Tk 85 a dollar.
Bangladesh will face serious trouble in repaying the short-term loans if it faces any geopolitical or external economic shock, Mansur said.
"The short-term foreign loans are more critical for an economy as the long-term ones can be repaid over a 10-15-year timeframe."
Subsequently, the former International Monetary Fund economist advised the central bank to strictly monitor that the funds are being used properly.
The upward movement of offshore financing can go on to become a burden for the country, said Syed Mahbubur Rahman, chairman of the Association of Bankers' Bangladesh, a platform of banks' managing directors.
"We should be cautious," said Rahman, also the managing director of Dhaka Bank.