Taming coronavirus rampage
Remittance's depressing descent in 2020
Inflows crash to a 34-month low in April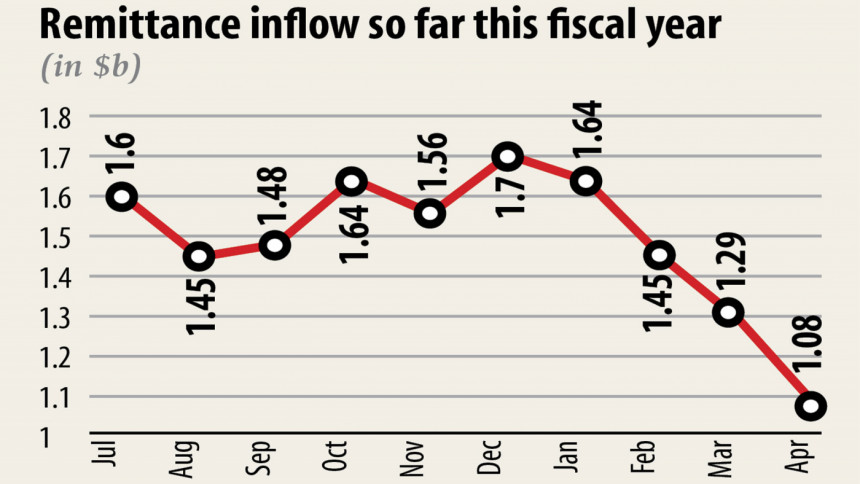 Nazma Begum, a housewife and a mother-of-three, has been fretting the last three months. Her source of worry?
How she would be making ends meet, as her husband, a migrant worker in Saudi Arabia, has been made redundant because of the economic fallout of the global coronavirus pandemic.
Her husband, Syed Ahmed, has been in the kingdom nation for the past seven years, wiring home Tk 30,000 every month, which is good enough to run the household expenditures in Cox's Bazar.
"My husband is now panicking as the Saudi government has been forcing many expatriates to go back their home," Begum said.
The family will be in severe hardship if Ahmed does return. "How are we going to pay for the kids' education? And how are we going to foot my parents-in-laws' healthcare bills?"
The plight of Ahmed's family is not an isolated case; families of thousands of Bangladeshi migrant workers are in the same boat of uncertainty as the novel virus is burning through global economies, upending both lives and livelihoods.
There are about 1.20 crore Bangladeshis working across the globe, whose transfer back home has progressively become a pillar of strength for the Bangladesh economy.
But that pillar is now tottering: last month, inflows hit a 34-month low of $1.08 billion, down 25 per cent from a year earlier.
April's inflows take fiscal 2019-20's tally to $14.86 billion, up 11.77 per cent year-on-year, which isn't all too bad.
But there is no denying that going forward, the amount will only contract, as the Gulf nations, where 75 per cent of the migrant workers reside, are pushing to return the manpower to their respective countries, as their economies are taking a massive beating for the nosediving oil prices for a demand crunch and supply glut.
And the 2 per cent cash incentive introduced this fiscal year for sending remittance through the official channels is powerless in stemming the tide.
Remittance from Saudi Arabia and the UAE, the top two sources of remittance for Bangladesh, has particularly shrivelled in March and April, said a Bangladesh Bank official requesting anonymity as he is not authorised to speak with the media.
The central bank has not prepared the detailed breakdown of recent months as some banks are yet to forward it, he said.
Since the middle of February, about 2 lakh migrant workers returned home, with most arriving from Saudi Arabia, the UAE and Malaysia, according to Shariful Islam Hasan, head of BRAC's migration programme.
Last month, the World Bank forecasted that remittance flow to Bangladesh may plunge by as much as 22 per cent this year because of the ongoing fallout.
Money sent by the migrant workers is projected to fall to $14 billion in 2020, said the multilateral lender in its Migration and Development Brief.
In the past, remittances have been counter-cyclical, where workers send more money home in times of crisis and hardship back home. This time, however, the pandemic has affected all countries, creating additional uncertainties, it said.
The country's foreign exchange reserve stood at $33.10 billion yesterday, which is good enough to make import payments for nearly six months.
The BB official said that the country's import had declined alarmingly in recent months, which has helped keep the foreign exchange reserves stable.