Reaching new heights: Voice of Business hosts 'VoB Week' Oct 31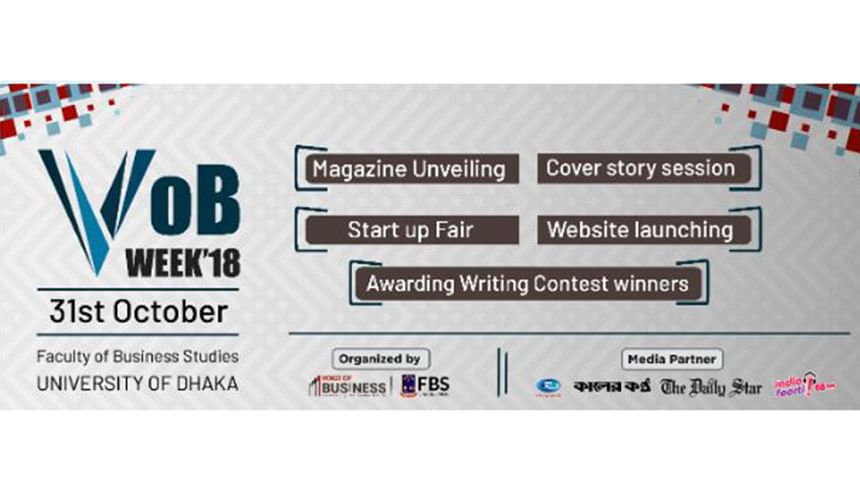 Voice of Business (VoB), the largest student-run publication in Bangladesh, is all set to unveil its 9th issue in its signature event titled "VoB Week 2018" tomorrow.
VoB, an elite business club of the Faculty of Business Studies of Dhaka University, has been relentlessly working for the students of the faculty since its inception in 2007.
With a vision of building a community of business students and leaders and a strong network system, VoB is still growing strong.
Since its very first issue, VoB has been delivering captious acumen to the business world. Following the legacy, VoB will unveil its 9th issue this year, according to a release.
The programme will be inaugurated at 10:00am at the Conference Hall of DU's Faculty of Business Studies. The event will be organised entirely by VoB with the valuable guidance of its honourable Chief Patron, Dean Prof Shibli Rubayat-Ul-Islam.
The special guest of the unveiling ceremony is Faisal Ahmed, the chief economist of Bangladesh Bank. The Daily Star is the proud media partner of VoB Week 2018.
The event is decorated with the unveiling of the 9th issue- the exclusive business magazine materialised by students, re-launching of VoB website, seminars, award ceremony of writing contest 2018, and start-up fair where the young entrepreneurs from Dhaka University will participate.
Apart from the unveiling and website launching ceremony, the major attractions of the event are seminars on the cover story of the magazine and the start-up fair.
In these sessions, some of the industry experts and iconic figures will come and share their knowledge, insights and motivation among the students. The students will get a precious opportunity to learn first-hand from the experts through interactive sessions.
Earlier in 2017, VoB added another signature event, BRANDrill, a national level branding competition, to its elite portfolio.
Moreover, VoB has interviewed iconic and luminary business figures including Nobel Laureate Dr Muhammad Yunus, renowned economist Dr Debapriya Bhattachariya, among others, over the time and shared their philosophy with its readers.