Private credit bucks falling trend
Rise not enough to perk up economy: analysts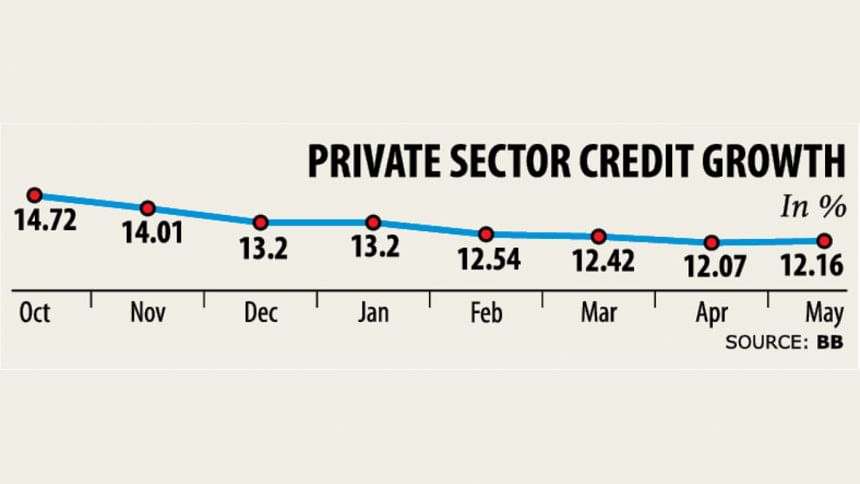 Private sector credit growth edged up in May after sliding since October last year but it is still well below the central bank's target for the second half of fiscal 2018-19.
In May, credit growth stood at 12.16 percent, up from 12.07 percent a month earlier.
But the credit growth is still 4.34 percentage points less than the central bank's target of 16.50 percent for the second half of the just concluded fiscal year.
The increase is insignificant and there is no possibility to escalate the growth in the upcoming months given the ongoing liquidity crunch in the banking sector, said economists and bankers.
In the last two fiscal years, private sector credit growth hovered between 16 percent and 18 percent, only to dip at the turn of fiscal 2018-19.
The credit growth will not get a boost if the deposit growth does not get a momentum, said Ahsan H Mansur, executive director of Policy Research Institute.
"The government is now implementing large infrastructural projects. But those will not bring any positive benefits for the economy unless new industrial units are set up."
The investment in the private sector has remained rather static in recent times.
"The existing credit growth has just supported the ongoing businesses. And it is not adequate to expand the industrial sector further."
The government should take massive reforms to make the private sector more vibrant, but it seems to be not bothered about addressing the issue, said Mansur, a former economist of International Monetary Fund.
"Reforming the banking sector is highly important or else businesses will not get their desired fund."
Foreign direct investment can also play a vital role in unlocking the stalemate but the ease of doing business index is discouraging foreign businesses from coming to Bangladesh, he added.
Bangladesh ranked 176 out of 190 -- which is the lowest in South Asia -- in the World Bank's Ease of Doing Business ranking.
The lending capability of the banking sector has been eroded in the recent period because of the upward trend in default loans, which has ultimately reflected in the lower credit growth, said Salehuddin Ahmed, a former governor of the central bank.
Banks are now trying to continue their business by way of widening their trade-based financing, he added.
Lenders have taken on a cautious approach in disbursing fresh loans given the ongoing liquidity pressure and high volume of default loans, said Shafiqul Alam, managing director of Jamuna Bank.
Clients are still reluctant to keep their deposits with banks as the interest rate on the government savings tools is much higher than what the lenders offer for their deposit products, he said.
There is chance of increasing the private sector credit growth rate within the next few months considering the ongoing liquidity pressure, said Syed Mahbubur Rahman, chairman of the Association of Bankers, Bangladesh, a platform of the managing directors of private banks.