PPE exports bring a glimmer of hope to heavy-hearted garment sector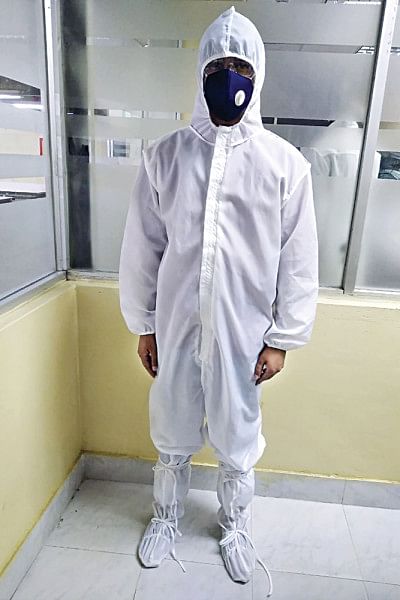 Personal Protective Equipment (PPE), such as face masks and surgical gowns, has become another major export of Bangladesh's garment sector as global demand for such products increased exponentially due to the ongoing coronavirus pandemic.
Although exports of other apparel items witnessed a steep fall over the past three months, PPE products turned out to be the sector's unlikely saviour.
Many garment manufacturers have already set up new lines of production at their factories in a bid to meet the soaring demand for PPEs, especially from the US and EU.
PPE companies did not need to terminate any of their workers amid the coronavirus outbreak but instead ended up recruiting a few hundred more workers to increase production capacity.
Since people all over the world are buying PPE products at a rampant pace to protect themselves from the rogue pathogen, the coronavirus crisis seems to have provided a major opportunity for the industry.
Considering the potential, Finance Minister AHM Mustafa Kamal has altogether waived VAT charges on the manufacture of PPE products and its raw materials in the national budget for fiscal 2020-21.
According to the word of mouth, the demand for such goods will continue to grow as the coronavirus will continue to haunt public health for many years to come.
The market value for PPE products has already reached a few billion dollars, just about six months after the pandemic began in Wuhan, China last December.
In that time, Bangladesh has become a frontrunner in supplying PPE products worldwide as local garment manufacturers continue to receive a considerable amount of work orders from international buyers.
The risky situation has turned into an export opportunity, according to numerous apparel companies.
In April for instance, earning for garment exports was just $0.37 billion. It should be mentioned though that this value was the biggest contribution to Bangladesh's monthly target for export earnings during that period.
However, garment sector exports rebounded to hit a total value of $1.23 billion in May, thanks to large shipments of PPE products.
Not all local manufacturers have been able to capitalise on the opportunity though due to delays in obtaining certification from the US Food and Drug Administration (FDA) and its EU counterpart.
The EU and the US follow high standards when purchasing PPE products. Therefore, local manufacturers need to follow certain standards when producing for export.
"I am waiting for the FDA's approval. I hope I can obtain the required certification very soon," said Asif Ashraf, managing director of Urmi Group, a leading garment exporter.
However, he has already received a lot of work orders for PPEs, he added.
Local giant Beximco, which has long been a reputed exporter of medical products to various countries, has the FDA certification and some experience in PPE production.
Beximco is a big player in the textile industry as well.
"We got a lot of work orders from our buyers and straightaway started making and shipping them," said Syed Naved Husain, group Director and chief executive officer of Beximco.
Every month, Beximco is exporting $20 million worth of PPEs.
"We have a target to export $250 million worth of PPE in 2020 and 2021," Husain told The Daily Star over the phone.
Even during this time of crisis, Beximco did not layoff or put any employees on furlough thanks to a healthy supply of work orders for PPEs.
Beximco mainly exports to the US, the EU, Canada after supplying the domestic market.
The company is a major PEE supplier for Bangladesh's health ministry too, Husain said.
SM Khaled, managing director of Snowtex, has a lot of pending work orders for PPES but has been unable to prepare them as he is otherwise preoccupied with orders for other garment items, such as jackets and outerwear.
"So I am not interested to make and export PPEs now. Rather, I recruited 800 new workers recently to cater to the work orders for other garment items from my factory."
However, Khaled has made and donated PPEs worth about Tk 1.5 crore to different organisations at free of cost.
However, his company exported 26 lakh units of masks worth $1.27 million last week to a French buyer.
"I manufactured the masks because of pressure from the buyer. I also left making masks because of other work orders," Khaled added.
Vidiya Amrit Khan, deputy managing director of Desh Garment, said she initially wanted to undertake the manufacture of PPEs but then lost interest as she believes the demand for such products will drop as soon as the coronavirus situation improves.
"So, my investment might be in trouble," she said.
At least 30 local garment factories recently started manufacturing PPEs and masks either for domestic sale or for export purposes, said Khan Monirul Alam, chairman of the PR committee of the Bangladesh Garment Manufacturers and Exporters Association (BGMEA).
Many garment factories have the capacity to export the products but obtaining certification from the FDA is time-consuming, said Navidul Huq, a coordinator of the BGMEA initiative to make PPEs.
As a result, all of those companies cannot start exporting PPEs even though many have made preparations to export.
"However, definitely PPEs and other health safety gears are the new additions to the country's garment business," he added.