Potential of e-waste recycling remains untapped
E-waste management rules yet to be finalised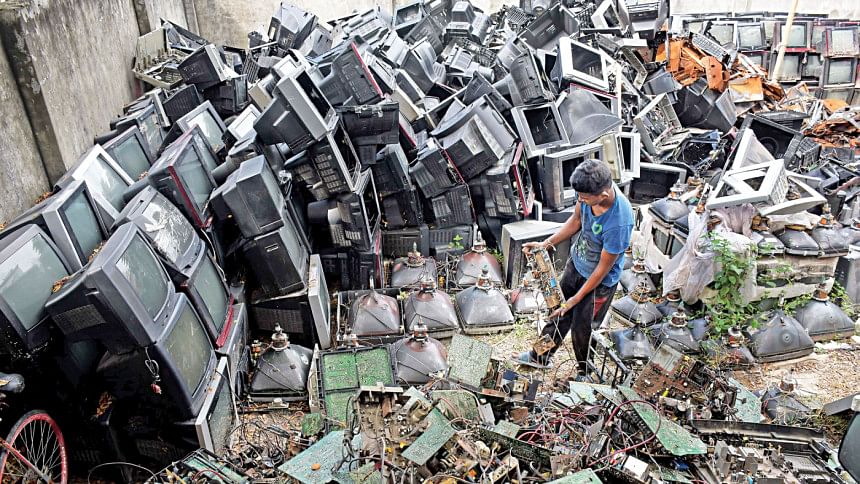 Residents in Dhaka are quite familiar with informal buyers of obsolete computers, laptops, batteries of Instant Power Supply and other malfunctioned home appliances.
These collectors buy obsolete or damaged electronic and electrical items from residents at nominal prices and sell those items to informal traders who are engaged in recycling.
And frequent visits by these collectors in the neighbourhoods to buy wasted devices indicate that recycling of obsolete electronics and electrical items is growing.
Electronic and electrical waste, also known as e-waste, are often rich in precious metals and other reusable materials, such as plastic.
"We can get base metals such as iron, aluminium and copper by recycling e-waste," said Malik Hossain Al-Mamun, general manager of the Azizu Recycling & E-waste Company.
"We are building a recycling plant to recover valuable items for reuse. For example, we will make plain sheet from extracted base metals," he added.
Bangladesh generated about 4 lakh tonnes of e-waste in 2018 and it is estimated that this amount could reach 5.5 lakh tonnes in 2020, according to a Bangladesh University of Engineering and Technology study, sponsored by the Department of Environment (DoE).
With the current growth trend, the volume of e-waste produced annually is projected to be 12 lakh tonnes five years from now and 46 lakh tonnes by 2035.
The study, conducted in 2018, said e-waste was often referred to as an urban mine as it provides a source for several precious metals alongside hazardous ones.
"If the recovery of these precious metals can be performed efficiently in an environmentally friendly way, e-waste no longer remains a waste, rather it turns into a resource," it said, adding that gold recovery using the latest environment friendly technique showed a promising potential.
However, only 3 per cent of the e-waste generated annually is recycled while the remaining 97 per cent is mixed with municipal solid waste and used as landfill, which is very harmful for the environment, the study said.
Akter Ul Alam, an e-waste analyst, said the annual business potential from e-waste was likely to be $221 million.
"However, the benefits to the environment and human productivity far exceed its financial potential. It is like investing in education, human or food-chain development," he added.
Citing data from the WEEE Forum, a platform for e-waste management firms around the world, Alam said Bangladesh generates 1.3 kilogrammes of e-waste per capita annually.
To ensure that electronic waste is properly managed, the DoE took an initiative to form rules in 2012. Eight years and several revisions later though, it is yet to be finalised.
Mirza Shawkat Ali, director of climate change & international convention at the DoE, said the formulation of the rules have been delayed as Bangladesh has to comply with another World Trade Organization (WTO) rule requiring the country to notify the association's members before finalising such statutes.
Some WTO member countries had requested bringing some changes to the rules Bangladesh had drafted, including a provision which barred import of old or used electronic items, he said.
Ali also said they have already received some opinions from local stakeholders regarding the observations of some WTO members.
Bringing some subsequent changes but retaining the import bar, the draft rules have been submitted to the Ministry of Environment, Forest and Climate Change, he said.
"We have sought for holding an inter-ministerial meeting for issuance of a gazette in this regard," he added.
Once the rules are in place, consumers will not be allowed to throw away their obsolete electronic devices anywhere they like. Instead, they will have to deposit their e-waste at stores or collection centres.
Similarly, device manufacturers and assemblers will have to collect e-waste either for reuse or destruction during production and ensure delivery of those e-wastes to the registered repairers, dismantlers and recyclers, according to the draft rules on e-waste management.
Mostofa Akbar, a professor of computer science and engineering at Buet, said a policy for e-waste management should be quickly framed.