(Watch) Pineapple chips, a saviour for farmers in the hills
Pineapple chips, an innovative and nutrition-dense snack, are currently being produced at Naniarchar upazila of Rangamati in a bid to help farmers who often do not get a fair price because of a production glut.
The local horticulture centre is producing the chips on an experimental basis under the Department of Agricultural Extension's 'Development of nutrition through Year-Round Fruit Production (YRFP)' project.
The snack has been branded as YRFP 'Ananas' chips and is being sold at Tk 30 per 50gm pack.
The initiative was taken to save local farmers who have been suffering from overproduction of the fruit in the area, said Mehdi Masud, director of the project.
Pineapple was cultivated on 2,130 hectares of land in Rangamati this year with a production target of 55,835 tonnes, according to data of the District Agricultural Extension Department.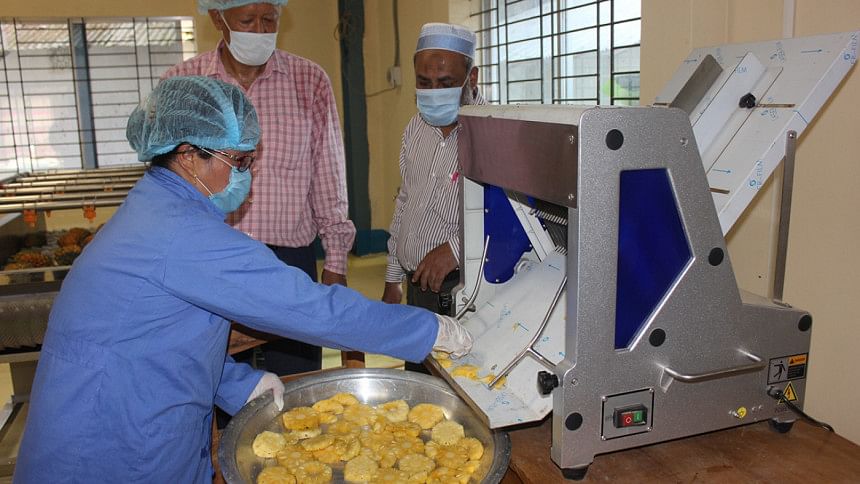 In Naniarchar alone, the fruit rich in vitamins, enzymes and antioxidants was produced across over 1,200 hectares of land.
Various varieties of pineapples are grown on the high and low hills of the 330-square-kilometre upazila.
The most popular variety for cultivation is the famous Honey Queen pineapple due to its beautiful appearance and taste.
"We send pineapples to different districts of the country after meeting local demand," said Md Bachchu Mia, a farmer of the upazila's Bogachhari area.
Over 1,000 people in the upazila are now involved in the production of the tropical fruit, and they produce so much pineapple that they have to struggle to find buyers.
"That's why we have been demanding the establishment of a factory which can process and sell our pineapples in the form of chips or juice," he added.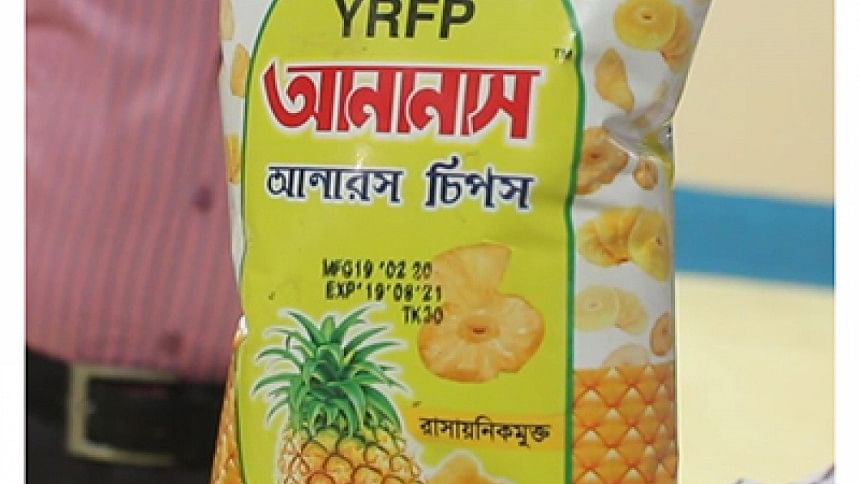 The pineapple chips factory was opened in Naniarchar as a pilot project, said YRFP director Masud.
The government will go for commercial production if the product gets a good response from the market, he added.
Farmers in the area do not get a fair price for their produce and a huge amount of unsold pineapples rot each year, said Mohammad Shafiqul Islam, deputy director of the Naniarchar Horticulture Centre.
"No chemical is mixed with the chips that we make after collecting pineapples from local gardens," Islam said.
"Having a pineapple chips factory in our district is good news for farmers like us," said Sushanta Chakma, a farmer in the upazila's Burighat area.
"Hopefully, the authorities concerned will buy pineapples from our gardens to make these chips. But farmers also have to be very cautious about getting a fair price," Chakma said.
Normally, pineapple is sold at Tk 20-25 a piece in the local market while for bulk purchases, the price of 1,000 pieces hovers between Tk 4,000 and Tk 5,000, he added.