Pandemic keeps hurting exports
Shipment slips 4pc in February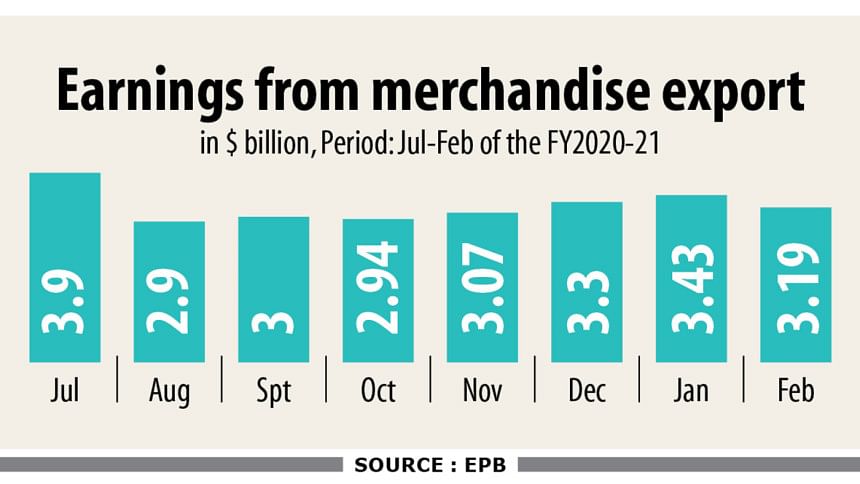 Earnings from exports declined 3.92 per cent year-on-year to $3.19 billion in February because of a fall in apparel shipment as the lingering coronavirus pandemic continues to hurt the country's key markets.    
The merchandise shipment was also 4.83 per cent below the month's export target of $3.35 billion, according to data from the Export Promotion Bureau (EPB).
Shipment of garments, particularly woven ones, are yet to fully recover because many major export destinations in Europe and the US are still under lockdowns due to the second wave of the Covid-19.
Although knitwear shipment has been recovering gradually thanks to increasing demand from people staying at home for longer periods and shorter lead times, the sale of woven garments did not recover as people have cut back on the use of formal wear.
Usually, the sale of woven garments grows with respect to the frequency of people going to formal events and offices.
Industry insiders say Bangladesh has already turned into a major knitwear sourcing hub for international retailers and brands because of its short lead time.
"Shorter lead time is very important in fast fashion," said Fazlul Hoque, managing director of Narayanganj-based knitwear exporter Plummy Fashions.
Local knitwear manufacturers can procure 90 per cent of raw materials from the domestic markets. This is because local spinners and weavers have built strong backward linkage integration for the garment industry, investing nearly $10 billion in the primary textile sector.
But, the woven sector is still dependent on the import of raw materials, mainly from China, India, Turkey and Pakistan, as the investment in the backward industry did not occur to a similar extent.
"So, the knitwear export has been increasing from Bangladesh even during the time of the pandemic," said Hoque.  
Between July and February, or the current fiscal year's first eight months, garment shipment declined by 3.73 per cent year-on-year to $21.03 billion.
During the period, knitwear export accounted for $11.34 billion, registering a 4.06 per cent growth.
However, in the case of woven item shipment, there was an 11.49 per cent decline, meaning it amounted to $9.69 billion in the eight months.
"The woven sector is clearly in a distressed situation," said Rubana Huq, president of the Bangladesh Garment Manufacturers and Exporters Association (BGMEA).
The growth of garment export in February was 5.71 per cent in the negative, of which knitwear export registered a 5.78 per cent positive growth and woven posted 15.47 per cent negative, Huq said.
"Woven garment export growth has declined for the 19th consecutive month due to a slowdown in demand in the time of lockdown in major markets," she said.
Given the backdrop of the faltering progress from Covid-19 and the impact on global business, the distressing situation may prevail for more months till demand at the retail end starts responding positively, Huq also said.
"The price fall issue is another major challenge the industry is facing due to recessed orders. An interim policy measure is required to support the industry to survive till the market shows silver linings," she said.
Apart from woven items, shipments of leather and leather goods declined 4.15 per cent to $605.67 million, frozen and live fish 10.28 per cent to $338.01 million, footwear (other than those of leather) 0.29 per cent to $218.84 million, and raw jute 5.96 per cent to $106.36 million in the eight months.
Export earnings from other important sectors like agricultural products, special textile, shrimp, vegetables, ceramics, plastic goods, terry towel, knit fabrics, crabs, fruits, golf shafts, headgears, furniture and paper and paper goods, also declined.
However, some sectors showcased earnings in positive.
They include jute and jute goods (23.67 per cent to $862.74 million), home textile (38.92 per cent to $730.82 million), leather footwear (0.20 per cent to $377.34 million) and chemical products (21.34 per cent to $172.37 million).
Moreover, the export of bicycles, dry foods, rubber, tea, light engineering products, pharmaceuticals, electronics goods, carpets and handicrafts also grew.