Pandemic derailed countries like Bangladesh off dev trajectory
CPD researcher says at an event of Citizen's Platform for SDGs, Bangladesh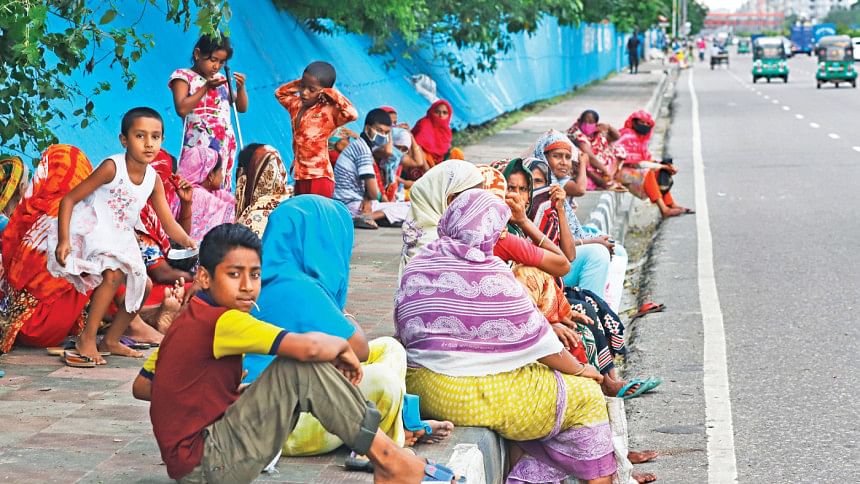 The Covid-19 pandemic has derailed countries off development trajectories and the impact on least developed ones like Bangladesh will be worse given their structural disadvantages and multiple, compounding challenges, says the Centre for Policy Dialogue (CPD).
The pandemic disrupted the pursuit of the United Nations Sustainable Development Goals (SDGs) and the transformative promise to "leave no one behind" of the 2030 Agenda for Sustainable Development, said Sarah Sabin Khan, a senior research associate of the think tank.
Within the country, marginalised and vulnerable population groups will face bigger adversities with regard to safeguarding their lives, as well as livelihoods, she said.
New groups of vulnerable populations are also getting pushed behind, on being subject to old and new forms of vulnerabilities, she added.
Khan said two challenges were pertinent -- the pre-existing vulnerabilities that were becoming more accentuated due to the pandemic and new vulnerabilities that were pushing the marginalised groups further behind.
She said these groups would be in dire need of policy support for resumption and recovery.
The researcher was addressing a webinar on Tuesday evening, giving a presentation which bore an outline of survey questionnaires focusing an upcoming research outreach programme.
The Citizen's Platform for SDGs, Bangladesh, which comprises more than 100 non-state actors and their networks and associates, organised the event titled "The Covid-19 discourse: Are we asking the right question?".
The discussion made public the platform's aim to play a substantive role in addressing the situation through the outreach programme titled "Strengthening Citizen's Engagement in Delivering SDGs in view of Covid-19 Pandemic" with focus on vulnerable groups.
The programme will undertake three tasks, two of which are to prepare evidence-based and policy-oriented knowledge products engaging a wide range of non-state actors and to pursue policy advocacy efforts through various channels.
The other task is to engage in communication and networking activities to generate broad awareness, coordinated efforts and consensus regarding the country's future development strategies.
Addressing the webinar, Prof Rounaq Jahan, a distinguished fellow at the CPD, said questions remain over the accuracy of Bangladesh's official data on the number of Covid-19 infections and deaths.
"What it actually is we don't know, so the study team will have to reveal the accurate data," she suggested.
Prof Jahan also said uncertainty remained over whether the first wave of Covid-19 infections had passed in Bangladesh. She urged to prepare for the second wave, which she believes would suddenly be upon the country.
For this, data collection and drafting of policy suggestions for the research outreach programme will begin within next week, she said, expressing belief that knowing both would be helpful, since both would be compiled in real time.
She suggested conducting associated studies on a wide range but keeping focus on the challenges.
Prof Jahan also recommended proper mapping of the study area so as to leave no loopholes to unearth the real scenario.
The questions and areas of survey will be manageable, said Shantanu Mukherjee, chief, Policy and Analysis Branch at Division for Sustainable Development, UN Department of Economic and Social Affairs (UN-DESA), New York.
She suggested conducting an analysis on the quick recovery of the economy during post-Covid-19 period.
Conducting the webinar, Debapriya Bhattacharya, another distinguished fellow at the CPD, suggested following health guidelines during the survey and analysing the findings for interesting content.
A number of foreign researchers discussed similar surveys conducted by their countries.
They include Elisabeth Bollrich, programme head on the Global Economy, Department of Global Politics and Development, Friedrich-Ebert-Stiftung, Berlin; and Ibrahima Hathie, research director, Initiative Prospective Agricole et Rurale (IPAR), Dakar.
Shannon Kindornay, director, Research, Policy and Practice, Canadian Council for International Co-operation, Ottawa; Munshi Sulaiman, regional research lead in Africa, BRAC Institute of Governance and Development, Kampala; and Lorena Alcázar Valdivia, senior researcher, Group for the Analysis of Development, Lima, shared the same.