Pakistan looks to boost bilateral trade
Wants direct flights, maritime connectivity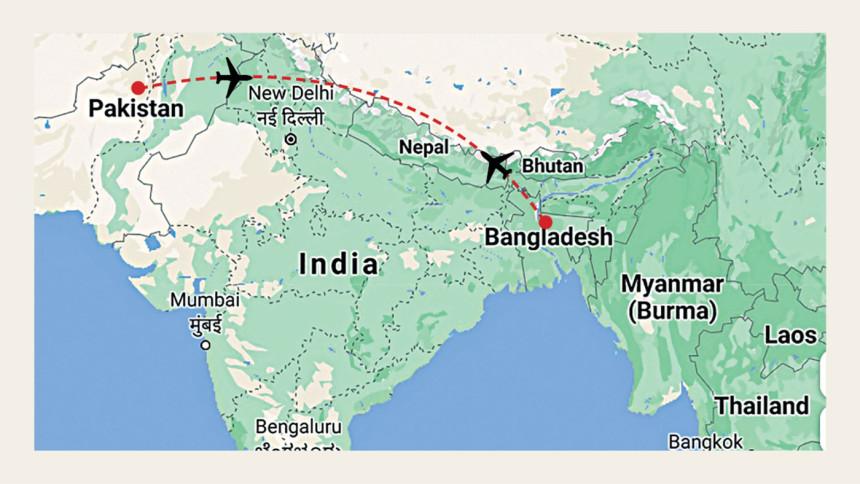 Pakistan is interested in resuming direct flights with Bangladesh and establishing maritime connectivity between the two nations to boost bilateral trade.
"Bangladesh is well-positioned in various economic indexes. So, we want to enhance bilateral trade," said Imran Ahmed Siddiqui, high commissioner of Pakistan to Bangladesh.
Currently, flights of Biman Bangladesh Airlines to Pakistan have been suspended.
Since there is no maritime connectivity between Chattogram port and Pakistan's port in Karachi, trade is being held through Singapore and other neighbouring ports. As a result, trade volumes are yet to reach a significant level.
Siddiqui made these comments during a meeting with Rizwan Rahman, president of the Dhaka Chamber of Commerce and Industry (DCCI), at the chamber's office yesterday.
Trade balance between the two south Asian nations currently tilts towards Pakistan.
According to the DCCI, trade between Bangladesh and Pakistan reached $543.90 million in fiscal 2019-20.
Of the total amount, Bangladesh's export to Pakistan stood at $50.54 million and imports were $493.36 million.
The high commissioner pointed out that there was once a joint economic commission (JEC) between Bangladesh and Pakistan but its last meeting was held in 2005.
He called for the reestablishment of the JEC for the mutual benefit of both countries.
Siddiqui went on to say that the private sector of both countries could benefit from cooperation in the agriculture and blue economy sectors.
"Pakistan's fashion industry could also be a good opportunity for Bangladeshi entrepreneurs," he said.
Besides, cultural engagements can be a catalyst for strengthening economic diplomacy. If more Pakistani businessmen can interact with their Bangladeshi counterparts, more trade opportunities will arise, he added.
DCCI President Rahman said that the participation of Pakistani entrepreneurs in the recently concluded DCCI Business Conclave-2021 was encouraging.
Rahman also emphasised the need to boost regional trade and investment through the active intervention of the Saarc.
"In the new normal situation, businesses started to expand and Bangladesh's private sector is open for all," he added.
Pakistan may even sign a preferential or free trade agreement with Bangladesh to increase trade volumes, the DCCI chief said.
Rahman also urged the high commissioner to take the initiative to reactivate certain memoranda of understanding signed between the DCCI and different chambers in Pakistan.
NKA Mobin and Monowar Hossain, senior vice-president and vice-president of the DCCI respectively, were also present during the meeting.