Overcapacity in power sector a growing concern: CPD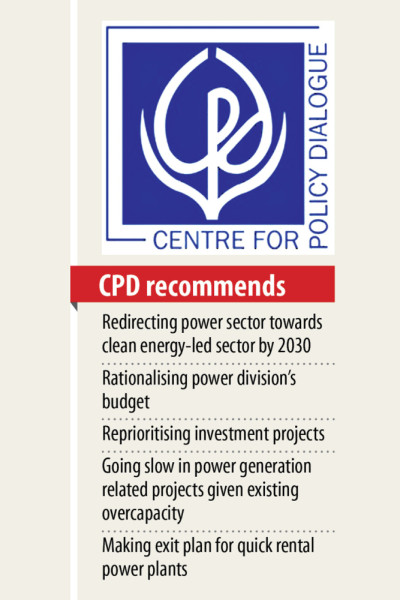 Overcapacity is a growing concern for the power sector as it is creating fiscal and financial burdens for the country, said the Centre for Policy Dialogue (CPD) yesterday.
The power division has confronted rising fiscal and financial burden due to the overcapacity related problems, which aggravated further during the Covid-19 period and would deepen in the post-COVID period, the think-tank said.
Payment of capacity charges to power plants is a growing expenditure for Bangladesh Power Development Board (BPDB), particularly for rising unused and under-utilisation of capacity, said Khondaker Golam Moazzem, research director of the CPD, in a paper.
The paper was presented at a virtual dialogue on "Covid-19 - Power Sector in National Budget for FY2020-21: Allocative Priorities and Alternate Proposals" organised by the CPD.
The power sector is one of the major areas of success of the government over the last decade, the CPD said. But the transmission and distribution systems did not make considerable progress in commensurate with that of power generation.
The amount of overcapacity on June 16 of FY18, FY19 and FY20 was 9,437 megawatts, 8,806MW, and 10,216MW respectively. During the same period, the rates of overcapacity was as 59 per cent, 46 per cent and 49.8 per cent respectively.
Such a high amount of reserve capacity is against the 25 per cent target set in the Power Sector Master Plan and significantly higher than the 10 per cent reserve capacity maintained in developing countries, the CPD paper said.
The capacity payment has significantly increased over the years: from Tk 1,790 crore in FY10 to Tk 8,929 crore in FY19, up 398 per cent.
The CPD called for reprioritisation of budget allocation of the power division, particularly towards promoting clean energy by discouraging new investment in coal or fuel-based power plants as well as retiring private sector quick rental power plants on a priority basis.
The Covid-19 has provided an opportunity to revisit existing approaches, operations, management, cost and return of the ongoing power generation, distribution, transmission and related activities, the CPD said.
"It is a good time to rethink the power sector development strategies in view of redirecting the power sector towards clean energy led sector by 2030 and 2041."
The power division needs to follow 'go-slow' policy in power generation-related projects both under public and private sector given the huge amount of overcapacity currently exists, the CPD said.
The government should make a clear exit plan for the quick rental power plants and should gradually phase out those projects, it said.
Nasrul Hamid, state minister for power, however, said there is no overcapacity.
Of the 23,500MW installed power generation capacity, 4,000MW is produced by industries through captive generation.
There is 10 per cent of de-rated capacity. There are old plants with combined capacity of 1,500MW that are not used but have been put on standby and these plants would retire soon, according to Hamid.
Then, the installed generation capacity comes to 16,000MW, he said. But the demand rose to 12,000MW even during the Covid-period, he said.
"I would have been in trouble if there had been no Covid-19. So, it is not overcapacity."
"We have to put in place a maximum capacity, whether it is used or not."
There is only 19 per cent in excess capacity now in Bangladesh whereas it is 100 per cent in India and the US, he said.
Japan has plans to invest $6 billion in the power sector in Bangladesh, said the state minister. "We have got assurance for another $2 billion worth of investment."
"Why are they investing in Bangladesh? Because they are going for big manufacturing industries in Bangladesh. They are setting up ports in Matarbari."
So, the power generation capacity is increasing keeping in mind the future demand scenario, he said.
Of the power plants, 35 per cent are based on liquid fuel and the government wants to get rid of them, according to the state minister.
"But we have to bring in base-load and more efficient power plants. We are working on them," he said, adding that power plants with capacity of 2,000MW would retire in the next three years.
On coal, he said the government is reviewing its plans on coal-based power plants because of falling prices of liquified natural gas.
"We are keeping the three coal-based power plants," he said, referring to the plants in Paira, Rampal and Matarbari.
He talked about the government plan on issuing bonds in Singapore or other big markets to raise funds for power projects as well as enlisting public power projects in the stock markets.
Bangladesh would require an investment worth $30 billion if it wants to have a stable electricity in the next five years, he said.
The government is rightfully investing in distribution and transmission systems as the coronavirus pandemic has shown that modernisation of the systems is very important, said M Tamim, a professor of petroleum and mineral resources engineering of the Buet.
"The more reliable and efficient a system is, the less reserve power a country would need. Let's focus on efficiency so that we don't have huge reserve capacity."
The latest power sector master plan is very ambitious to begin with and it needs to be looked into, he said.
"We need to have a realistic demand forecast. We don't want to under-serve. But if we undertake too many projects and they are not used properly, then they would affect the whole system and the economy."
The energy expert also talked about the Bangladesh Energy Regulatory Commission (Amendment) Bill, 2020, which was placed in the Parliament to empower the BERC to make change in tariff more than once per financial year.
It must be stated categorically how many times the BERC would be able to make changes to the power tariff, he said.
"The tariffs should not be revised more than twice in order to protect the consumers. The conditions during which it can be revised should be clearly defined."
It would not be possible to bankroll long-term projects if capacity payment is not given, said Imran Karim, president of the Bangladesh Independent Power Producers' Association.
Rehman Sobhan, chairman of the CPD; Fahmida Khatun, executive director; Mustafizur Rahman, a distinguished fellow; Mohammad Hossain, director general of the Power Cell, and Siddique Zobair, a former member of the Sustainable Renewable Energy Development Authority, also spoke.