Onion prices to come down within 24 hours: govt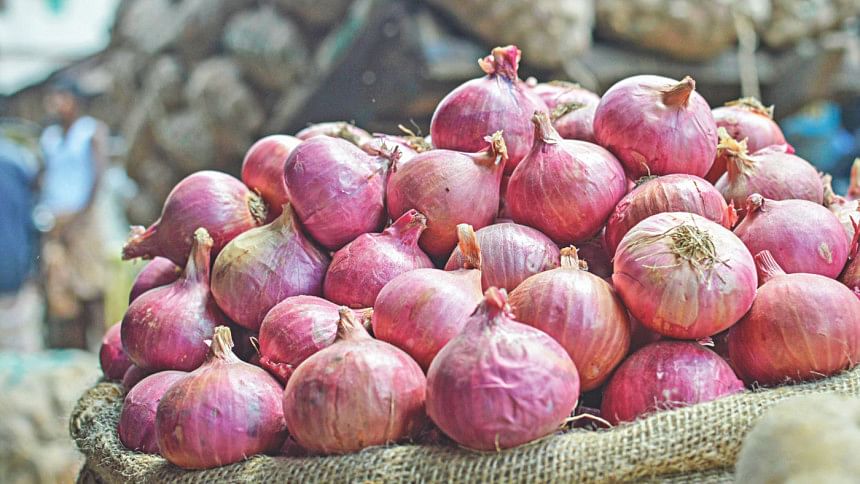 The government yesterday said its measures alongside adequate market supplies would bring down onion prices locally within 24 hours.
"We have recommended lowering the margin (amount needed to be kept with banks) for opening LCs (letters of credit) for onion import from Myanmar," said Bangladesh Tariff Commission Member Sha Md Abu Raihan Alberuni.
"The central bank has already been asked to reduce interest rate on bank loans for onion import," he told journalists at a press conference at the commerce ministry.
Bangladesh had gone for imports from Myanmar in 2014 and 2017 to cool down local market prices, he recalled.
"I can assure you that the price of onion will come down in the local markets by midday of September 19. Please call me if the prices of onion do not come down within 24 hours," said Alberuni.
The fixing of a minimum export price by India is a non-tariff barrier, he said.
Jafar Uddin, newly appointed commerce secretary, also assured that prices would go down soon due to government measures and monitoring by the Directorate of National Consumer Rights Protection and other government agencies. "We have adequate stock of onion for sale in the local markets," he said.
State-owned Trading Corporation of Bangladesh (TCB) is also selling onion from trucks under open market sales system. Market monitoring has been strengthened so that none can profit off an artificial crisis of this widely consumed item, he said.
The press conference was held after a meeting the commerce ministry organised with traders, importers and wholesalers to discuss measures to bring down skyrocketing of prices in local markets.
Alberuni said the country's annual demand was 24 lakh tonnes while local farmers grew 23.76 lakh tonnes, but this being a perishable item, some 30 percent of the demand had to be met through imports. Bangladesh's annual imports average at nearly 11 lakh tonnes.
The number of LCs opened up until yesterday were for importing 12.72 lakh tonnes. LCs for importing 40,000 tonnes would be opened soon, said Alberuni.
He, however, could not exactly state the price prevailing in the domestic market yesterday.
"We have already discussed alternative sources for imports. We are prioritising Myanmar in this case," Jafar Uddin said.
The secretary also said some 100 onion-laden trucks were waiting for unloading soon at Bhomra land port, 25 at Sonamasjid, 15 at Hilly and two at Benapole.
Once those trucks are unloaded and the goods supplied to local markets, the prices will come down soon, he said.
The commerce ministry in a meeting on Sunday said prices in the local market increased abnormally because the Indian government fixed its own minimum export price at $850 per tonne whereas it was recently ranging between $250 and $300.
India is a major source of onion in Bangladesh.
The vegetable sold between Tk 58 and Tk 70 per kilogramme in different kitchen markets in Dhaka on Monday whereas it was between Tk 45 and Tk 55 last month, according to the TCB.