Non-bank entities can soon set up ATMs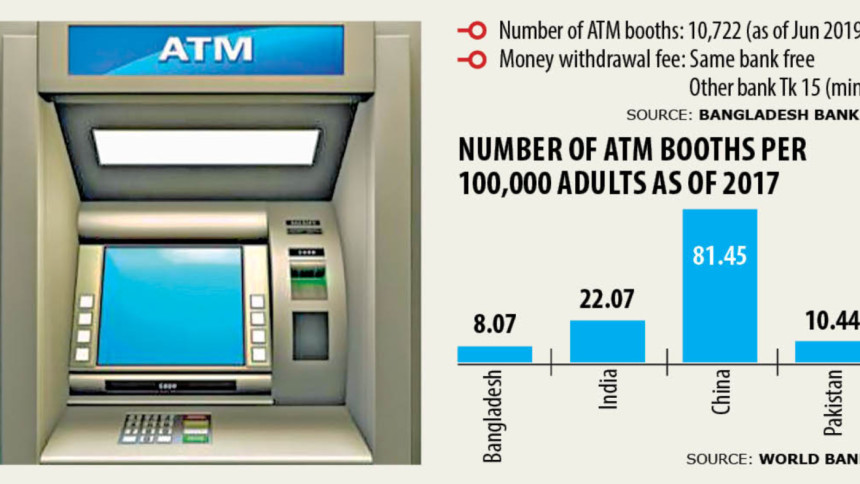 The central bank will allow non-bank entities to set up automated teller machines (ATMs) and point of sale (POS) terminals as it ramps up efforts to promote card-based transactions across the country.
The move will help people in distant parts of the country to     settle their transactions without going to banks as some private companies already have plans to install a large number of ATMs, said a Bangladesh Bank official.
At present, only banks are allowed to set up ATM and POS, but they are now showing little interest in expanding the facilities given the high maintenance cost, additional manpower and high security measures.
The central bank has been working on the issue for long and has almost completed all relevant work to roll out the service.
A guideline will be issued within the next couple of months, the BB official added.
India's central bank has issued such a guideline in 2012 and allowed non-bank entities to set up ATMs in 2014.
The intended companies, which will set up ATMs and POS, will have to take licences from the central bank to act as a payment system provider (PSO).
The PSOs will have to deposit Tk 50 lakh with the central bank.
Last month, Pay Union Bangladesh applied to the central bank seeking permission to set up ATMs and the central bank has taken the application positively as well.
Jasoda Jibon Debnath, managing director of the company, told The Daily Star that his fintech organisation would install at least 5,000 ATMs across the country.
As of June, banks have installed 10,722 ATMs and 52,846 POS terminals while they issued 12.03 lakh credit cards and 1.57 crore debit cards, according to data from the central bank.
"The number of ATMs and POSs will increase manifold if the central bank permits non-bank entities to set up the infrastructure," Debnath added.
Osman Haidar, director (business) of IT Consultants, said that his company had submitted application two years ago.
"We have enough preparation to install a good number of ATMs at a time when the central bank will issue the guideline," he said.
As per the central bank's guideline, the non-bank entities will have to set up ATMs evenly between rural and urban areas but with a view to deepening financial inclusion, the BB official said.
In many countries, banks hardly provide ATM service as dedicated non-bank entities have taken up the responsibility.  In Bangladesh, banks usually set up ATMs and POS terminals based on the number of customers in a given area, said an official of a private bank.
"Most private banks do not have adequate number of branches in rural areas, let alone bother to take ATMs and POSs there."
Besides, banks have to spend Tk 5-7 lakh to install an ATM and count a minimum of Tk 60,000 per month to maintain it, he said.
"So, the growth of ATMs and POSs has been very slow. The situation though will change when non-bank entities will provide the services."