No cheer from export and remittance
Pressure on reserves to intensify
The strain on the dollar stockpile has intensified after remittance inflows dropped to a 41-month low in September and export receipts missed their monthly target by $326.7 million.
In September, $1.34 billion was received as remittance, down about 13 percent from a year earlier, according to data from the Bangladesh Bank. Export, the other major source of foreign currency, brought home $4.3 billion, up about 10.4 percent year-on-year but the lowest amount in three months, according to data from the Export Promotion Bureau.
The twin developments coupled with the central bank's aversion to any drastic policy changes ahead of the polls mean the pressure on foreign currency reserves will deepen in the coming months, which, in turn, would lead to further depreciation of the taka and escalate inflation.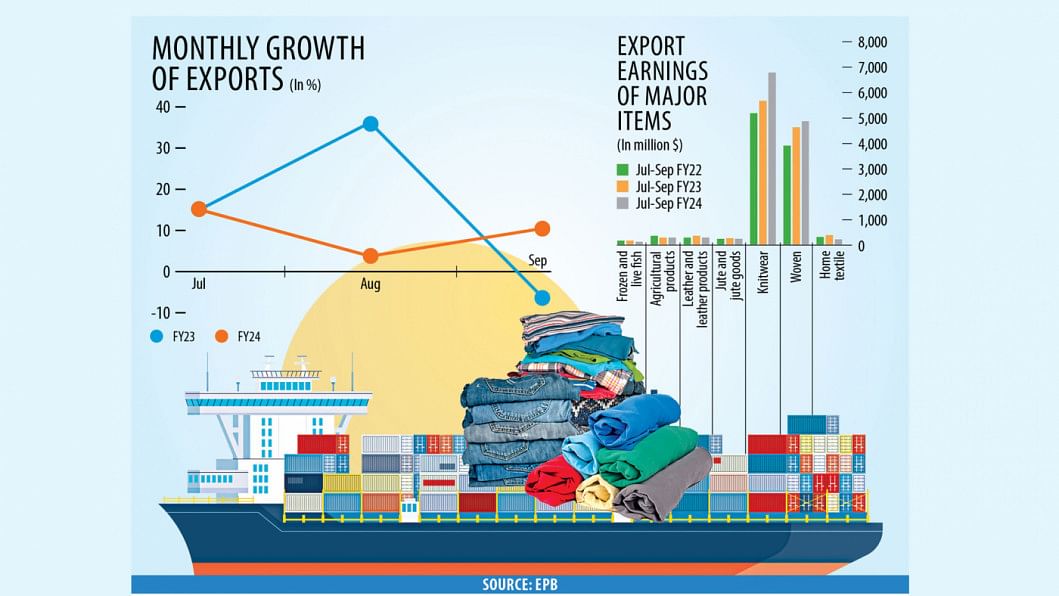 As of September 26, foreign currency reserves stood at $21.15 billion, enough to meet four months' import bills at best. By the end of 2023, reserves will come down to three months' import cover, according to the American credit rating agency Fitch's estimate.
"One common reason is expectation," said MA Razzaque, research director of the Policy Research Institute of Bangladesh.
In economics, it is often said that past outcomes influence future outcomes by way of expectations.
"A 10 percent export growth is all very well, but if the export proceeds are not coming to the country, it doesn't help us at all. Exporters are delaying bringing in their proceeds expecting a higher exchange rate in future," he added.
Taka depreciated 7.6 percent in the last year and an unprecedented 29.3 percent in the past two years.
Economists and bankers think official remittance inflows, which have been on the decline since April, will not pick up anytime soon given the widening exchange rate premium, which is the difference in the exchange rate between the formal and informal markets.
At present, the official exchange that was fixed by the Bangladesh Foreign Exchange Dealers Association (BAFEDA) and the Association of Bankers, Bangladesh (ABB) as per the unofficial directive of the central bank is Tk 110. The exchange rate prevailing in the kerb market is hovering around Tk 118.
"There is always a competition between formal and informal markets for dollars, so when you fix the official dollar rate at Tk 110 -- when the unofficial rate is Tk 118 -- you won't get dollar at that rate," said Zahid Hussain, a former lead economist of the World Bank's Dhaka office.
Remittance is falling due to policy weakness of the central bank, said Salehuddin Ahmed, a former BB governor.
"You are fuelling expectations by raising the rate by 50 paisa to Tk 1 frequently. Only if the central bank can convey that it will allow the market fundamentals to work would the exchange rate stabilise. It is quite difficult to quash prolonged expectations," Razzaque said.
In the monetary policy announced in July, there was a commitment to shift to a market-based exchange rate in September. But that has not happened.
Subsequently, Hussain recommended treating the BAFEDA-set exchange rate as a guideline while allowing all to negotiate the best rate for themselves. In that way, the exchange rate premium will narrow down.
"There has been no big change in conditions in September for remittance to drop so much from August. The only difference is strict enforcement of the BAFEDA rate," he added.
This has diverted remittance to the unofficial channel, also known as hundi.
The authorities need to tackle the unofficial channel from both the demand and supply sides with expediency, said Mustafizur Rahman, distinguished fellow at the Centre for Policy Dialogue, while citing Pakistan's success in this matter as a case in point.
"As long as you don't touch hundi, nothing will work," said Syed Mahbubur Rahman, the managing director and chief executive officer of Mutual Trust Bank.
The demand for hundi has increased too for various reasons. One of the reasons is capital flight centring on the polls scheduled for January, and that group is inelastic to the exchange rate.
"We have been increasing the rates, but we are seeing no impact. Even after import curbs, we are in want of dollars for opening letters of credit," said Rahman, also a former chairman of ABB.
Hussain of the WB said: "This is like a cat-and-mouse game."
Export, though, is providing some source of solace, at least on paper.
September's receipts take the total received in the first quarter of the fiscal year to $13.7 billion, up 9.5 percent year-on-year but still fell short of the periodic target by about $300 million.
Garment, the main export earner, raked in $3.6 billion, up 12.5 percent year-on-year.
The brands and retailers are paying higher unit prices for Bangladesh's garment products in keeping with the higher prices of raw materials, said Faruque Hassan, president of the Bangladesh Garment Manufacturers and Exporters Association.
The garment makers are also sending more and more value-added high-end garment items that fetch more money, he added.
Shipments of leather and leather goods, another big export earner, raked $72.7 million in September, down 30.6 percent year-on-year.
"Leather and leather goods are non-essential items and this is why the consumers are buying less of them during this period of economic volatility," said Md. Saiful Islam, former president of Leathergoods and Footwear Manufacturers & Exporters Association of Bangladesh.
The traditional big earner jute and jute goods fetched $81.4 million last month, down 8.6 percent year-on-year.
Bangladesh mainly focuses on jute sacks and jute yarn and demand for those has fallen worldwide, said Md. Abul Hossain, president of the Bangladesh Jute Mills Association.
Home textile exports brought home $64.4 million, down 24.2 percent year-on-year, as gas price hikes ate into the local manufacturers' competitiveness in the global market.