New ADP to be 21pc bigger
Foreign aid utilisation to get priority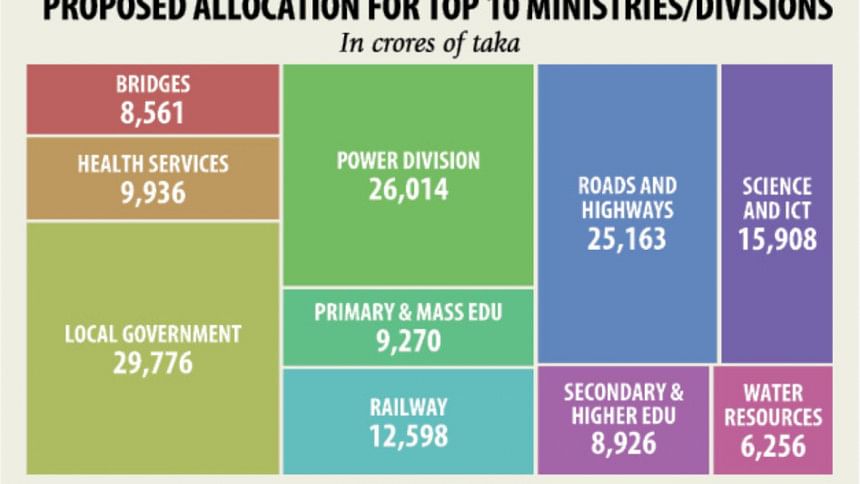 The government is set to fix the size of the development budget at Tk 202,721 crore for 2019-20, up 21.39 percent from the current fiscal year, as it looks to mobilise a higher amount of foreign aid piled up in the pipeline.
As of November last year, the amount of foreign aid in the pipeline stood at $48.75 billion.
The draft proposal was adopted yesterday at an inter-ministerial meeting chaired by Planning Minister MA Mannan at the planning ministry.
After the meeting Mannan told journalists that they will place the draft of the annual development programme at the National Economic Council (NEC) meeting next week for its final approval.
In the next fiscal year, foreign aid utilisation will get a big boost: it has been fixed at Tk 71,800 crore, which is 40.78 percent higher than the current year's.
"We have amassed a big amount of foreign aid, so we will try to utilise it more next year," said a senior official of the planning ministry.
Conversely, the government's own fund allocation has not increased much: it has been set at Tk 130,921 crore, up 12.86 percent year-on-year.
The reason the government's own fund allocation has not scaled up much is because revenue collection was dismal.
In the first eight months of the fiscal year, it grew 7.02 percent, according to data from the National Board of Revenue. A year earlier it had increased 14.13 percent.
As a result, the government is being conservative in allocation of its own fund for the ADP next fiscal year.
Although a big allocation is given to the ADP every year, the amount invariably gets revised down during the course of the year due to lackadaisical implementation.
When asked, Mannan said the government would take some steps from next year so that the ADP implementation gets a boost.
In the first 10 months of the fiscal year, 54.63 percent of the ADP budget was utilised, up from 52.42 percent a year earlier, according to the minister.
In the upcoming budget proposal, the government will allocate the highest amount for the transport sector considering some of the mega projects that are ongoing like that of the Padma bridge and Padma rail link.
The government is allocating Tk 52,805 crore, which is 26.05 percent of the proposed ADP to the transport sector, according to the planning ministry's proposal.
The second highest allocation of Tk 26,017 crore has been made for the power sector, which is 12.83 percent of the proposed ADP.
Among other sectors, physical planning, water supply and housing will get Tk 24,324 crore; education and religion Tk 21,379 crore; science, information and communication technology Tk 17,541 crore; rural development Tk 15,157 crore; health Tk 13,055 crore; agriculture Tk 7,616 crore; water resources Tk 5,652 crore; and public administration Tk 5,023 crore.