Nation of noodle lovers
The local market expanded 10 times in 10 years due to urbanisation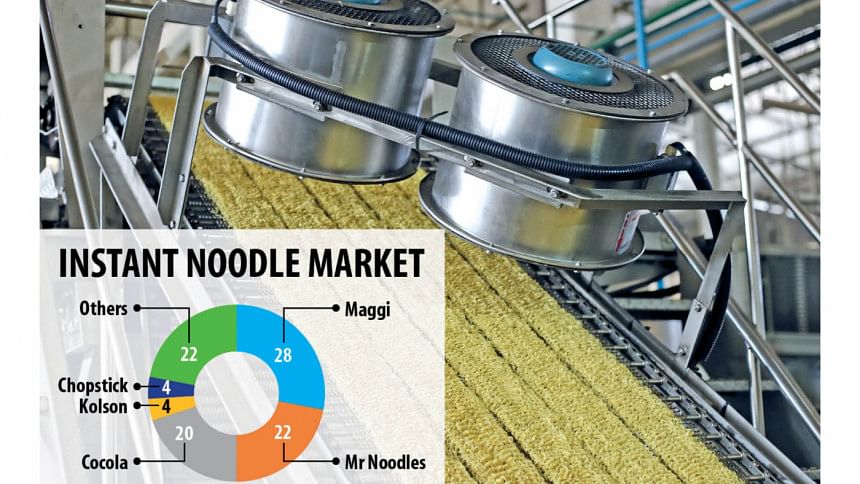 The noodle market has grown almost ten times in the last ten years thanks to growing urbanisation, becoming an easy and fast solution to hanger pangs in the fast-paced modern lunch and school lunch.
Last year, the noodle market hit Tk 950 crore, in contrast to Tk 100 crore in 2009.
But noodle prices rose about 40 to 50 percent during the time, which the noodle makers put down to inflation.
"Noodles is easy to make and healthy, so I choose it for my children's school lunches and to entertain unexpected guests," said Parvin Akter, a housewife of Narayanganj.
She adds vegetables and eggs or meat to make it a nutritious, complete meal for her children.
"It is an easy snack, which attracts me to noodles," she said, while urging the companies to ensure quality.
Noodle is divided into two categories: instant and stick. Instant noodles are pre-cooked noodles that have been steamed and dried. It can be eaten just by leaving it to soak in hot water for a few minutes.
People are only getting busier and more urbanised, so the demand for ready food, oven ready foods, instant food is increasing exponentially, said AKM Moinul Islam Moin, chief operating officer of Pran Agro, the parent company of Mr Noodles brand.  
"In future, noodles will become a staple food in Bangladesh," he said, adding that lots of product diversification will come in this category.
Instant noodles will lead the charge, but for hotels, restaurants and cafés the stick noodle market will also see good growth.
In modern times, people's food habits are geared towards convenience and low-cost, said Naquib Khan, corporate affairs director of Nestle Bangladesh that owns the Maggi brand.
In that perspective, instant noodles is the right solution, he said, adding that manufacturers' efforts to reach out to these aspirant consumers have created more noodle penetration in urban and rural urban areas.
"Therefore, noodles will enjoy growth in coming years. It is a very promising sector and we will continue our efforts to delight our consumers with our nutrition, health and wellness solution promises," he added.