Mutual funds shine again on DSE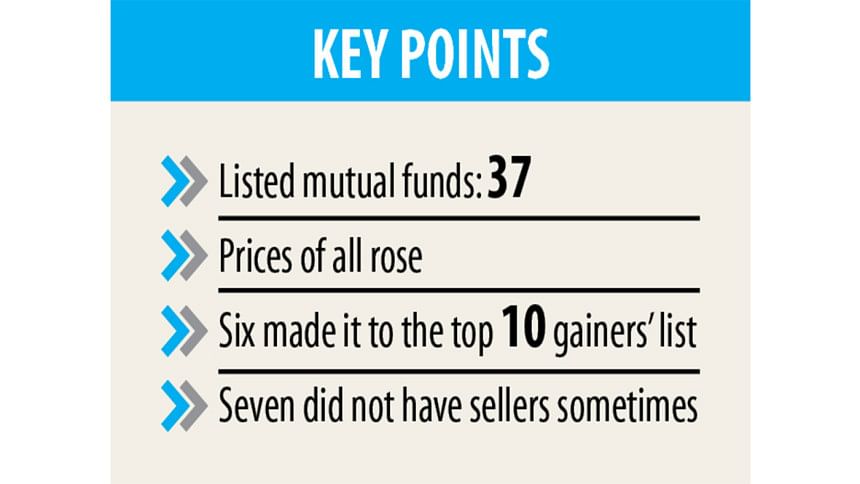 The prices of all listed 37 mutual funds rose on the Dhaka bourse yesterday thanks to the stock market regulator's move to clear the confusion on the use of margin loans for the purchase of the investment vehicle.
Thanks to the rise of mutual funds, the DSEX, benchmark index of the Dhaka Stock Exchange, advanced 10.83 points, or 0.22 per cent, to 4,833.19 on the day.
The unit prices of mutual funds have been rising for the last few weeks, and some of them have already become overvalued.
The Bangladesh Securities and Exchange Commission (BSEC) issued a circular on December 30 in 2010 and lifted the block on the use of margin loan for the purchase of mutual fund units.
But, confusion was still there on such use of margin loans. So, the stock market regulator issued a press release on November 23, clearing the doubts. The clarification encouraged investors to pour money into the sector, said a stockbroker.
"The prices of some of the mutual fund units have already doubled, and their price is quite higher than their net asset value. So, the investors need to be cautious while spending money on mutual funds," said the stockbroker.
The stock market watchdog formed a two-member investigation committee last week to find out the reasons behind the unusual price hike of five mutual funds.
Turnover, one of the important indicators of the stock market, increased 8 per cent to Tk 671 crore yesterday compared to the previous day on the DSE floor.
AB Bank First Mutual Fund topped the gainers' list that rose 10 per cent followed by Apex Foods, BD Lamps, SEML FBLSL Growth Fund and Continental Insurance.
Beximco Pharmaceuticals was the most traded stock with shares worth Tk 41 crore changing hands, followed by Nitol Insurance, Continental Insurance, Northern Insurance and ADN Telecom.
Of the total 359 issues traded, 179 advanced, 71 declined, and 99 remained unchanged.
United Airways shed the most losing 6.66 per cent, followed by BIFC, Shyampur Sugar, Tallu Spinning and Alltex Industries.
The Chattogram Stock Exchange also rose. The CSEX, the prime index of the port city bourse, was up 38 points, or 0.45 per cent, to close the day at 8,355.
Out of the 235 securities traded, 129 rose, 52 fell, and 54 remained the same.