Most state banks hit by capital deficit
Six of the eight banks had a shortfall of Tk 15,953cr in March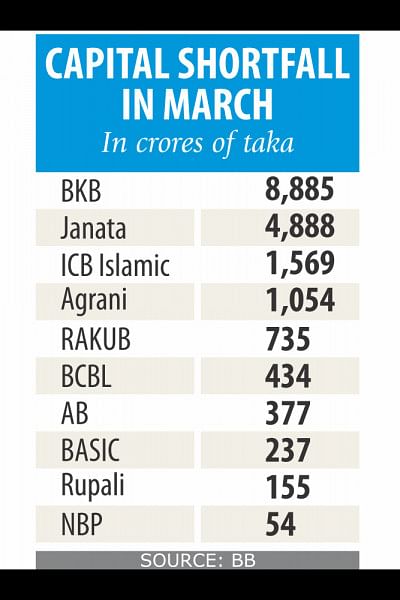 Six of the eight state banks faced capital shortfall in the first quarter of the year, a development that shoves the government under the spotlight for its non-action against the lenders' errant ways.
As of March, Agrani, BASIC, Janata, Rupali, Bangladesh Krishi and Rajshahi Krishi Unnayan had combined capital shortfall of Tk 15,953.41 crore, according to Bangladesh Bank data.
"The state banks cannot continue this way," said Ahsan H Mansur, executive director of the Policy Research Institute.
The government injects capital into the state banks every year but there has been no improvement in their capital base or their corporate governance.
In the last 17 years, the government has injected a total of Tk 20,584 crore into the state banks. This year, it will provide Tk 1,500 crore.
Injecting capital into the banks is a bad practice at a time when they are engaged in financial corruption, Mansur said.
The financial indicators disclosed by the state banks mask their actual scenario.
"The actual scenario is worse, so the government should take immediate measures," he said, adding that capital shortfall will multiply otherwise, leaving the government virtually toothless then.
The govern-ment should task the state lenders' management and board every year with raising a certain amount of capital as recapitalisation with taxpayers' money on a regular basis is not a long-term solution, said Khondker Ibrahim Khaled, a former deputy governor of the central bank.
Both the managing directors and the chairperson of the state banks should be removed if they fail to meet the capital-raising target.
Besides, the government should also bring the persons to book who are responsible for the existing capital shortfall, he added.
The central bank earlier took decision to increase the banks' capital adequacy ratio (CAR) to 12.50 percent within this year from 10 percent with the view to implementing the Basel III guidelines in full.
But, the state banks will not be able to implement the Basel III guidelines on time as their CARs are well below than the regulatory requirement, said a BB official.
The banks that fail to implement the guidelines will face trouble in conducting business with foreign banks, he added.          
Meanwhile, four private banks -- AB, Bangladesh Commerce, ICB Islamic and National Bank of Pakistan -- also faced capital shortfall between January and March of this year.
The central bank should take responsibility for the capital shortfall of the private banks too, said Mansur, also a former economist of the International Monetary Fund.  "If the sponsors of the private banks fail to inject capital, the central bank should merge them with the stronger banks."