Maize farmers in Nilphamari elated with bountiful harvest during pandemic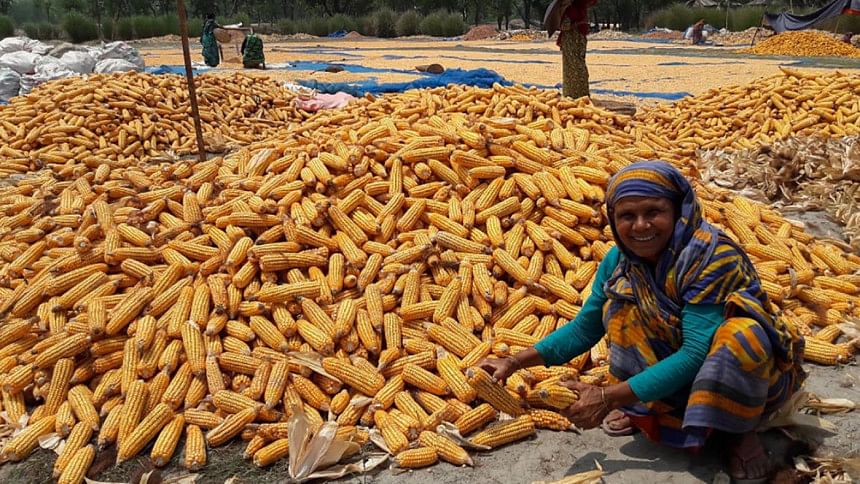 Maize farmers are in a festive mood as they have had a bumper harvest this season and received fair prices.
Farmers in villages of Laxmichap and Kanchukata in Sadar upazila and different shoals of Teesta river such as Baish Pukur and Charkharibari of Dimla upazila are busy harvesting maize with piles of the bright yellow crop adorning house yards.
A sandy, previously barren and abandoned shoal of Teesta has also found new life as it has become a vital spot for growing high quality maize. This is because silt from the river has made the land immensely fertile.
"We are more inclined towards maize cultivation as it brings more profit than boro, wheat and other crops and needs less irrigation," said maize farmer Hatem Ali of Baish pukur shoal of Teesta.
This year 40-42 maund of maize grown on a bigha was sold at nearly Tk 26000 to Tk 27000 (a maund was sold at Tk 650) while the total production cost of said amount was Tk 8000.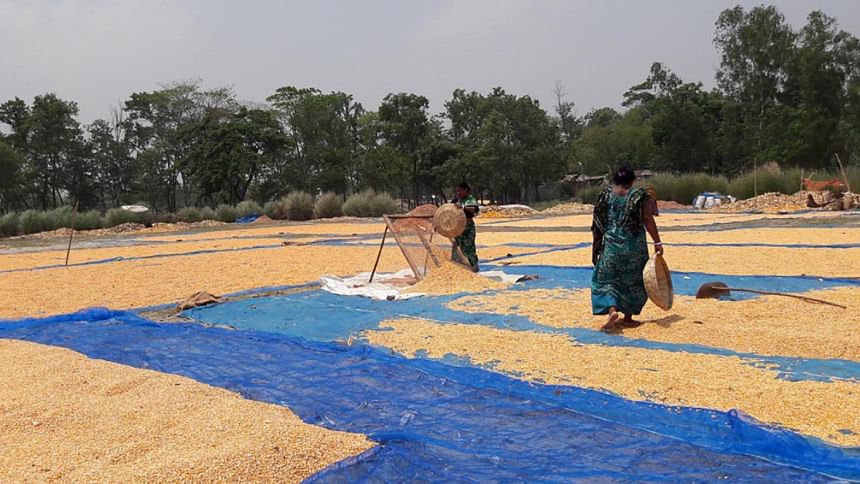 On the other hand, on the same amount of land the yield of boro paddy is around 20 maund which brings Tk 22000 with a production cost of Tk 10000.
Similarly, the price of 10 maund of wheat produced in a bigha is Tk 10000 while production cost is Tk 7000 with a net profit of Tk 3000.
Farmers say maize is in high demand as it is the main component for producing poultry and fish feed which can also be consumed by people.
Traders from different parts of the country have made purchasing centers in the shoals to buy and sell directly from fields and store in abundance to send to different cities after lockdown is over.
"I cultivated maize in five bighas of land to get 210 maund and by selling that I got Tk 1.37 lakh and my production cost was Tk 35000."
"Maize cultivation not only brings high profit but the discarded dried maize plants and conics can be used as fuel in domestic work all year round," said farmer Atiqur Rahman of Angarpara village in Sadar upazila.
Department of Agriculture Extension (DAE) in Nilphamari has said that the targeted area of maize cultivation this year was 23 thousand hectares but enthusiastic farmers exceeded the limit and cultivated the crop in nearly 2345 hectares to produce 2.51 lac metric tonnes, which is a record.
Abu Bakkar Siddiquee, deputy director of DAE said, "Farmers cultivated maize exceeding official target as they have greatly benefitted from this crop and this has been possible as government has facilitated  the availability of fertilizer and seeds at fair price and our field staff always provided advisory support."