Local power solution providers up their game
Call for govt protection to grow further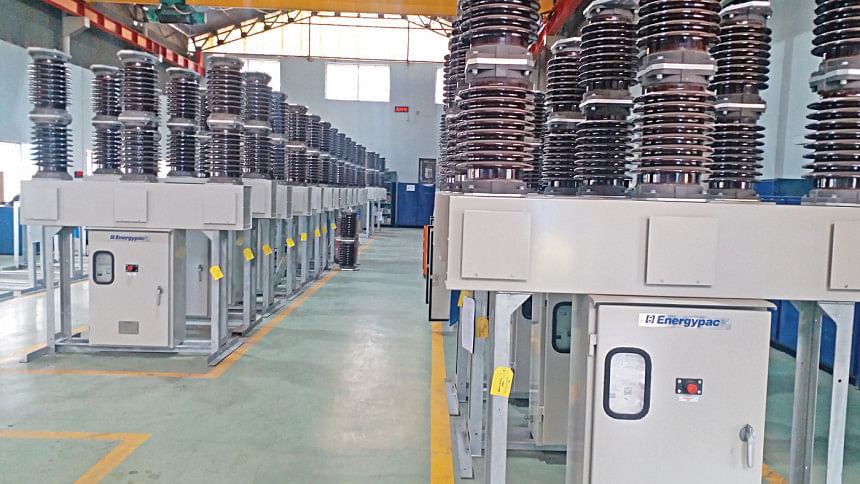 The market for the equipment used in power generation, distribution and transmission is growing very fast in Bangladesh in keeping with expanding electricity production and consumption.
Currently, installed power generation capacity stands at 24,594 megawatts (MW), way higher than 4,942MW in 2009, according to the power division.
The actual generation hit a record 13,064MW on Saturday from a paltry 3,268MW more than a decade ago.
There were 147 power stations in 2020, up from 27 in 2009. Ninety-nine per cent of the population has access to power, which was 47 per cent a decade ago.   
The market size of the products used in the power system is around Tk 20,000 crore, and the sector has been growing 20 per cent annually for the last eight years, said Rabiul Alam, chief executive officer of Energypac Engineering.
"The demand for power generation, transmission and distribution equipment will increase in the next 20 years along with the economic development of the country," he said.
Alam said just years ago, the industry could manufacture only 30 MVA (mega volt-ampere) transformers. Now, many firms can produce transformers with a capacity as high as 3,000 MVA.
At present, 31 small and medium-sized local companies manufacture the equipment used in the power system. Around Tk 3,000 crore has been invested in the sector in the last 30 years.
Major manufacturers include Energypac, TS Transformer, Pran RFL, Adex, and Reverie.
But at the moment, local manufacturers can only cater to 20 per cent of the local demand. The rest is met by foreign companies and through imports.
Energypac Engineering manufactures power transformers, oil type distribution transformers, dry-type transformers, instrument transformers, switchgear, control and protection panels, isolators and bypass switches.
Besides, the company produces distribution cabinets, LV switchgear and control products, rectifiers, battery chargers, and busbar trunking systems for low voltage power.
Alam said Energypac was capable of providing all power system solutions. "Our world-class products survive the toughest test before delivery."
In his view, Bangladeshi companies can meet 100 per cent of the demand of the distribution network. But the Public Procurement Rules (PPR) 2008 does not give protection to local companies, he said.
"For this reason, the foreign companies are getting a lion's share of the work order."
As there is no provision to provide special treatment to local manufacturers, state-run companies such as Bangladesh Power Development Board, Power Grid Company of Bangladesh, Dhaka Power Distribution Company, Dhaka Electric Supply Company, and Bangladesh Rural Electrification Board are awarding orders to foreign companies.
"Sometimes, foreign companies supply substandard products. As a result, the government does not get value for money," he alleged.
If the government provides policy support, local companies could offer the entire range of power distribution solutions, he said.
Alam sees a good prospect for the industry, saying exports might go up in the coming days as the quality of locally made products was improving.
Bangladeshi power equipment manufacturers have achieved European standards in terms of quality and safety, said Prof Shaikh Anowarul Fattah, a professor of electrical and electronic engineering at the Bangladesh University of Engineering and Technology.
Companies such as Energypac export products to various countries.
"The sector has become self-sufficient and can cater to the demand of the power sector in Bangladesh," said Prof Fattah.
Local manufacturers export products such as cables, distribution boards, transformers, switchgears, wires, insulators, fans, heat and speed control systems, magnetic contractors, switches, and irons.
Other export-oriented products include tube lights, filament bulbs, light fittings, table lamps, water heaters, torch lights, and lift equipment. 
Pran-RFL Group started manufacturing transformers in 2014 through its sister concern Sylvan Technologies.
Until recently, it used to make single-phase and three-phase transformers, which are employed for power distribution from main lines to homes.
"Now, we are making transformers for substations. We are supplying the equipment to public and private companies," said Kamruzzaman Kamal, director for marketing of Pran-RFL.
Pran-RFL invested Tk 70 crore in establishing the associated plant and other facilities.
Pritish Chandra Paul, general manager for sales and marketing of TS Transformer, a sister concern of SQ Group, said local companies had achieved the capacity to make high-quality products.
But the government policy was not giving special treatment to the local industry, he added.