Knitwear makers want 2-yr suspension of raise
Workers threaten movement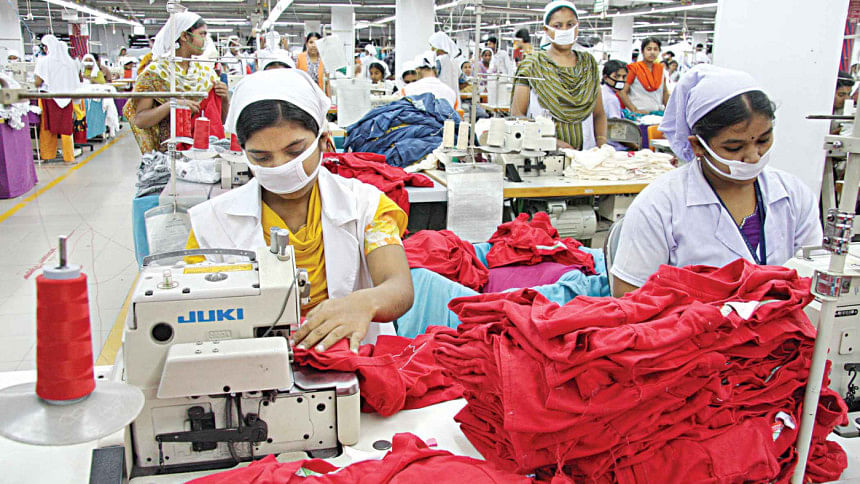 Union leaders want the continuation of a 5 per cent annual increment of wages for garment workers while knitters demand that the government let them suspend it for the next two years for mitigating the Covid-19 fallout.
Factories cannot bypass this legal requirement and should instead provide additional facilities to tide workers over through such tough times, the union leaders said.
The increment is a legitimate right of workers, said Nazma Akter, president of workers' rights platform Samilito Garment Sramik Federation in a letter to the labour secretary yesterday.
She said many workers have become jobless since some factories had to shut down production since March 27 last year.
Meanwhile, workers are getting less overtime for a decline in work orders from international retailers and brands and this reduction of additional income is making it harder for them to make ends meet, she added.
Akter also demanded a risk allowance for workers, reasoning that it was for having to work during this time of pandemic.
Mohammad Hatem, senior vice-president of the Bangladesh Knitwear Manufacturers and Exporters Association (BKMEA), said they sent a letter to the labour ministry last week seeking the suspension, citing the severe effects on exports.
"We have submitted our demand and the government will take the decision as a neutral body, reviewing the export situation of the garment sector," Hatem told The Daily Star over the phone.
He said these were extraordinary times and different countries have been accordingly reducing salaries of workers.
"It is the toughest time in the hundreds of years of history. Our orders are fewer and our buyers are making abnormal delays in payments but at the same time order cancellations have been taking place in the garment sector," Hatem said.
Many factory owners could not even ship the goods they had made over the past seven to eight months. "We are under pressure. It is a temporary measure," he added.
The increment provision was incorporated in the labour law through a 2013 amendment. Currently, nearly Tk 5,000 crore is disbursed as salary to the garment workers in a month, he said.
However, the government could come up with an alternative solution, he said, adding that the labour secretary had not yet asked for holding a meeting.
Jafrul Hasan Sharif, an expert on labour law, said any such suspension would put workers in trouble in such challenging times.
The labour ministry does not have the jurisdiction to suspend the increment. Only the minimum wage board for garment workers can do it, he said.
However, the board has turned defunct as it had already recommended a minimum wage which was implemented earlier, he added.
Moreover, once any benefit is given, it cannot be taken away or curtailed under section 336 of the labour law, Sharif said.
Amirul Haque Amin, president of the National Garment Workers Federation, said during this time of Covid-19, workers' income has dropped.
The government, buyers and factory owners should rather provide some additional facilities, for instance, rice rations and transportation, he said.
The buyers should even tag a very small amount of money with the price they pay for garment items for the welfare of workers, he said.
"Instead of taking such initiatives, the owners are proposing something illogical, unacceptable, illegal and shameful," Amin told The Daily Star over the phone.
He threatened tough movements if any such increment suspension finally comes about.