Japan, an unfailing partner in Bangladesh's development journey
Yasushi Sawada, managing director of Ajinomoto Bangladesh, says in an interview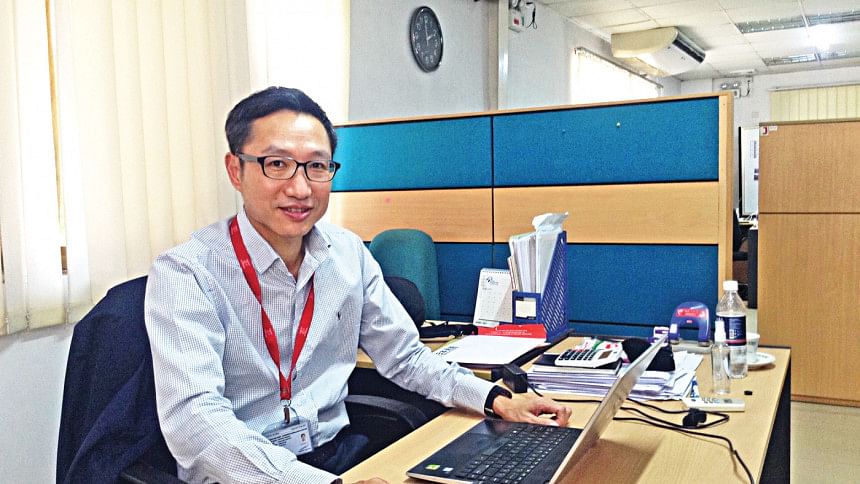 The relationship between Japan and Bangladesh is a trusted and time-tested one. Bangladesh became Japan's biggest recipient of official development assistance in 2020. Since the Covid-19 pandemic started more than a year ago, there has been a lot of talks and anticipation about Japanese businesses moving base to Bangladesh. In a series of high-profile interviews, The Daily Star tries to understand the increasing interest of Japanese investors in Bangladesh, its growth prospects, barriers to growth, ground realities, and how to attract more Japanese investment. As part of a series, today, we are running the interview of Yasushi Sawada, managing director of Ajinomoto Bangladesh, a Tokyo-based food and beverage company.
DS: Japan is one of the largest and most developed economies in the world. What can Bangladesh learn from Japan's growth trajectory?
Sawada: Actually, we all can learn from each other. For example, I have learned a lot from Bangladeshi business strategies and ideals after joining Ajinomoto Bangladesh as managing director in 2018.
Similarly, Japan's technological and infrastructural advancements could be a learning point for Bangladesh. Local businesses could practise Japanese management styles that emphasise strong teamwork, decision-making, discussions, opinion-sharing from all levels, and respecting each other. It could promote a robust growth-oriented environment.
But in my eyes, when I observe the digitalisation in many sectors and the massive expansion of infrastructure projects like the metro rail and Padma bridge, I can assume Bangladesh's economic growth is on the right track.
DS: How would you assess Japan's role in developing our economy?
Sawada: The two countries have maintained a healthy bilateral relationship for decades now, and the bond is only getting stronger day by day. Many Japanese companies are successfully doing business in Bangladesh, and I hope more will enter this investment destination in the future. Japanese companies are making an active contribution to Bangladesh's economic development and generating employment.
At Ajinomoto Bangladesh, we practise the "Ajinomoto Shared Value". We try to deliver delicious products and arrange awareness programmes in schools. I am sure other Japanese companies are making their own contributions as well. So, Japan's does not just influence business but also the overall development of Bangladesh.
Ajinomoto prefers employees who have the potential to learn and thrive when we give them opportunities. In terms of improving the quality of the workforce, we focus on a long-term approach rather than a short-term one. At Ajinomoto, we have many standard operating and quality system procedures to maintain our work and product quality. We don't just sell our product. We also try to make customers happy.
Japan's role in Bangladesh's development indicates a good relationship between the two countries, and therefore, we should keep this partnership strong. If Ajinomoto grows as a company, it will create more opportunities here. In addition, we are also educating the locals on how to make better quality products.
DS: This year marks the 50th anniversary of Bangladesh's independence. What is the contribution of Japanese companies to the country's journey to a developing nation?
Sawada: First, I want to say happy anniversary Bangladesh, it has been a remarkable 50 years. My country has been a major development partner of Bangladesh ever since its independence. So, if you call the time between now and then a journey, I would say Japan has been a travel partner.
According to the Japan External Trade Organisation, 321 Japanese companies are doing business in Bangladesh in various sectors, including garments, IT, and infrastructure. For a long time, Japan has been contributing to these sectors with high quality and constantly improving technology to help the country become a developing nation. For example, the ODA and the Japan International Cooperation Agency have made huge investments in Bangladesh's infrastructure, agriculture, health sector, and other vital fields.
DS: What are the prospects of the local food industry?
Sawada: The food industry is almost the same in every country, but some differences always remain. Bangladeshi people have begun to consider the taste and quality of food rather than its price. The food market is also getting bigger, and the platform is changing. Many new super shops, food chains, and fast-moving consumer goods companies from all over the world are operating in Bangladesh. If anyone comes up with a good quality product, people will buy it. So, to do business in Bangladesh, companies should focus on quality, and as you know, Japanese companies never compromise on quality.
The country's massive population is growing, and the income levels have improved dramatically, making it a strong platform for food companies. In short, with more mouths to feed, our production will rise. Once a population grows richer, it can be assumed that they will crave tasty but healthy and safe food, which is something all local companies should aim to deliver.
DS: What kinds of Ajinomoto products are available in Bangladesh?
Sawada: In the Bangladesh market, we are providing our monosodium glutamate (MSG), which is categorised as umami seasoning. Umami is the fifth taste after bitter, salty, sour, and sweet. As of now, the product has five different stock-keeping units. If a consumer uses our product, the dishes become more delicious, not just at home but also at restaurants. Besides, we are considering new product developments.
DS: What is the response to your products?
Sawada: The response is good as our product quality is of Japanese standards. People have a misconception about MSG because other companies are doing business with MSG after adding salt and naming it "tasting salt". But we are not selling tasting salt. We are providing 99 per cent pure MSG made from natural ingredients like sugarcane and cassava. We have Halal certification from the Islamic Foundation, BSTI [Bangladesh Standards & Testing Institution] certification, and approval from other local and international food authorities. There are some fake products in the market that are harmful to the health of consumers. So, I urge the government to help us remove these counterfeit products.
DS: What are the business prospects in this country?
Sawada: Before investing in Bangladesh, we found this market to have potential. The prospect of MSG or any related food products is getting larger. So, we are also considering introducing other Japanese standard products. Thanks to increasing income levels, the people of Bangladesh are considering better quality food. This is an excellent opportunity for us to expand.
Ajinomoto has brought various products to the local market to reach all types of consumers. For example, 450-gram, 200g, and 100g sachets of MSG are for restaurants and corporate customers, while 42g and 20g packs are for household use.
DS: How is your business doing, and what are the challenges it faces?
Sawada: We utilise distributors for 40 regions. So, our products are already available in many rural areas. In the future, I expect to reach everyone in the country. However, we are very concerned about the number of Ajinomoto knock-offs in the market. They are using similar packaging that confuses customers, and after using the fake product, people get a bad impression of our company. So again, I request the government to remove those products from the market.
DS: What can be done to improve the ease of doing business in Bangladesh?
Sawada: The government should reduce the tax and customs duty for foreign investors. The authorities concerned should also strengthen their market monitoring and take stern steps against counterfeit and substandard products. Consumer rights protection is helping us remove fake products from the market, but it is tough to pinpoint the manufacturers. If we fail to identify a fake product manufacturer, it will be difficult to remove such products from the market. My request is to find these fake product manufacturers and punish them.
DS: How can Bangladesh attract more foreign investment?
Sawada: Usually, we import raw materials from Thailand, but we have to pay a high tax and customs duty. If the government can minimise the tax and customs duty, it will help attract more foreign investment.